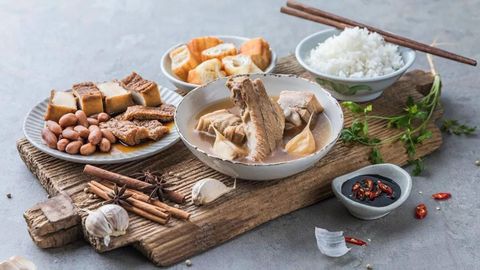 From the herbal style to the beloved peppery broth, here is where to get the best bowls of bak kut teh in Singapore.
Roughly translated as "meat bone tea," the dish is a hearty pork rib soup popular among the Chinese community in Singapore and Malaysia. Despite its name, there is no tea in the dish itself. Instead, the 'teh' portion refers to the strong Chinese tea that is traditionally served alongside the dish, which is said to balance out the richness of the meal.
Many believe bak kut teh originated from China's Fujian province, introduced to the local communities in Malaya by Hokkien immigrants. Historically, it was consumed by coolies as a nourishing breakfast before their laborious shift. Today, it is generally eaten during lunch or dinner.
Primarily, there are two different versions of bak kut teh in Singapore: one with a clear peppery broth and the other with an herbal soup, which originated in Malaysia's Klang Valley. Although both types are made with different soup ingredients, the core of the dish has to contain tender, fall-off-the-bone pork ribs simmered in an aromatic stock of pork bones and spices.
To help you along, we rounded some of the best spots for both herbal and pepper bak kut teh in Singapore. Read on for the full list.
Where to get the best bowls of bak kut teh in Singapore
Jump To / Table of Contents Written By