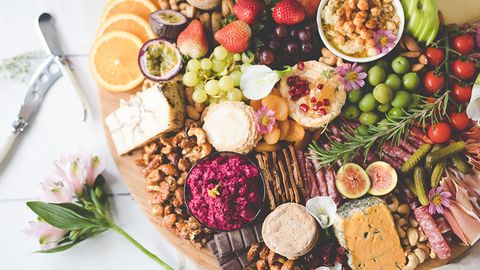 The cheeseboard has come a long way from just featuring pale slabs of Camembert and a few dried apricots.
It is said that it were the French people who introduced the concept of cheeseboards to the rest of the world in the 15th century. It is now an elevated appetizer option that only a few know how to do well. While traditional businesses continue to offer carefully curated selections of artisanal cheeses, modern establishments have been busy elevating the arrangement and turning it into beautiful grazing platters by incorporating premium charcuterie, seasonal fruit, and crackers into artful (read: social-media worthy) compositions.
Done right, a beautifully plated cheeseboard is wonderful marriage of tastes and textures that you and your friends can savour at parties or over a Netflix sesh. They're a feast for the eyes and the palate. It's important to know which artisanal cheese pairs well with what kinds of wine and seasonal fruits, and owning that knowledge is a skill in itself. Each accompaniment should highlight the best parts about the cheese without compromising on anything. After all, what's more beautiful than a wild selection of cheeses and all its accoutrements on a beautifully carved wooden board? If you haven't tried it yet, you're missing out on a lot.
If you're looking for a selection of good cheeses, fresh produce, and a thoughtful selection of dips and crackers without lifting a finger, this list of the best artisanal cheeseboards in Singapore is for you.
10 best artisanal cheeseboards in Singapore to order this weekend:
Jump To / Table of Contents Written By