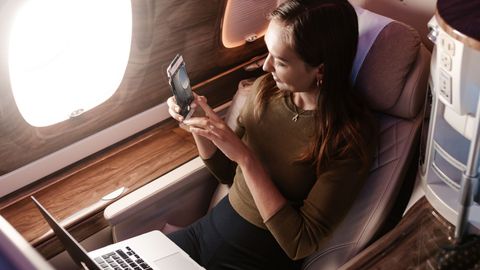 The experience of savouring a gourmet meal is an unmatched one. But enjoying one at 9,144 m height, in the air, might feel even more incredible. Taking luxury to new heights, many airlines have introduced Michelin-star dining for first and business-class passengers to bring the best food onboard.
Research shows food tastes different at higher altitudes. Hence, fliers often find their main course bland. However, that hasn't stopped some airlines from disrupting the aviation industry by harmoniously blending it with the food and beverage sector.
Numerous globally renowned private and state carriers are tying up with restaurants and roping in award-winning chefs to elevate meal service. From using high-quality ingredients to creating new dishes that take into account provenance, seasonal produce and the country's culture, aviation companies are leaving no stone unturned to revamp aeroplane food.
While such lavish menus are primarily exclusive to first class and business class, British Airways is bringing a slice of this experience to economy customers as well. Emirates, on the other hand, offers Michelin-star meals at their premium business class lounges across airports.
With this, they also attract new customers willing to walk the extra mile and get the best main dishes to make their journey effortless and delectable.
Some of the best airlines serving Michelin-star meals
SWISS International Air Lines If you are flying SWISS International Air Lines, a delicious culinary affair awaits you. First and business-class customers can enjoy an epicurean feast prepared by Olivier Jean, executive chef of The Woodward, Geneva.
The food is inspired by the dishes served at Geneva's gourmet restaurant, L'Atelier Robuchon. The establishment at the five-star hotel received a Michelin Star in 2022, just a year into operation, and collected 15 GaultMillau points.
Amalgamating French haute cuisine with subtle Asian influences, Chef Jean ensures a scintillating gastronomical journey through the clouds. As a noted disciple of the late Chef Joël Robuchon, Jean has led the restaurant's kitchens in Taipei, Miami, New York and Montreal.
While poached char with lemongrass sauce, sesame sushi rice, sugar snap peas and roasted squash will be served in the business class, the first class menu includes miso-marinated pike-perch with port wine sauce served with baked polenta, shallot confit and pak choi, a veal fillet with truffle sauce, potato purée and stuffed piquillo pepper and herb salad.
Travellers flying out of Zurich and Geneva till December 2023 will get the opportunity to sample these imaginative dishes as part of the SWISS Taste of Switzerland inflight culinary programme, where every three months, a new Michelin-starred chef is invited to create a top-notch menu with specialities from their canton.
Cathay Pacific Hong Kong is considered a culinary heaven with nearly 80 restaurants receiving Michelin Stars in 2023. In February 2023, Cathay Pacific announced its collaboration with Michelin-starred restaurant Duddell's. Premium passengers flying out of Hong Kong will get to sample the exclusively curated menu brimming with Asian flavours from the restaurant in the bustling Central area.
"The menu is built on flavours and ingredients that represent the city's heritage, diversity and ingenuity," says Cathay Pacific. Available through 2023, the food will be served in three courses comprising an appetiser, main course and pudding.
For first-class flyers, choices range from chilled abalone and cucumber with black vinegar to lettuce-wrapped minced pork with vegetables, sweet pomelo and prawn crackers. The main course has a sweet, sticky-glazed braised pork belly or the wok-fried lobster in white pepper sauce and fluffy rice. Pudding is a chrysanthemum and longan jelly treat.
For those flying business class, there are drunken prawns with aged Huadiao wine or fork-tender chicken and jellyfish salad with nutty, sesame dressing. This is followed by steamed halibut with cordyceps flowers, aged mandarin peel and preserved black olives alongside a sour rice noodle soup filled with barramundi and pickled mustard greens. Spiced ginger milk pudding and Beijing-style strawberry yoghurt pudding will be the closure.
Cathay Pacific was among the first airlines to equip flights with rice cookers, toasters and skillets, enabling attendants to serve the best freshly prepared food onboard.
Brussels Airlines Brussels Airlines joined the league of airlines that serve the best food on board in 2013 when it teamed up with Geert Van Hecke, chef of the two-Michelin-starred eatery, La Durée.
In September 2023, chef Michaël Vrijmoed of the eponymous Ghent restaurant Vrijmoed came on board. With this appointment, he became the 14th chef to lead the kitchens of the carrier.
The tradition, which started a decade ago, has transformed into one of the most awaited parts of a journey with Brussels Airlines. Every year, a star chef is appointed to create a stunning three-course menu, which evolves every three months. From October 2023, Chef Vrijmoed will be leading this segment. The dishes will be a pompous celebration of Belgian vegetables and seasonal produce. Master of Wine Jan De Clercq and beer sommelier Sofie Vanrafelghem will be present to help passengers select the best drink to pair with the meal.
Business class meals offer a choice between fish, meat or a vegetarian option for both starters and the main course. Some signature dishes from Vrijmoed that can be expected in-flight include beetroot with Doyenné du Comice pear, mustard seed and horseradish sauce.
The main course consists of a celeriac variation of soil-grown chicory and crispy Jerusalem artichoke as a vegetarian choice. One can choose between pheasant with soil-grown chicory, wild mushrooms, cranberries, pearl onions, Jerusalem artichoke, fine champagne sauce and Jerusalem artichoke puree or eel in green with herb salad and chateau potatoes.
Dessert is equally delectable. "East Flanders classics like Belgian Wittekop or Biloete, two cheeses from East Flanders' Lotenhulle, or Hazelnut chocolate cake with a vanilla-coffee sauce for dessert," states the chef.
British Airways British Airways has offered authentic British snacks and meals among the clouds for some time now. But in 2021, the carrier's catering reached new heights by teaming up with chef Tom Kerridge, who has two Michelin Stars.
Chef Kerridge has exclusively planned and curated a new Speedbird Cafe menu that brings delectable dishes of British provenance to the cabin on short-haul flights. Not limited to business class passengers, those travelling in the economy will also get to savour signature pies and vegan spiced cauliflower tortilla wrap, along with wholesome sandwiches such as warm steak and ale pie, ham hock and smoked cheddar sandwich, chicken, bacon and celery brioche and vegetarian brie ploughman's sandwich.
The system helps reduce cabin wastage, too, as passengers can pre-book their favoured options 12 hours before departure.
All Nippon Airways Japanese food and culture have seen a massive global appeal in the recent past. Hence, the country's premium carrier, All Nippon Airways (ANA), has put its best foot forward to bring F&B hospitality to the skies.
In August 2023, ANA partnered with the two-Michelin-starred restaurant Daigo to make a vegan plant-based curry, incorporating local Japanese fruits and vegetables, devoid of animal products and flour, making it suitable for anyone with special dietary needs. Chef Yusuke Nomura, the director of Daigo has supervised the dish, which has been made available from September 1, 2023, as part of the flight's Future Promise Initiative, for first and business-class passengers.
This is not the first time ANA has presented a gastronomical delight onboard. The Connoisseurs is a unique programme by which a motley of 12 Michelin star-winning chefs, ANA chefs, and sommeliers specialising in Japanese, French and fusion cuisine curate scrumptious dishes for the premium classes.
The lineup includes chef Toru Okuda, owner of Ginza Okuda with three Michelin stars in Japanese cuisine, chef Yoshihiro Takahashi, 15th generation owner of the three-Michelin-starred Hyotei restaurant in Kyoto and French cuisine icon, two-Michelin-starred chef Ryuta Lizuka.
Air France

France has always held a reputation for gastronomical excellence. Dotted with several Michelin-starred restaurants headed by award-winning chefs, the country is a treasure trove of culinary delights for travellers.
With this philosophy, Air France, too, has one of the best airline food menus replete with lavish dishes for its La Première and Air France Business Class cabins. From triple Michelin-starred chefs like Régis Marcon and Anne-Sophie Pic to celebrated chefs Daniel Boulud, Julien Royer, and Michel Roth, the menu is created by culinary masterminds. Passengers can also pair their meals with the perfect French wine and champagne.
Travellers can get a taste of this exquisite French presentation while flying out of Paris Charles de Gaulle Airport (CDG) on Air France between July and October 2023.
Singapore Airlines The in-flight meals for Singapore Airlines are prepared on the ground under the close supervision of celebrated chefs and culinary experts taking care of everything — from special requirements to pleasing presentations. People travelling in suites, first class and business class coaches get to sample delicious food from a five-member International Culinary Panel.
It comprises France's three-Michelin-starred icon, Georges Blanc, Australian chef Matthew Moran, who holds a coveted One Chef's hat accolade and India's Sanjeev Kapoor, a Mercury Gold Award winner. Japanese culinary maestro and Kaseki master Yoshihiro Murata, whose restaurant holds seven Michelin stars, is also on board. Singapore Airlines has Chinese chef Zhu Jun on the panel as well.
They offer a wide range of Malaysian, Japanese, Italian and Indian cuisine with a fine drinks list to offer the comfort and premium taste of food as if on terra firma.
Flyers can reserve their special meals via the "Book The Cook" service at least 24 hours before departure for flights of a minimum 90-minute duration. Those flying premium economy and economy will also get a delectable serving of potato salad with baby shrimp and entrées such as wok-fried chicken and bamboo shoots in sesame oil.
Japan Airlines Another example of sophisticated Japanese hospitality can be seen in Japan Airlines (JAL) flights departing from and arriving at Tokyo. While first class and business class passengers get a wide range of selections crafted by renowned Michelin-star chefs, JAL's economy and premium economy standard meals are also among the best in-flight foods in the world.
Triple Michelin-starred chefs Ishikawa Hideki and Koizumi Kouji of Ishikawa and Kohaku restaurants are in charge of tantalising the tastebuds of travellers in first class flying out of Tokyo. Quintessence owner and chef, Kishida Kuzo is also on board to present some Italian creations. His restaurant won three Michelin stars 16 years in a row and bagged the Green Star Award in 2023.
For those entering the country, chef Teshi Riyuji, owner of the one-Michelin-star restaurant PAGES will be serving some unique flavours.
Besides chef Riyuji, JAL's lineup of Michelin-starred chefs dedicated to business class includes chef Namae Shinobu, owner of three-Michelin-star establishment L'Effervescence, which also received a Green Star in 2023.
From delicious soups and ramen to gorgeous meats, sushi, udon, bento boxes, and international items, the list is a long one.
KLM Airlines In 2022, the Dutch Royal carrier unveiled a new menu for KLM World Business flyers, created by three-Michelin-starred chef Jonnie Boer of De Librije in Zwolle, Amsterdam. He was accompanied by sommelier Thérèse Boer of the same restaurant.
The long-haul flight menu included signature dishes like grilled zucchini in tahini cream, chickpea salad, garlic feta and nut salad, followed by baked salmon with broccolini, roasted tomatoes and couscous, chicken thigh in a star anise gravy served with stewed green cabbage and mashed potatoes. While the menu changed post-July 2022, the wholesome meal became a massive hit.
However, Boer's winelist and drink pairings got somewhat overshadowed in the hullabaloo. The carefully curated offerings include bottles that effectively battle the loss of taste and smell at cruising elevations.
(Hero and feature image credit: Christina Spoerer/ @christinaspoerer/ Unsplash)
Related: United Airlines To Add Braille To Plane Interiors For Better Accessibility
Frequently Asked Questions (FAQs)
-How can I find out if my flight offers a Michelin-starred food menu?
Passengers can find information about their carrier's in-flight food menu and prebook their preferred meals on the airline's website.
-Are Michelin-star meals available in all cabin classes?
Michelin-star quality food is generally reserved for first and business-class passengers. However, certain flights might offer some gourmet snacking options in the economy section as well.
-Do I need to pay extra for the best Michelin-star quality food on these airlines?
While pre-booking your meals, you can opt for food preference, which is generally included with the ticket fare for long-haul flights. However, certain airlines might ask for extra payments depending on their policies.
-Can I request special dietary accommodations with Michelin-star quality food?
Such requests depend on flight policies and airline rules. It is always better to check the website before booking.
-What can I expect from a Michelin-starred dining experience on a flight?
Delicious gourmet food, prepared by award-winning chefs and served in fresh in-flight makes the journey a pleasing and comfortable experience. It also allows savouring some of the best dishes from a country.
-Are there vegetarian or vegan options when booking Michelin-star meals on these flights?
There can be vegan and vegetarian Michelin food options on the flight. For instance, All Nippon Airways has announced a specially curated Michelin vegan curry. Such information can be obtained from the airline website.
-Can I enjoy Michelin-Star quality food on short-haul flights?
While most Michelin-star quality food options are prepared for long-haul flights, certain flights might have some short-haul options as well. Please check the respective websites for updated information as the menu and policies keep changing.
-Is it necessary to make a reservation for Michelin-star meals in advance?
Those airlines offering Michelin-star quality food in the first and business classes usually have it included in the fare and passengers are requested to make prior reservations to select their choice of dishes.
Written By