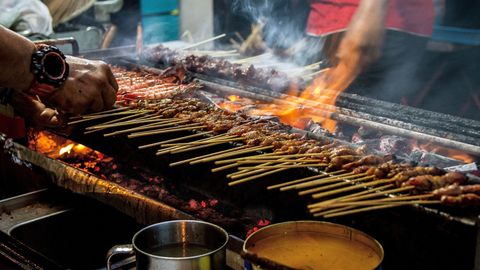 Omnipresent at every late-night meal, these nine hawkers serve the best satay in Singapore.
Like kebab, yakitori, and chuan, satay is Southeast Asia's answer to skewered meat. Thought to have originated in Indonesia, the dish is typically made with chicken, pork, mutton, and beef, and traditionally grilled over charcoal. It usually comes with raw onion, cucumber, and ketupat, as well as peanut sauce for dipping.
Over time, two distinct forms of satay emerged in Singapore. There is the Malay style, which marinates the meat in aromatics such as lemongrass, blue ginger, and galangal. Pork is also not offered due to religious reasons. Then there is Hainanese satay, which adds five spices to the seasoning and pineapple to the peanut sauce. Separately, the Teochew community decided to flavour noodles with the sauce, giving us satay bee hoon.
One of the most popular places to eat satay in Singapore is at Lau Pa Sat, which takes over a street in the evening for hawkers to cook outdoors. Others are located at hawker centres around the island, including Chinatown Complex, Geylang Serai, Clementi, East Coast, and Chomp Chomp. While more eateries turn to factory-made satay due to labour costs, some of these on the list still maintain the old way of making it, including skewering the meat by hand. Read on to find out more.
9 hawkers to check out for the best satay in Singapore
Jump To / Table of Contents Written By