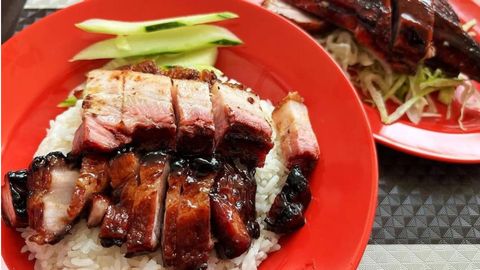 From gourmet burgers to piping hot bowls of porridge, there's no lack of delicious food at Commonwealth Crescent Market and Food Centre, so here are some of the best and most underrated hawker finds in this well-loved establishment.
Considered a hidden gem by residents staying in the West, particularly the Commonwealth-Queenstown neighbourhood, this food centre offers quintessential hawker dishes that cater to every meal of the day.
Where is Commonwealth Crescent Market and Food Centre and how to get there
Opened in 1969, it's one of the oldest hawker centres since Singapore's independence and most recently upgraded in 1998. This understated food haunt is also located in the core of the mature Commonwealth estate. Those who have been to Two Chef Eating Place in Commonwealth for their famed Crispy Butter Pork Ribs will find the hawker centre just beside it.
Although the nearest MRT station is Commonwealth, commuters will still have to walk on foot for about 10 minutes (700m) to reach this destination. It's not exactly the most convenient or accessible food centre but you'll be rewarded for the journey.
The two-storey building features a wet market on the ground level and a food centre on the second floor. The food centre is mostly operational and bustling during the day and peaks during lunch hours. Of course, residents make it an indispensable stop for affordable food to fuel their day. Most stalls wrap up after lunch, thus it's not advisable to have dinner plans here.
Notable stalls sport snaking queues here, from Coffee Together Co., which specialises in Nanyang and Arabica coffee at wallet-friendly prices, to casual gourmet burger joint Hammee's, and heritage dessert stall Xi Le Ting. A comforting bowl of Cantonese porridge can be had at Hong Kee Porridge. Feeling peckish mid-day? Savour the fragrant and eggy Liang Liang Fried Carrot Cake.
For a slurp-worthy meal, there's Hao Hao Noodle House's wonton dumpling noodles and Huang Da Fu's Bak Chor Mee. Rice lovers can opt for roasted meats from Foong Kee Traditional Charcoal Roaster, Braised Duck Rice, or Henry's Chicken Rice.
10 best eats at Commonwealth Crescent Market and Food Centre:
Jump To / Table of Contents Written By