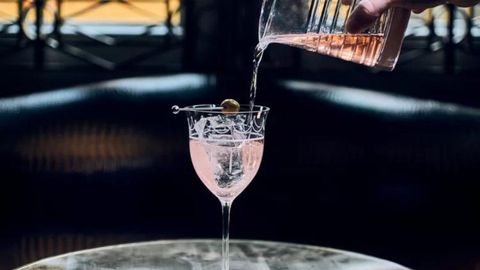 Ask anyone where to find the best cocktails in London, and you'll undoubtedly be sent to the famed West End hotel bars at The Connaught and Dukes London. Known for their elegant surroundings, British style, and exquisite martinis, the historic establishments are helmed by Alessandro Palazzi at Dukes and Agostino Perrone at The Connaught.
Both gentlemen have kindly shared their thoughts on the city they love, confirming my opinion that bartenders are the best source of local travel advice.
"Bartenders are like concierges," Perrone said. "We know all the people, the venues, and the behind-the-scenes of our local bar scene and beyond. Our local and global bartending network is very close, and we know a good bar and bartender in every corner of the world."
The best cocktail bars in London According to Palazzi, "The bartender is always the best person to ask for local recommendations. Bartenders are not just there to make a drink. We assist when we can. We are ambassadors, and we always put ourselves in the situation as if we were staying at the hotel and didn't know the area."
These experts have lived in London for a combined total of nearly 70 years. After completing catering college in Italy, Palazzi came to London in 1975. Since then, he has made the city his home base while spending time in Paris and Los Angeles. Perrone has lived in London for 20 years. He worked for five years at a central London bar where he met some influential mentors and his wife, Gaby. In 2008, he was offered the opportunity, life-changing in his words, to lead the re-opening of The Connaught Bar. Here's where they say you should get a drink the next time you're in London.
London's best bar scene and new places to imbibe According to Perrone, "These days, the London bar scene is richer and more varied than ever. There are so many areas with great bars, from our beloved Mayfair and surrounding areas to Soho and East London, with Shoreditch, Bethnal Green, and Hackney. Every neighbourhood is different, and so are their bars, but all so equally enjoyable." Palazzi's answer was unequivocal. "Mayfair, absolutely!"
Some of the new spots named were The Painter's Room at Claridge's and Amaro Bar in Kensington, led by Elon Soddu and offering "outstanding twists on classics served by an enthusiastic team of former hotel bar professionals." Equal Parts in Hackney is "a new favourite," according to Perrone, "bringing a European aperitif style of drinks and flair to a very curated yet unassuming space."
Palazzi mentioned Lyaness, "set within the iconic Sea Containers by Tower Bridge. They're very innovative, changing the menu on a regular basis. Wonderful bartenders and a beautiful space."
London's pubs are a must
Sometimes the more casual atmosphere of a pub is what's called for, and our experts agree. "There's nothing more authentic than your local pub, so for me, it has to be The Pig's Head in Clapham or The Guinea Grill in Mayfair," Perrone said.
"When you are in London, visit an authentic pub. Never a chain pub, but a typical pub. That's what I always recommend—a visit to a classic establishment," Palazzi told T+L. "For instance, near us, there's a pub called The Red Lion. And the Grenadier in Knightsbridge claims to have invented the Bloody Mary. They're famous for that drink. This is a genuine pub that I wholeheartedly recommend."
Shop the best travel experiences here
The famed martinis of The Connaught and Dukes London Perrone and Palazzi agree that quality ingredients are key to a great martini. Perrone told T+L, "The perfect martini for us is the Connaught Martini because it features gins — such as our in-house distilled Connaught Bar Gin — that can withstand dilution. We also use a mix of three different dry vermouths to enhance all the botanicals of the spirit, crystal clear ice, and an aromatic bitter of choice for a cocktail that offers the perfect balance of dilution, texture, and flavours." The final touch, Perrone adds, is the "theatrical high pour, which not only conveys the necessary aeration to the mix but also adds that touch of genuine glamour and engagement that elevates the cocktail and the moment."
According to Palazzi, "For a perfect drink, the temperature and the execution are truly important. Like any cocktail that contains only alcohol, in this case, the martini, the glass has to be cold. If you shake or stir, you must make sure there's not much dilution. At Duke's, we freeze the gin or the vodka, making the process a little bit longer, but with greater results." He continued, "Many bartenders think that lemons or olives are decorations, but that is very wrong. Lemon oil and olives are also ingredients. With olives, it is important that they are natural. We use Nocerella olives, which are plain and juicy." "There's no secret to the perfect martini—it's all about the temperature, the execution, and the ingredients."
Book your stay at Dukes London via Booking.com
Book your stay at Dukes London via Agoda.com
Why these West End hotel bars should be on your itinerary "Dukes is tucked away in one of the most beautiful parts of London — St. James's," Palazzi said. We have Jermyn Street and Buckingham Palace just around the corner. We have historically been surrounded by prestige companies, for instance, Berry Bros. & Rudd, Lock & Co. Hatters, and Truefitt & Hill. These establishments have been around for hundreds of years. When you go to Lock & Co., you discover that they created the Bowler hat.
At Berry Bros., one of the oldest wines and spirit merchants in the world, you get to shop from a supplier who looks after the wine for Buckingham Palace. And when you go to Truefitt & Hill, the oldest barber shop, there is a grooming tradition to be reckoned with. We have heritage all around us, and when you complete your tour at Duke's, in my opinion, with the best martinis in the world, you find that you have experienced a true British journey through time."
"London offers the most incredible mix of cultures and styles, and the bar scene reflects this feature of the city. These days, you can find outstanding bars in every area of the city, from funky independent bars to more European-influenced ones, sophisticated and classic hotel bars, and many more," Perrone said. "There's a great venue for every taste and occasion, and one must try to discover as many as possible when in London."
An interesting footnote to the interviews. When asked about their favourite London bar for a date, Perrone named his choice to be at home with his wife, Gaby. Palazzi responded, "Apart from Dukes, for a date, my favourite one is the bar at The Connaught Hotel."
Book your stay at The Connaught via Booking.com
Book your stay at The Connaught via Agoda.com
(Hero and feature image credit: The Connaught Bar)
This story first appeared on travelandleisure.com
Related: Explore The Streets Of London Without Spending A Pound – Here's How
Written By