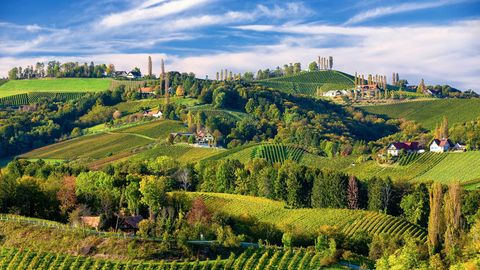 Austria is the delicious viticulture secret we are honestly reluctant to share. This small European nation punches above its weight in wine, with unique varietals created by the unusual terroir and a wine-making tradition stretching back thousands of years.
A FEW YEARS AGO I had the immensely good fortune to be invited to a dinner in Bangkok with Dorli Muhr. The name did not immediately ring a bell beforehand, but it is one I'll never forget, for this Austrian woman winemaker changed the way I think of wine. The premise of the evening was to show how well wine could pair with Thai food, if you just bothered to think outside the box. The location was bo.lan, now shuttered but for years a pioneer in high-end Thai cuisine using heritage ingredients from small-batch, organic growers. The match with Weingut Dorli Muhr could not have been more perfect. Her family-owned certified organic winery specializes in the traditional grape of the Spitzerberg region in Austria, Blaufrankisch, a concentrated yet graceful red distinguished by extreme weather conditions and ancient limestone in the terroir.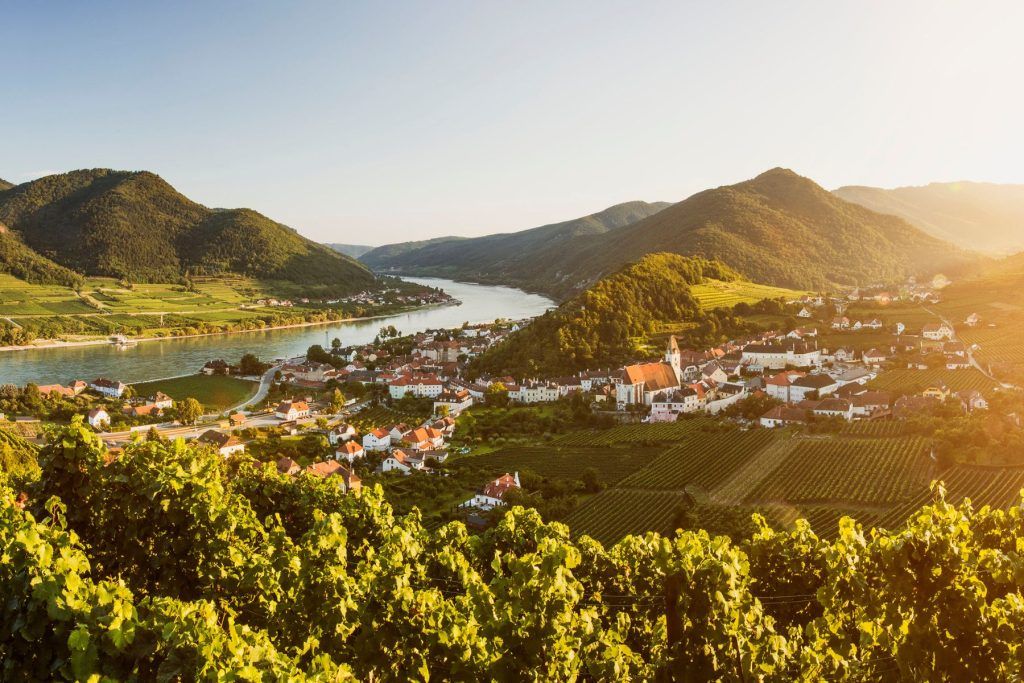 Blaufrankisch, the style that pulled this white-lover into the rich world of heirloom red, is one of the five most important Austrian varietals and, in my opinion, reason alone to visit the country. The fruit is small, aromatic, and creates wine that slides over the tongue like light velvet. Austrians have been growing wine for thousands of years, and while you may know some of their other four top grapes – Gruner Veltliner, a peppery, acidic white; the full-bodied, cherry-toned Zweigelt; Riesling, which is delightfully drier from vineyards along the Danube than those in the Rhine; and sparkling Sekt – there's always more deliciousness to discover. Though a small nation, the terrain of Austria is incredibly diverse, creating the perfect environment to grow a range of wines, many you've probably never heard of – and the perfect destination to do a wine-tasting road trip. Start in Vienna, and not just for the gorgeous historic sites: it's the only major wine-producing world capital, with 700 hectares of vineyards all within the city limits. Be sure to visit a Viennese Heurigen, a traditional type of winery on the UNESCO intangible cultural Heritage list. Fuhrgassl-Huber is a bucolic spot to begin your Austrian wine journey. History buffs will also want to head a bit north of the capital to Klosterneuburg Abbey, one of the oldest and largest wineries in Austria, whose cellar is an incredible 36 meters deep in the Earth. Indeed, Austrian wine, of which there are 35 approved varietals, is mainly produced in the eastern side of the country. Just an hour's drive from Vienna is Burgenland, a prime Blaufrankisch region that also produces great Gruners, Chardonnays, Pinot Blancs, and Ruster Ausbruch, one of the world's most famous sweet wines. The area is characterized geographically by fresh-air, big sky and silvery Lake Neusiedl, and personally by innovative winemakers, forward-thinking chefs and an inviting mix of modern and traditional aesthetics and sensibilities. It's one of those places you visit on vacation and automatically begin to contemplate whether you should move your life there.
Farther south, Styria charms with castles, medieval architecture, and the UNESCO World Heritage Old Town of Graz. All of which will look even better through rose-colored glasses. The rose, that is, that you'll find on the nose of Traminer wines in the village of Kloch. Surely you've heard of the Chianti Road in Tuscany, but let's keep the South Styria Wine Road just between us. Five years ago, all three wine-growing regions in Styria received DAC status, meaning you really want to spend some time hopping among the various little taverns known as buschenschanken to sample the local favorites from small-house grower-vintners. The third major wine-growing region in the country is of course Lower Austria, also known as Niederösterreich, birthplace of Weinviertel DAC (certified Gruner Veltliner), land of unique and esoteric white varietals like Zierfandler and Rotgipflerof, boasting a varied terroir that allows numerous international and domestic grapes to thrive, and home to Dorli Muhr. She's but one of many personalities passionate about viticulture you'll encounter across Austria, Europe's secret powerhouse wine country.
---
Article sponsored by Austrian National Tourist Office.
Written By