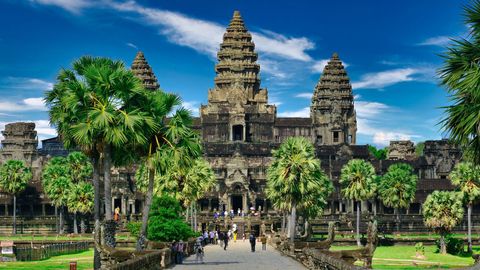 With a rich heritage and archaeological marvels that showcase a kaleidoscopic showreel of the Cambodian past, Siem Reap is the jewel of the Southeast Asian region. Also offering an exhilarating blend of the city's vibrance and nightlife, there are plenty of things to do and places to visit in Siem Reap.
This wholesome mix of traditional culture and modernism with tourist delights to experience is what makes this city a popular destination that deserves to be on every travel bucket list. While the city is prominently renowned for the neighbouring Angkor ruins of its temples and the royal palace, its effervescent markets, restaurants and pubs promise a happening time. It's a city that offers the best of both worlds thereby ensuring a wonderfully unforgettable vacation for all.
With the exquisiteness of Khmer architecture, artwork, handicrafts and delicacies to explore and revel in, the Siem Reap town serves as a haven for history buffs and ardent travellers alike. So, if you wish to visit Siem Reap — this land of all things ancient and magnificent — this complete guide will be your ally in planning your holiday. Best time to explore Siem Reap
Siem Reap usually has more or less the same weather throughout the year. However, with slight changes, it experiences three seasons — dry (or summer), wet (monsoon) and cool (winter). The best months to visit the city are December and January. While the summers tend to get too hot and dry, the monsoon season, too, is generally hot as well as humid because of high rainfall. So, the cooler months are the best time to explore Siem Reap. Since it is situated in the northern parts of Cambodia, the temperatures here are comparatively cooler than in the rest of the country. The tourist footfall, too, is high during this time and so are the prices of accommodation and flights, among other things.
Book your luxury staycation here
Best places to visit in Siem Reap
Angkor Wat
One of the largest and most significant religious monuments in the world and a UNESCO World Heritage site, Angkor Wat is situated in the heart of the Angkor Archaeological Park. Built in the 12th century by King Suryavarman II of the Khmer empire, the temple has been reconstructed by many kings after him. Spread across an area of 400 square kilometres, Angkor Park was once the largest pre-industrial city in the world. While Angkor Wat is one of the top tourist attractions here, the park also houses many other ancient temples, amongst which some of the most famous ones include the Angkor Thom and the Bayon temple.
Ta Prohm temple
Yet another prominent temple in Siem Reap, Ta Prohm temple is also commonly known as the Tomb Raider temple. Surrounded by thick woods, the temple exists in the same condition as it was found. With centuries-old massive Banyan tree and Kapok tree roots sprawling across the temple remains and its premises, it stands as a testament to the bygone era. Shrubs, creepers and moss cover most of the stone walls and corridors, lending the site a historic look.
Book your stay near Angkor Wat
Angkor Thom and Bayon temple
Showcasing Khmer architecture is the city of Angkor Thom, which was once the capital city of the Khmer Kingdom. It is now one of the most popular places to visit in Siem Reap and was built using laterite in extensive quantities and features gigantic figurines with nagas on its towers while the gates have representations of the 'Churning of the Oceans' episode of Hindu mythology. Additionally, the site also has the famous Bayon temple, the only Buddhist shrine in Angkor, at its centre. It was built in the 12th century under the regime of Buddhist King Jayavarman VII in the traditional Khmer style of architecture popular for 216 faces of Avalokiteśvara carved on its 54 towers (only 200 faces remaining now). The temple carvings also feature numerous bas-reliefs depicting the battle scenes and life in the city then.
Angkor National Museum
The one place to surely stop by, especially before visiting the archaeological wonders of Angkor, is the Angkor National Museum. While it'll give you ample information on the Khmer civilisation, its temples and ruins through informative audio-visual facilities will help in understanding the heritage sites better. Not just that, it houses eight galleries, showcasing over 8,000 artefacts, relics and treasures, spanning different eras of Cambodian history, religious deities and culture.
Book your stay in old french quarter
Banteay Srey Butterfly Center
Yet another tourist attraction that's a must-visit is the Banteay Srey Butterfly Center. It is South East Asia's largest exhibition centre and home to thousands of butterflies. They fly freely in a huge netted garden-like area that's brimming with lush greens and tropical flowers. It is an interactive centre that also aims at educating people about a butterfly's life cycle alongside training individuals in butterfly farming.
Phnom Kulen National Park
Situated on the holy Kulen Mountain, the Phnom Kulen National Park makes for a great getaway from the city, as it takes you into the laps of nature. Situated a bit far from the city, the site houses a slew of ancient temple ruins made of bricks and volcanic stones. The place also has waterfalls over huge multi-tiered rocks where you can swim or simply while away your time amidst verdant greens.
Tonlé Sap Lake and Prek Toal Bird Sanctuary This is the largest freshwater lake in South East Asia, which makes for a natural resource for the local population inhabited around its banks, earning a living by fishing and agriculture. It is also known as the Great Lake and has over 300 species of fish, water birds and animals, including snakes, turtles and crocodiles. The site also has floating villages that are great to explore. The best time to visit this place in Siem Reap is during the wet season.
Located within the Tonlé Sap Biosphere Reserve is the Prek Toal Bird Sanctuary that's home to numerous species of water birds and migratory birds such as the Black-Headed Ibis, Fish Eagle, Storks, Spot-Billed Pelican and Greater and Lesser Adjuncts. You can opt for boat-guided tours for an enhanced and informative experience.
Book your stay in Siem reap central area
The Bakong temple
The first of Angkor's large mountain temples, the Bakong temple of the Khmer period, was dedicated to the Hindu god Shiva. The site is revered for its distinctive five-tier central pyramid structure surrounded by eight finely carved temple towers and the bas reliefs that represent the architectural skill and artistry of the empire. It makes for one of the top places to visit in Siem Reap, which leaves one in awe of the historic charm and regalia.
Cambodia Landmine Museum Established by Aki Ra in 1997, the museum gives an insight into the country's landmine situation when around six million landmines were laid in Cambodia. The museum displays decommissioned landmines, explosives, weapons and bombs that Aki Ra removed from the country to make it safe for its people. The museum now aims at educating people about the dangers of landmines and their history with the country.
Angkor Silk Farm
If the opulence of silk has always fascinated you, the Angkor Silk Farm will be the best place to increase your knowledge about all things silk. It was established in 1993 as a non-profit, charitable business, aiming at the revival and development of Sericulture in Cambodia. While here, you'll be taken on a guided tour that educates you about all the aspects and end-to-end process of silk farming. Be it mulberry cultivation, application of natural dyes to silkworms, cocoon formation or Ikat weaving, everything is explained through amazing workshops.
The Royal Terraces
Comprising the Terrace of the Elephants to the South and the Terrace of the Leper King to the North, the Royal Terraces form the Eastern boundary of the Royal Palace grounds in Angkor. The Terrace of the Elephants is a 300-metre-long walled structure, featuring bas-reliefs of elephants and their mahouts. It is believed to have served as a platform where King Jayavarman VII would stand and watch parades and processions and listen to people's complaints and problems.
The Terrace of the Leper King is named after a statue of the Leper King that was found in the middle during excavation. It's prominently marked with figures and sculptures of multi-headed nagas (snakes), demons, mythical beings, armed guardians, garudas (eagle or kite in Hindu mythology) and female celestial beings.
Book your stay in the wat bo area
Pub Street Located in downtown Siem Reap, Pub Street road is the best place to experience the city's nightlife. It is a vibrant and happening street that starts bustling with tourists and locals post five in the evening. Lined with an array of restaurants, cafes, pubs, massage parlours and entertainment clubs, it also has many souvenir shops, art galleries and stores to add to the experience.
Things to do in Siem Reap
Shop at Siem Reap's famous markets
When in Siem Reap, exploring and shopping at its various bazaars and night markets is simply unmissable. Buzzing with tourists and locals alike, these markets sell everything from traditional Khmer handicrafts and artefacts to daily essentials, fashion items, home decor products and souvenirs. These markets are also a ground for umpteen restaurants, cafes, pubs and food stalls, serving authentic Khmer delicacies and other local and continental dishes.
Watch Apsara Dance A lot of hotels and restaurants in Siem Reap arrange for dinner evenings with traditional art and dance performances, amongst which the Apsara Dance is the most popular one. After a day spent exploring some archaeological sites of the city, an evening spent relishing delicacies and drinks while experiencing this cultural dance should definitely be on your itinerary.
Book your stay near apsara theatre
Go ziplining
If you're looking to amp up your trip to Siem Reap with some adventure, head to the Angkor National Park for a ziplining tour. Offering 10 ziplines over a lush jungle canopy surrounding the temples of Angkor Wat and Angkor Thom, it also features four hanging sky bridges along the way that allow you to explore and learn about the vegetation and the flora and fauna around. A roundtrip shuttle service to and from the hotel and traditional Khmer lunch are included in the tour packages.
Visit the Kbal Spean River
Also known as the River of Thousand Lingas, owing to the intricate carvings of more than 1,000 lingas on the rocks around the riverbed, the Kbal Spean is one of the most famous places to visit in Siem Reap. The site makes for a great escapade where you can enjoy a quiet downtime by the river. A trip to this place can easily be combined with the Phnom Kulen National Park and can be reached via an easy two-kilometre hike through the dense forests.
Book your luxury experiences here
What to eat in Siem Reap Siem Reap is nothing less than a paradise for lovers of food. With the city's various markets and the famous Pub Street bustling with myriad restaurants, cafes and street-side food stalls, the food scene here is also a major attraction. Serving an extensive variety of authentic Khmer cuisines and continental dishes, these eating joints leave one spoilt for choices. However, if you're looking for a select few must-try dishes, our list below is what you should be pinning to your itinerary right away.
Fish Amok — a freshwater fish fillet marinated in a curry paste and steamed in banana leaf resulting in a soft, creamy texture.
Nom Banh Chok — traditional Khmer rice noodles cooked with bean sprouts, green beans, mint leaves, banana flowers, cucumber, coconut-based fish curry and meat of choice.
Lok-Lak — stir-fried beef distinctively flavoured by marinating the meat overnight in fish sauce, lemon, pepper, soy sauce and oyster sauce. It is served on a bed of lettuce, tomato, rice, brown sauce and fried egg.
Prahok Ktiss — a dip that's made with fermented fish, eggplant, coconut milk, Khmer curry paste called Kroeung and sliced pork belly or minced pork. It is usually served with fresh vegetables such as carrots, cabbage, cucumbers and long beans.
Lap Khmer — a lime-marinated beef salad made with raw beef slices, freshly squeezed lime juice, shallots, fish sauce, lemongrass, mint, green pepper, garlic, basil and green beans.
Kralan — Khmer bamboo sticky rice that's made by combining rice, black beans and coconut water and stuffing it inside clean bamboo sticks. This is then cooked on a grill or burning coals for about an hour.
Khmer Red Curry — a milder and less spicy version of Thai and Indian curries. It is a coconut milk-based dish that includes Khmer curry paste, lemongrass, kaffir lime zest, galangal and turmeric and is served with French Baguette alongside meat slices, potatoes, eggplant and green beans.
Discover more dining experiences here
What to shop in Siem Reap Another thing that Siem Reap is popular for apart from its various temples and heritage sites is the plenty of markets where one can shop their heart out. One of the most famous markets is the Siem Reap Old Market or locally called Psar Chas. It is the oldest Khmer market set in a covered structure and sells fresh produce, edibles, meat and seafood, spices and even affordable souvenirs, including antiques, silks, jewellery and clothing.
Another must-visit tourist shopping spot is the Angkor Night Market, which starts in the evening and is on till midnight. It is a haven for both shopaholics and foodies, offering an extensive variety of both goods and delectable dishes. It is a famous night market that also sells Khmer artwork and local handicrafts. Other famous markets include the Siem Reap Art Centre Market, Noon Night Market and BB Angkor Market. These are brimming with stalls and shops selling not just home, living and fashion essentials but also traditional Khmer goods and souvenirs that one must splurge on.
(Main and Featured Image Courtesy: Paul Szewczyk/Unsplash)
Related: Vietnam Travel Guide: Best Places To Visit, Where To Eat And Everything Else You Need To Know
Frequently Asked Questions (FAQs)
Question: How much time is required to explore Siem Reap?
Answer: Anywhere between three to five days is required to explore Siem Reap and its neighbouring tourist attractions.
Question: Are there any free things to do in Siem Reap?
Answer: Besides its various local markets, other tourist spots and attractions that you can explore for free include West Baray, Wat Preah Prom Rath, Wat Bo and Wat Damnak.
Question: Where to stay in Siem Reap?
Answer: Some of the most popular areas of Siem Reap that you can stay in are the French Quarter, Old Market, Wat Bo and Taphul Village.
Question: How to roam around in Siem Reap?
Answer: Getting around in Siem Reap includes plenty of options such as remork (Cambodian tuk-tuks), taxis, motorcycle taxis and rented vehicles like bicycles, bikes and eclectic cars.
Question: What to wear in Siem Reap?
Answer: While you can carry lightweight, breezy clothes to Siem Reap, including tank-tops, shorts and dresses, it is advised to wear clothes that cover shoulders and knees when visiting religious places and temples.
Written By