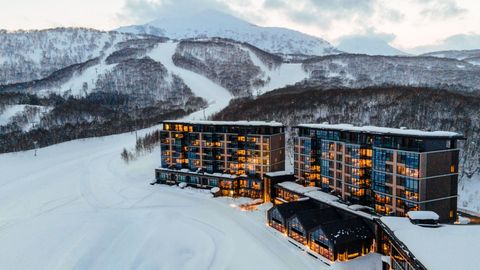 We don't know about you, but our social media feeds have been full of Japan in the past couple of months–specifically Niseko, where friends, colleagues and connections seem continually submerged in shoulder-deep powder, their skis or snowboards barely visible behind the spray of snow. The long season there is nowhere close to over, so we asked one of our contributors who makes an annual pilgrimage to put together the ultimate T+L Southeast Asia travel guide to Niseko, all you need to know to enjoy the world's most perfect snow.
I ARRIVED AT SAPPORO'S New Chitose Airport in January 2013, shepherded by a native Australian, Luke Hurford, who had become a tourism advocate for Niseko over a decade spent falling in love with the 'secret' Japanese mountain town purported to have the best snow and backcountry skiing in the world. My first visit to Japan's northernmost island began with ramen near the airport, the group of us piling into a narrow restaurant filled with billowing steam, slurping up our noodles, sustenance for the two-hour trip up the mountain. Big fat snowflakes floated through naked birches as our private shuttle wound through the silent, striking winter landscape. We passed Shikotsu, a caldera lake framed by mountains, marveling at the stunning scene. 'Niseko' refers to 1,308-meter Mount Niseko Annupuri, while the four ski resorts that flank this mountain are collectively known as Niseko United. It is one of the snowiest resort destinations in the world but it's not just the amount of snow that people rave about; it's also the quality. In winter, the winds of Siberia sweep across the Sea of Japan, a magical formula creating fluffy, dry 'powder' snow; then dispersed across Hokkaido's interior mountains.
Pulling into the Hirafu intersection in Niseko, I was gobsmacked. That winter, the total snowfall was 15.3 meters. Snow piled as high as the roofs of some houses, obscuring second storey windows. On some parts of the road, the snow had been fashioned into walls, creating tunnel-like passes. Across us, the majestic 1,898 meter tall Mount Yotei loomed. "It's known as Ezo Fuji," said Luke, gesturing to the mountain. "Ezo was the historic name for these northern parts of Japan, which changed to Hokkaido in 1869. Niseko has a community deeply attached to its natural environment, like the pioneers who first opened up and expanded terrain everywhere. In the spring, you'll see locals foraging for mountain veggies such as wild garlic and asparagus on the roadside."
An ongoing sense of bucolic pastoralism paired with a living snowglobe of powder…
You know that trip where you plan your next visit before the current one is over? This 11-year-ago revelation was it.
Niseko Village On my maiden visit, I split stays between the ski resorts by Hilton (doubles from ¥46,220) and The Green Leaf at Niseko Village. While the property is almost three decades old, I still like the Hilton for its dependability; high quality services and facilities from children's playroom to ski valet. On the opposite end of the spectrum, The Green Leaf (doubles from ¥38,000), a modern Japanese bolthole filled with local art, tiny rooms and enticing vending machines on each level, also captured my heart.
On quirkily named slopes such as Banzai, Shaky Knees, and Miso Shiru, I learned how to ski, gingerly following my friend, also a first time skier (then in her 50s!) down the slopes as I piggy-backed on her private lessons. Après, we unwound in the onsens, reveling in the sheer freedom of being stark naked in the outdoor hot springs, with snow clinging to our lashes and cheeks. We feasted non-stop on Hokkaido's magnificent produce; breakfasts of flaky croissants, rich Niseko cheeses and the delicious, made-in-Hokkaido Bocca yogurt drinks with flavors such as yuzu-mikan and spiced banana; lunches in between ski runs that included pork tonkatsu with meat from Makkari, a neighboring town where the pigs graze on fragrant herbs. For dinners, we ate nabe, cooking fat scallops, prawns and king crab in clear broth, then drinking up the steaming soup. In later years, the owners of Niseko Village, a Malaysian company called YTL added Kasara (from ¥199,100, sleeps 6)–a collection of luxury serviced townhouses, a shopping area called The Village, Hinode Hills (doubles from ¥27,600) composed of 79 boutique apartments, and most recently, the 50-suite Higashiyama Niseko Village (doubles from ¥152,100), which is the first Ritz-Carlton Reserve property in Japan.
I returned to Niseko Village again in December 2022 and the perks of staying in the area were crystal clear to me: every property is ski-in, ski-out, the slopes here are compact but uncrowded, and at almost every turn, one is afforded unparalleled views of Mount Yotei.
Niseko during the white season became a tradition, a pilgrimage almost. I went back with my sister, my boyfriend–who went again later as husband. We celebrated milestone birthdays there with friends, and when the time came, we took our kids.
Annupuri Annupuri is the westernmost resort on the mountain and unlike its neighbor, Niseko Village, doesn't quite have a 'core.' A smattering of pensions, ryokans and luxury chalets dot the area. There, we experienced the spacious and stylish two-bedroom apartments at Annupuri Garden (two-bedroom apartments from ¥133,980, sleeps 4-8) where I cooked many meals in the fully kitted kitchen, constantly distracted by the unparalleled views offered by the floor-to-ceiling windows while I made feasts highlighting Hokkaido potatoes, corn, uni and ikura. There were no wild après ski parties; instead we took contemplative evening walks, sometimes in thigh-deep snow, before retiring to the private onsen in our apartment.
Those not staying in Annupuri normally visit to take advantage of the wide and gentle slopes most suitable for beginners, experience Yugokoretei onsen, queue for pizza at Del Sole, or have a kaiseki meal at Rakuichi, the sobadokoro made famous by the late Anthony Bourdain.
Grand Hirafu Depending on what we're after or who we're with, we often stay a few days in Niseko Tokyu Grand Hirafu, the pulse of the mountain. Split into upper and lower sections, Hirafu, as it is more commonly known, undulates in a grid of slopeside luxury condos and chalets, teeming with vibrant restaurants, cafes, bars and shops. Naturally, given it is the largest developed area, Hirafu's slopes are also the busiest on the mountain.
Late in 2022, just in time for Japan's post-pandemic reopening, the luxe, art-filled Setsu Niseko (doubles from ¥42,400) debuted, and one of my Sapporo-based T+L colleagues snagged an early stay. Read her review here.
On my last trip, meanwhile, we enjoyed the ski-in, ski-out convenience on Sansui (doubles from ¥59,000), a beautiful, newly opened boutique property in Upper Hirafu, with large rooms arranged around an open central atrium, allowing lots of natural light and serene snowfall scenes on all sides. We waved our daughter off for lessons with Hokkaido Ski Club, and braved the black run to get to Boyo-So, a no-frills mountain shack offering hearty lunches on the slopes. In the evening, we dined at Sushi Shin by Miyakawa, the Niseko offshoot of the three-Michelin star, edomae sushi restaurant by Masaaki Miyakawa of Sapporo.
Bar Gyu+ is an institution. Image courtesy of Bar Gyu+

Niseko's thick snowfall makes boltholes like Bar Gyu+ super cosy. Image courtesy of Bar Gyu+
Taking full advantage of Sansui's shuttle service, we headed to Bar Gyu+, a Niseko institution run by husband-and-wife team, Hisashi and Ioanna for the past 15 years, for delicious nightcaps to the soundtrack of an eclectic jazz collection. Ioanna, a Canadian who, like Luke, visited and never went home, says, "Niseko is not Aspen. Because it snows so much, we don't have a large outdoor bar apres ski culture, it's more about finding unique hideaways." Which their bar is. The Gyu+ in their name is a play on gyu gyu, meaning 'tight' or 'cosy' (like the train at rush hour), so it really lives up to its name.
Further down the road, izakayas Koharuya and Ebisutei serve Hokkaido staples: zangi and deep-fried gobo are popular. Once one of the hottest tables in Niseko with queues out the door, Ezo Seafoods has resurfaced post-pandemic offering sumptuous seafood platters to-go. The pristine produce here has made it a gourmet and chef's playground: culinary experiences are delightful, from Michelin-starred restaurants such as Kamimura, to bijou sushi gems like Sushi Kato, and quaint, family-run places such as Cafe If. Be forewarned though, during the ski season, you should make all your dinner reservations in advance, otherwise you might find yourself queuing at the food trucks near the Hirafu intersection, or scrounging through the aisles of SeicoMart (not always a bad idea).
T+L Tip: Booking platforms such as The Luxe Nomad offer competitive rates, and once you book, a complimentary concierge service to make all those reservations for you.
Hanazono
Breakfast in bed. Image Credit: Aja Ng
It is always a treat to stay in Hanazono, the easternmost resort on Mount Annupuri, where Hong Kong magnate Richard Li has invested undisclosed sums. Sleek and elegant, the Park Hyatt Niseko Hanazono (doubles from ¥91,718) reigns this side of the mountain. With spacious rooms, suites and residences, a stay here is to immerse oneself in pure luxury. We entrust our daughter to the able instructors of the Niseko International Snowsports School, then the ski valet helps us kit up and we're off, gently gliding down to the spanking-new hooded chairlift, with heated seats… talk about plush! Hanazono's slopes are easy to navigate and devoid of crowds, adding to the area's exclusivity.
Lunch at Hanazono can be taken at EDGE, a shiny new food and beverage complex serving skiers and snowboarders Japanese fare such as snow-crab ramen. Just outside EDGE is Hana 1 Cafe, a cheery place run for the past 13 years by affable Australian Mikey Flanagan and serving up old-school rap, great coffees, mulled wine and oozing toasties. More upmarket meals can be indulged in at the Park Hyatt, where a spectrum of selections from Italian at Olivio, to Chinese at China Kitchen, to fine dining at Moliere Montaigne helmed by Michelin-starred Hiroshi Nakamichi are to be had. Slightly further afield, Somoza offers fine fare in a restored 150-year-old kominka tucked in the birch forest. Its owner, artist and art collector Shouya Griggs also conceptualized Zaborin (doubles from ¥170,000, with breakfast and dinner), a contemporary luxury ryokan, and the recently opened Shiguchi (doubles from ¥196,000, with breakfast and dinner), a collection of century-old wooden farm houses painstakingly restored and converted into divine dwellings with powerful aesthetics, showcasing fine Japanese craftsmanship and an intimate brand of hospitality focused on harnessing the natural elements and surroundings for growth and renewal. With each visit, we fall deeper in love, build more friendships, discuss the evolution, the influx of (more!) tourists. We begin to plan our next trip, aiming to include all the things missed, strategizing how we will uncover more, experience more. We want to be there to ski, for the snowfall, to shop at the Kutchan supermarkets like locals, and cook the same way, but more than that, we want to just be there. So with each passing year (pandemic times, of course, excepted), the days between trips grow shorter, the length of stay longer–that's the magic of Niseko.
---
HOW TO PLAN YOUR TRIP TO WINTER-WONDERLAND NISEKO Clothes and gear
Warm layers such as heat tech and waterproof jackets and shoes with good grip are essential. While on the slopes, good beanies, balaclavas, helmets, waterproof gloves and goggles are a must. For gear rental and retail, look to Niseko Sports for excellent service and high quality equipment.
Passes, lift tickets and lessons
Mountain passes and lift tickets can be purchased online, and a Niseko United mountain pass also provides complimentary access to the Niseko United shuttle which plys Route 343, the main thoroughfare connecting the four ski resort areas. Also download your trail map to get to know the ski runs.
First-time skiers or snowboarders will benefit greatly from a lesson or two, and depending on which area you stay at, there are great ski schools with English-speaking instructors for both adults and kids.
What to do in Niseko aside from skiing
Off mountain, onsen, shopping and eating are activities to look forward to, along with day trips to Nikka's whisky's Yoichi distillery and the seaside town of Otaru. For kids, there are engaging options such as Jojo's, Edventure and Galaxy of Kidz. When to go and how to get there
Snow begins to fall consistently in mid-December and continues through to March, with some resorts open for skiing up to the first week of May. Temperatures range between lows of -11 to 9 degrees Celsius, with January being the coldest month.
We love Niseko best after the Christmas and Chinese New Year frenzy, when the pace slows, allowing better immersion into the destination. Flights and accommodation at the various ski resorts in Niseko are also more accessible from mid-February to the end of March.
When leaving, save space and time to shop at the New Chitose Airport's domestic terminal, where a smorgasbord of Hokkaido delights from canned uni to ikura, live crab, meat, savoury snacks and confectionery are expertly presented and packed for take off.
Most major airlines in Southeast Asia offer direct flights to Sapporo, including Thai Airways, Cathay Pacific, Scoot and AirAsia X.
---
Hero Image Credit: Courtesy of Park Hyatt Niseko.
Written By