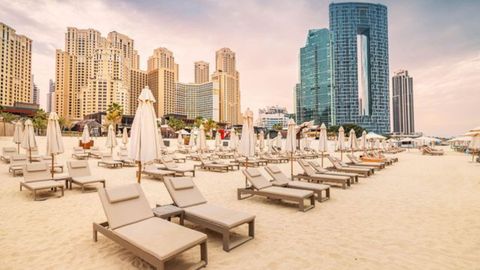 In Dubai, it's possible to chill on the beach, stroll in the desert, and have a cocktail at the top of a skyscraper all on the same day. "Dubai's got a glorious magnetism to it," says Nada Badran, a Dubai resident for more than 30 years and experienced curator and tour guide with Wander With Nada. "There's so much palpable energy in the air, and every day the city offers a new opportunity for creative fulfilment."
Despite the above, Dubai is sometimes shrouded by misconceptions, says Isabella Sullivan, founder and editor of Near+Far, a travel magazine for modern Middle East travellers. "The first misconception is that it's all glossy, fake, and superficial, which couldn't be further from the truth," she told Travel + Leisure. Another misconception is that it's not a safe place to visit. On the contrary, Dean Hayter, travel product manager at Origin, says that "living in Dubai is the safest I have ever felt in any city."
So if any of the above has kept you from booking a trip to this vibrant city, you can set your mind at ease. And once you've arrived, here are the best things to do in Dubai.
The best things to do in Dubai
Learn about local coffee culture The Arab world is known for its coffee — from traditional Turkish coffee to modern delights like cereal lattes — and Dubai has myriad cafes in which to get your daily fix. "[There are] so many cool, unique, artsy, and design-led coffee shops," says Sullivan. "Some have beautiful gardens and outdoor spaces, while a new slew of them have moody interiors and unique, immersive themes." Sullivan's favourites are The Grey, Nightjar Coffee and Tom&Serg.
Cruise Dubai Creek In the past, Dubai Creek was part of the trade route connecting ports in the Arabian Gulf. Today, it's a beautiful way to see the city and one of Hayter's top suggestions in Dubai. "Go to Dubai Creek before sunset and hire an abra (traditional wooden boat) for a private cruise," Hayter says. "When you're in the middle of the creek and the sky turns pink and the call to prayer fills the sky, it is magical."
Go stargazing in the desert Fascinated by the night sky? Book a night safari with ecotourism company Platinum Heritage, which includes guidance from an astronomer and the use of a telescope. "The sky is so dark that you get to see the most incredible blanket of stars," says Hayter. "If you're with an astronomer who can explain everything you're looking at, it's an amazing experience."
Play a round of golf Golf may not come to mind immediately when planning a vacation to the Middle East, but Dubai has several recognisable courses, including The Emirates Golf Club – Majlis Course, which is considered one of the best in the destination. Kelvin Cheung, chef-partner at Jun's and a Dubai resident for two years, suggests checking to see if any of your credit cards include free rounds of golf as a perk. Note that the best time to golf here is between November and March when the weather is more comfortable.
Relax at a Dubai beach "Dubai has some great and uncrowded public beaches, where you can just enjoy the warm Arabian sea and sunshine at no cost," says Sullivan. Try Kite Beach, since it also offers fantastic showers and bathrooms, plus a handful of food stands and coffee shops. For an extra treat, rent a Careem bike and cruise along Kite Beach's lengthy boardwalk.
Enjoy the diverse dining scene
Between the innovative design of its restaurants and the exceptional diversity of its culinary offerings, Dubai is a fantastic place for foodies. When planning your meals, consider chic restaurants like Amazonico, which takes you on a sensory journey through the Amazon; SEVA, a laid-back, plant-based cafe within a wellness centre; and Jun's, a fusion restaurant with the Burj Khalifa skyscraper as its backdrop and where the chef aims to introduce himself to each table.
"The city offers a wide range of flavours and textures, and truly pushes boundaries," says Chef Cheung of Jun's. "Because the Dubai food scene offers top-quality food and service in every corner of the city, my team and I stay motivated to deliver excellence with every experience. There are very few places in the world that cater to such a diverse set of people."
Indulge in the facilities of a luxe hotel
Visiting a world-class hotel in Dubai and enjoying its wellness offerings is a must. "Dubai has so many gorgeous hotels, and more often than not, you can purchase day passes to enjoy their facilities, including beaches, pools, and spas; some also have tennis and padel courts," says Sullivan. "Apps like Privlee and Viya are great for tourists and residents; you pay a fee and have unlimited access to partner hotels, beach clubs, and gym facilities, so you can try somewhere new every day."
Book your stay at Bulgari Resort, Dubai via Booking.com
Book your stay at Bulgari Resort Dubai via Agoda.com
Get lost in the streets of Old Dubai "I am probably at my happiest when wandering in Old Dubai's streets, sikkas (alleys), and souks, which are swarming with activity," says Badran of Wander With Nada. "The labyrinthine souks are where everyone wants to sell you something; 'Shakira' and 'professor' are heard countless times, as vendors appear to have unanimously agreed it's the best way to capture customers' attention. People duck into beckoning small shops where stools are commonplace, as is a cup of chai, and every transaction involves a lengthy bargaining debate. Sounds of carts mingle with scents of aromatic spices and musky perfume."
Explore Al Serkal Avenue Al Serkal Avenue is an industrial warehouse district that has been transformed into a creative hub. "It's an oasis of art, community spaces, and all things quirky," says Badran. "To visit is to be transported to another world of art galleries, cosy cafes, boutique shops, and plenty more." The venue's galleries are open to the public at no cost, and it's fun to wander here even if you're not an art buff.
Go on a desert adventure Tour through the desert in a 4×4, or go extreme off-roading in a dune buggy or on a quad bike with Expert Rangers. And if you want the full Arabian desert experience, book the package that includes sandboarding, camel riding, an Arab dinner, and entertainment.
Get the best view of Dubai
If you're a thrill seeker, consider a dive with Skydive Dubai. Divers fall 13,000 feet through the sky over the Palm Jumeirah — what a memory to take home with you.
Book a traditional spa treatment A hammam is a traditional cleansing ritual that involves hot steam, a revitalising scrub, rhassoul clay, and vitamin-E-rich products — you are bound to exit this experience feeling the softest you've ever felt. We recommend booking a hammam treatment at the Guerlain Spa at the One&Only The Palm.
Head to Hatta Hatta is in the Hajar Mountains, about 60 miles (96.56 km) outside of Dubai. This is the perfect place to appreciate nature — go for a hike with spectacular views, kayak in the reservoir, or mountain bike on designated trails. There's also a heritage village that's home to restored traditional houses and a defence tower.
Scuba dive in a pool Deep Dive Dubai isn't your typical swimming pool — it's the deepest in the world at about 197 feet deep. Scuba, freediving, and snorkel courses are offered here, and if you're already certified, you're welcome to explore this underwater world designed to look like a sunken city.
Shop the best travel experiences here
Visit the Museum of the Future This building is an architectural wonder in shape and design. The exterior is wrapped in Arabic poetry, and the structure's circular shape represents humanity while the abyss in the middle signifies the indefinite future. Inside you will find immersive exhibitions that ask observers to reflect on the world, the future, and themselves. Purchase tickets in advance, as the museum is a popular attraction and day-of tickets aren't always available.
Visit Expo City Dubai
This venue is a future-forward miniature city that maintains much of what was offered during the World Expo (Expo City was part of the exhibitions, which took place in 2022, delayed due to the pandemic). The sustainable city offers educational experiences and attractions that revolve around global topics, plus multiple playgrounds and parks.
Spend a day at Dubai's newest resort Beyonce performed an exclusive show for the opening ceremony of Atlantis The Royal — what a way to get the world's attention. This ultra-luxurious resort is worth checking out, even if you aren't staying the night. It's home to eight restaurants helmed by celebrity chefs (including Nobu by the Beach), a sky-high infinity pool, a club with panoramic views of the skyline, and dozens of other experiences.
Book your stay at Atlantis The Royal via Booking.com
Book a tour with Wander with Nada
Nada of Wander With Nada is a fun and peppy guide, sure, but she's also incredibly knowledgeable about Dubai, and therefore just the guide you want to get to know the destination. Choose from several tour options, including one that highlights Dubai landmarks and another that focuses on Old Dubai.
Party at a beach club
Beach clubs in Dubai are worth the hype, with Twiggy by La Cantine and Nammos being two of our favourites. Rent a cabana or beach chair and spend the entire day (or just a few hours) soaking in the sun with a drink in hand, listening to vibey beats.
Shop in Dubai Gold Souk The streets may as well be paved with gold in Dubai's Gold Souk, a fascinating marketplace with nearly 400 vendors. You will see gold of all karats and styles, from simple to elaborate. Note that if you do plan to purchase something special, don't be shy about negotiating for a better price, as that is custom here.
Shop in a Dubai mall Dubai has no shortage of malls, where you'll find just about every brand you can name. Visit Dubai Mall to see one of the largest malls in the world (it's also home to the Dubai Aquarium); the textile souk for traditional shopping; or the Dubai Design District (D3), which is home to pop-up fashion boutiques and rotating art installations.
Go skiing indoors If you can dream it, Dubai can execute it, and Ski Dubai is proof. Want to ski indoors and then step outside into warm weather? This is the place. Maintaining freezing temperatures all year long, this ski resort provides guests with ski suits to keep them cosy. Lessons are available, and there's even a chair lift — and penguins — inside.
Order a tailor-made outfit If there's one thing foreigners may not know about the Middle East, it's that the tailors are amazing and that most locals have everything from simple, everyday outfits to wedding gowns tailor-made for them. A trip to Dubai is therefore an opportunity to have your dream design brought to life. Visit the textile souk for fabric, get measured by a tailor, and voila, you'll have a new outfit within days. Getting fit for traditional dishdasha (for men) or abaya (for women) is a nice way to bring a bit of Dubai home, too.
Ride the Dubai Metro The Dubai Metro is an extensive and well-maintained public transportation system that connects major locations in Dubai at an affordable price. Residents typically use these trains for their daily commute, so hop on a train to feel like a local.
Book your stay at Al Maha, a Luxury Collection Desert Resort & Spa, Dubai via Booking.com
Book your stay at Al Maha, a Luxury Collection Desert Resort & Spa, Dubai via Agoda.com
(Hero and feature image credit: frantic00/Getty Images)
This story first appeared on travelandleisure.com
Related: 72 Hours In Dubai: Indoor Experiences To Enjoy In The City Of Gold
Written By