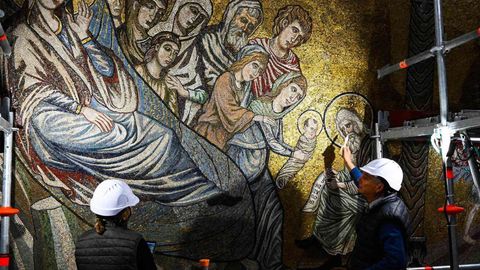 Instead of typically closing while undergoing renovations, The Baptistry of San Giovanni in Florence, Italy, is actually welcoming visitors to get a once-in-a-lifetime opportunity to see its breathtaking ceiling mosaics at a closer angle during the restoration process.
Instead of limiting the public's availability to view the vault during the renovations, The Associated Press reported that officials have built a 32-meter (105-foot) scaffolding platform for art restorers, which will allow visitors to see some of the Florence monument's 10 million mosaics up close.
Why visiting this under-renovation monument in Florence is a great idea
The white carrara and green prato marble baptistry is one of the most iconic places to visit in Florence. It features one-of-a-kind mosaic scenes of John the Baptist and The Last Judgment and is most famously known for its dome, which is covered in ancient mosaics.
Visits began on February 24, and advance reservations are required. This is the first renovation of the octagon-shaped monument in over a century. While the exact extent of the work will remain unclear until workers start inspections, the crews will likely have to remove grime, fix any water damage that may have entered the building and re-adhere some stones.
"We had to turn this occasion into an opportunity to make it even more accessible and usable by the public through special routes that would bring visitors into direct contact with the mosaics," said Samuele Caciagli, the architect in charge of the restoration site told The AP. Cagliari said the scaffolding tour is "a unique opportunity that is unlikely to be repeated in the coming decades."
Officials managing the project also told the AP they won't be using "any material that is foreign to the original types of stone and mortar used centuries ago."
"It is a mix of science, technology, experience and tradition," Roberto Nardi, director of the Archaeological Conservation Center, said.
This story first appeared on www.travelandleisure.com
Main and Feature Image Credit: Vincenzo Pinto';/Getty Images
Related: In Italy? Rent That Gorgeous Sicilian Villa From 'The White Lotus'!
Written By