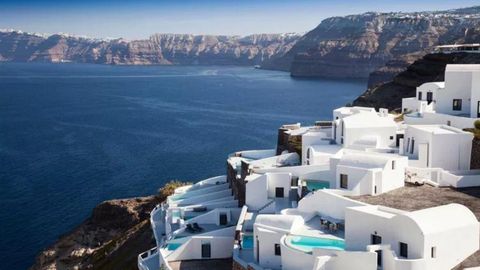 In the past few years, tourism to Greece has boomed. With the summer high season only a few months away, now's the time to lock in your own plans, whether they call for a tour of the classics or something a little more adventurous. Here, is a collection of well-thought itineraries from the three Greece experts on Travel + Leisure's A-List.
Itineraries planned by experts for your next Greece trip
A classic crowd pleaser, arranged by Petros G. Zissimos of Hellenic Holidays
Days 1–3 This quintessential itinerary includes visits to some of Greece's most iconic destinations, Zissimos says, adding that "it's our most popular trip for 2023 so far." Touch down in Athens, where you can hit highlights such as the Acropolis and Areopagus with a guide, then explore neighbourhoods like Kolonaki and Plaka on your own. Zissimos recommends staying two nights at the well-situated Electra Metropolis before heading off to the Cycladic island of Mílos, accessible either by air (45 minutes) or by ferry (from three hours).
Days 4–6 "Mílos has dozens of beaches to visit, with different combinations of sand, stone, and shells," says Zissimos, who's especially partial to Sarakiniko. He also recommends a sailing excursion to Kleftiko, where volcanic rock formations make for spectacular photos, and an evening in the town of Adamantas, where tavernas line the waterfront. The seaside Melian Boutique Hotel & Spa, on the northeastern tip of the island, is a go-to for Zissimos.
Days 7–9 You'll need a morning for the four-hour ferry ride to Naxos, an island offering a solid combo of archaeological sites and contemporary adventures. "There's a beach for everything here," Zissimos notes. "Agios Georgios is known for windsurfing, while Mikri Vigla is the place for kitesurfing." In between, Zissimos can arrange guided visits to the Temple of Demeter and the Portara, the 2,500-year-old marble gate that stands at the entrance to Naxos Harbor. His preferred place to stay is Villa Marandi Suites, with its whitewashed ocean view rooms.
Days 10–14 After breakfast, catch a high-speed ferry (90 minutes) to Santorini, then check in to the cliff-top Grace Hotel, Auberge Resorts Collection. Spend the next day on a sailing excursion, complete with snorkelling stops. Zissimos can also set up wine tastings and recommend hikes, like the coastal path from Fira to nearby Imerovigli, with its jaw-dropping views of the caldera. Zissimos suggests leaving time for dinner in the ever-in-demand village of Oia, known for its sunsets. From there, ferry or fly back to Athens for the trip home.
Something less expected, planned by Christos Stergiou of TrueTrips
Days 1–3 The capital is a must-see, Stergiou says, "because its classical history has so distinctly influenced modern thought." He suggests a guided tour that takes in both the ancient and the contemporary, with visits to the Acropolis Museum and the Temple of Olympian Zeus as well as landmarks around central Syntagma Square, including the Greek Parliament. Conveniently, his hotel pick, Hotel Grande Bretagne, a Luxury Collection Hotel, is located on the same square. "It's the grande dame of Athenian hotels," Stergiou says.
Days 4–7 From Athens, head for Patmos, "an island that exudes a unique aura thanks to its seemingly untouched natural beauty," Stergiou says, adding that it's a Christian pilgrimage site, as it is believed to be the place where the Book of Revelation was written. His favourites include the village of Chora, a UNESCO World Heritage site and "one of the best-preserved medieval settlements in the Aegean." Stergiou can also arrange for private boat excursions for sightseeing, swimming off uncrowded beaches, and dining in a hyperlocal family-run restaurant. His go-to hotel is close to his heart: the Petra has been in the Stergiou family since 1989. The 11-suite inn is now part of the small luxury hotels of the World.
Days 8–10 After a late checkout, hop aboard the overnight ferry from Patmos back to Athens — in a private cabin, of course. In the morning, it's an easy one-hour flight to Páros, a place Stergiou calls "up-and-coming, or maybe already there." Make your way, with a guide, to the island's north and the Environmental and Cultural Park of Páros. The area "is filled with fascinating attractions, including the old shipyard and the Monastery of Agios Ioannis Detis, built right above the sea." Check-in at Cosme, a Luxury Collection Resort, where Stergiou likes the Aether suites, with their sea views. Spend the rest of your time either lounging on Páros's sandy beaches or making day trips to nearby islands like Antiparos, before taking the ferry (from 90 minutes) over to Santorini.
Days 11–14 "It's not exactly under the radar," Stergiou notes of Santorini, "but with the right guides, you can still tap into the more traditional side of the island." He recommends spending one-day exploring Assyrtiko vineyards, such as Domaine Sigalas; he also suggests a guided walk through Oia, the picturesque if popular village that still conceals a few lesser-known corners. As for where to stay, the Canaves Oia Epitome strikes the right balance between proximity to the island's best restaurants and seclusion — particularly when you're booked in a one-bedroom pool villa. Stergiou suggests one last night back at the Grande Bretagne before your flight home.
Off the tourist trail, recommended by Mina Agnos of Travelive
Days 1–2 Start in Athens, Agnos says, "but unless you've never been to the Acropolis, I'd suggest instead a tour of the stunning archaeological site of Cape Sounion, south of the city, where there are spectacular sunsets." Spend another day on a guided tour of the city's cafés and ouzeri, low-key bars that serve the anise-flavoured spirit along with platters of meze. Agnos loves the centrally located and newly opened hotel Xenodocheio Milos, from the group behind the Estiatorio Milos restaurants.
Days 3–5 Your next stop is Sérifos, "a Cycladic island that has some of the most stunning beaches in Greece, including sandy Psili Ammos, which is often on lists of Europe's best," Agnos says. More rugged and lesser-known than nearby spots such as Mílos, it's nevertheless easily accessible by ferry (from two hours). Agnos suggests taking time to explore the island's mythological sites, such as the ancient construction known as the Throne of the Cyclops, before spending time swimming or hiking. She recommends the Hotel Rizes overlooking the port.
Days 6–9 From there, it's onward by ferry (from 6 1⁄2 hours) to Naxos, the beachy island that's also a favourite of Zissimos. For her part, Agnos recommends the island's many hikes (like a half-day round-trip from the village of Chalki) and can also arrange for cooking or pottery classes. Stay at the hilltop 18 Grapes, with its two pools and views of the sea, or Naxian on the Beach, which has 10 seafront suites.
Days 10–13 From Naxos, it's an easier ferry (from 90 minutes) west to Sífnos, a less-visited Cycladic island with a growing reputation for food. "It's famous in Greece for having some of the country's best culinary experiences," Agnos explains, as it's the birthplace of distinctive dishes such as revithada, a chickpea stew, and mastelo, red-wine-braised lamb. The island also has its share of hikes, from easy three-mile loops to challenging nine-milers. Agnos recommends a stay at the Elies Resorts, on Vathi Beach.
This story first appeared on www.travelandleisure.com
Main and Feature Image Credit: Andreas Rose/Alamy
Related: Here's A Peak Inside Netflix 'Glass Onion: A Knives Out Mystery' Gothic Mansion In Greece
Written By