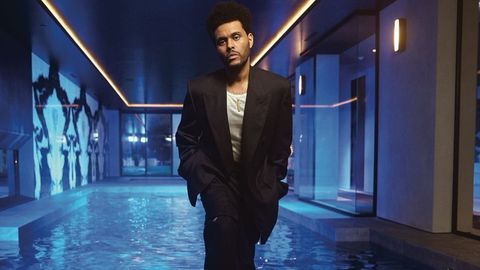 This year, the spook quotient is set to soar as The Weeknd takes over the Universal Studio Singapore (USS)'s Halloween event.
Abel Tesfaye, better known as The Weeknd, is bringing his provocative and sombre musical sensibilities to USS' 2023 Halloween Horror Night 11. The sinister event will feature five new haunted houses, of which one is inspired by his music.
The attraction will be open at Universal Studios Singapore, Resorts World Sentosa, 8 Sentosa Gateway, on 18 selected nights between 29 September and 4 November, from 7.30 pm local time.
More about the Halloween Horror Nights 11 event at Universal Studios Singapore
A haunted house dedicated to The Weeknd Tracks from the Canadian singer's fifth studio album Dawn FM (2022) and fourth studio album After Hours (2020) will be featured in the innovative haunted house, aptly named 'The Weeknd: After Hours Til Dawn Nightmare'. It is slated to offer five new rooms, which will bear Dawn FM as the main theme.
A press release by Resorts World Sentosa says, "Inspired by The Weeknd's music and short films, The Weeknd: After Hours Til Dawn Nightmare haunted house will bring guests face-to-face with the terrors spawned from the twisted mind of this mysterious artist."
Meandering corridors of the musician's psychedelic nightclub await guests who will "witness the horrors in store for those trapped within its walls while attempting to escape The Weeknd and his never-ending purgatory of pain". All this while Grammy-winning record producer Mike Dean plays remixed versions of horror movie soundtracks and music from the two albums in the background.
"Halloween has been significant to my music and that makes Universal Studios Halloween Horror Nights such a fun and novel stage to bring my music around the world. I'm thrilled to have a haunted house in Singapore and share this experience with my fans in Southeast Asia," The Weeknd said.
About the USS' Halloween extravaganza
Running since 1991, the annual Halloween-themed event takes place at Universal Studios theme parks in Orlando, Hollywood (Los Angeles), Japan and Singapore. This Lion City edition comes after the overwhelming success of 'The Weeknd: After Hours Nightmare' haunted house at the Universal Orlando Resort and the Universal Studios Hollywood in 2022.
Halloween Horror Nights 11 will also witness four other haunted houses. One of them is a new experience based on the popular Netflix Korean zombie series, All Of Us Are Dead (2022). Here, guests will have to navigate their way through the walking dead and escape the fictional Hyosan High School. The rest are titled 'Rebirth of the Matriarch', 'DIYU: Descent into Hell' and 'Grimm Encounters'.
The spooky fervour will continue through three scare zones and two live shows while a multi-sensory dining experience — Die-ning in Hell — will be present to satiate your hunger pangs.
Tickets are priced between SGD 89 for peak nights and SGD 79 for non-peak nights. You can get them here.
(Hero and feature image credit: Abel Tesfaye/ @theweeknd/ Instagram)
Related: 10 Most Haunted Places In The World To Visit – If You Dare
Written By