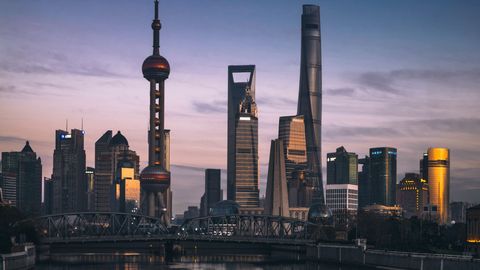 "People don't take trips, trips take people." This quote by John Steinbeck rightly reverberates in today's time, when travelling has become an intrinsic part of our lives.
If you're an avid explorer looking to indulge in the best landscape views, unravel ancient architecture or experience tranquillity in the lap of nature, we've got the perfect place for you. Known as the 'Paris of the East', China's largest city Shanghai offers exceptional sightseeing opportunities and activities for tourists. Take a stroll along the Bund, filled with stunning colonial buildings or hop onto Maglev, the world's fastest train, for the ride of your life.
The city also harbours world-class museums, art galleries and boutiques to soothe your senses. In addition, the ancient temples and pagodas add to the old-world charm of this erstwhile busy city. Here's a list of the 20 best things to do in Shanghai for an unforgettable experience.
20 best things to do in Shanghai
1. Soak in Shanghai's classic skyline views at The Bund The Bund is a legendary waterfront area of Shanghai, flaunting the city's exquisite skyline and colonial architecture transporting you to an old European era. Located on the west bank of the Huangpu River, the place is straight out of a postcard.
Opt for the Bund Sightseeing Tunnel to get across the river or hop onto the Huangpu River cruise to gaze at the skyline.
How to reach: Take the subway to Nanjing East Road Station and walk towards the river.
2. Spend some peaceful time at the Yuyuan Garden Yuyuan or Yu Garden dates back to the 16th century Ming Dynasty. After years of renovation in the late 20th century, it became a significant tourist attraction. The garden is exceptionally tranquil and filled with colourful pagodas, stone carvings and inscriptions by eminent personalities, little ponds, and pillars. You can also visit the Yuyuan Bazaar right next to the garden. It's the best place to collect souvenirs and antiques to take back home.
How to reach: Take the line 10 subway to reach the Yuyuan Gardens
Timings: Tue-Sun, 8:45 am – 4:15 pm (Closed on Mondays)
Entry fee: CNY 15 (SGD 2.93) onwards
3. Unravel China's rich history at Shanghai Museum The museum is filled with 120,000 artefacts, relics, art pieces and more, displaying Chinese culture in all its glory. Its expansive collection is segregated into 11 galleries and about three exhibition halls. You'll find pieces from different centuries as well as reigns of various dynasties here.
The new museum revolves around the Chinese concept of tianyuan difang, which means heaven is round and the earth is square. Visit the museum for a wholesome Shanghai experience.
How to reach: Take the line 8 subway from Shanghai's Lujiabang Road Station to reach the museum.
Timings: Tue-Sun, 9 am – 5 pm
Entry fee: Free entry
4. Blaze through the city on Maglev, the world's fastest train Shanghai is blessed with the latest technology, a testament to which is the world's fastest train, Maglev. The ride takes you from the Shanghai Pudong International Airport to Longyang Road Metro Station at a whopping speed of 430 Km/per hour (although you hardly feel you're moving). You can also tour the Maglev Museum to understand how this engineering marvel came to fruition.
Ticket price: CNY 50 (SGD 9.76) for a single trip and CNY 80 (15.62) for a round trip in seven days
5. Climb the glass observation deck of Shanghai's World Financial Centre
Treat yourself to the best sunset views at the World Financial Centre, China's third-highest building. It is also the fifth-largest building largest in the world. The 100th floor houses the stunning glass observation deck, The Sky Walk. It gives you the best panoramic views of the city and the Huangpu River. Make sure to visit the Park Hyatt Hotel's cocktail bar on the 87th floor because the views are better with your favourite drink in hand.
How to reach: From the Pudong International Airport, take the line 2 subway and get down at Lujiazui. The building is within walking distance from Lujiazui.
Entry fee: CNY 180 (SGD 35) for adults
6. Explore Shanghai's historic side at French Concession Escape the bustle of the city and experience a European affair at the French Concession, housing the city's iconic historical buildings. You can't miss the plethora of vintage cafes, boutiques, breweries and antiques while at the Concession. Make your visit worthwhile with the special Shanghai Gangster tour, which takes you through the lives of China's notorious gangsters.
How to reach: The best way is to take metro line 10 or line 13 and get down at the Xintiandi Station.
7. Visit Oriental Pearl TV Tower, an architectural marvel Like the Financial Tower, Shanghai's Oriental Pearl TV Tower offers breath-taking landscape views. However, the tower is a delight to look at rather than looking out from it. The minaret-shaped structure rests on four other vertical compositions. The spheres at various levels offer different activities, including the Space Module, a sightseeing floor, a revolving restaurant, a science fantasy city, and a hotel. The list is endless.
How to reach: Use metro line 2, get down at Lujiazui Station, and take exit 1.
Entry fee: CNY 120 (SGD 23.43)onwards
8. Shop till you drop at Nanjing Road The 5km long stretch from the Bund to Jing'an Temple is filled with fancy shopping outlets, cafes and whatnot. Stroll through the area to get a feel of Shanghai's fast-paced life from day to night. The many buildings with exciting architecture glimmer beautifully at night, making the road no less attractive than New York's Time Square.
How to reach: The Shanghai metro line 2 runs along the road, so it's best recommended.
9. Bring out your inner child at Shanghai Circus World Can there be a better recreational activity than watching a circus bringing together the best entertainers? Certainly, not! The Shanghai World Circus offers local and international shows, where performers display exceptional dance and acrobatic moves with the best special effects backdrop. Trampoline shows, bowl balancing, and motorcycle stunts are just some of the many activities you can witness here. Visit their website to know more.
How to reach: Use the line 1 subway and get off at the Shanghai Circus World station.
Timings: Daily, 7:30 pm – 9 pm
Entry fee: CNY 130 (SGD 23) to CNY 160 (SGD 31)
Book your flight to Shanghai here
10. Ride a gondola in the water town of Zhujiajiao The old water town of Shanghai is perfect for a day trip filled with gondola rides and numerous charismatic bridges and canals (lit with lanterns at night). In addition, Zhujiajiao has many old shops and handicraft stores for buying souvenirs for your loved ones back home.
How to reach: The Shanghai West Bus Station has a particular Shanghai-Zhujiajiao bus line to get to the water town.
11. Have a perfect family day out at Shanghai Ocean Aquarium The fourth biggest aquarium in Asia, Shanghai's Ocean Aquarium, is famous for its 120-meter underwater tunnel. The museum displays various marine species, including the rare poison dart frogs, jellyfish, sea dragons and more. It is divided into special zones like China Zone, America Zone and Africa Zone, each displaying its speciality.
How to reach: Using the line 2 subway, get down at Lujiazui station and walk for 8 minutes.
Entry fee: CNY 160 for adults and CNY 110 for children
12. Visit the magical Shanghai Disneyland Park Shanghai's Disneyland adventure park is filled with unique elements of China, spread across six theme parks. Hop to Mickey Avenue for a meet and greet with your beloved characters or walk along the Chinese gardens. For all adventure enthusiasts, the park also offers you the world's fastest rollercoaster.
How to reach: Take the subway line 11 and get off at the Disney Resort Station.
Entry fee: CNY 435 (SGD 84.53) on regular days but can be more on various holidays and weekends.
13. Visit the exquisite China Art Museum The China Art Museum was built for the Shanghai World Expo in 2010 and is the most extensive art gallery in Asia. Explore paintings of renowned Chinese artists or spend time at the Oriental Art Centre, where major opera performances and theatrical productions happen.
How to reach: Use the line 8 subway and get off at the China Art Museum station, two minutes away from the destination.
Timings: Tue-Sun, 10 am – 6 pm
Entry fee: Free entry
14. Visit the European-style ghost towns of Shanghai The ghost towns in the suburbs of Shanghai could tingle your nerves. So, the Shanghai Planning Commission undertook a project to construct six European-style ghost towns. They look incredibly scenic from a tourist's point of view.
How to reach: From People's Square station, take line 9 subway and get down at Xujiahui station to reach Thames Town.
15. Relax at the 1000-year-old town of Qibao The ancient town lies 18 km from downtown Shanghai, spread over just two square km in the lap of nature. It lures tourists with its stunning pavilions, temples and gardens and more. Enjoy your day by sipping Chinese tea at the teahouses here, or walk alongside the water lanes to soothe your senses.
How to reach: Use the line 9 subway and get down at the Xingzhong Road Station.
16. Walk the Jinmao Tower Sky Walk for some thrill Located on the 88th floor of Jin Mao tower, this skywalk is one of the highest skywalks in the world. What's more thrilling about this skywalk is that it has no rails or fences. If it's any relief, they give you a harness to cover the 1,115 feet high walkway. There's an observatory as well for the best skyline views as well as dining options.
How to reach: Use metro line 2 and get off at the Lujiazui Station. Take exit 6 and walk towards the south for about five minutes to reach the tower.
Entry fee to the 88th floor: CNY 120 (SGD 23.43) for adults and CNY 60 (SGD 11.71) for kids
17. Stop by Jade Buddha Temple for a spiritual experience Lying amidst bustling Shanghai is the beautiful Jade Buddha Temple, built in the early 1900s. The earlier site was destroyed in a revolution. It houses a stunning sitting Buddha and a reclining Buddha. In addition, the temple has a Grand Hall, which also displays many other statues.
How to reach: Take metro line 13, get down at Jiangning Road Station and take exit 4.
Entry fee: CNY 20 (SGD 3.90)
18. Know all about the metropolis at Urban Planning Exhibition Centre The exhibition centre has documented the city's past, present and future planning, making it a must-visit place in Shanghai. You'll find models depicting how Shanghai has transformed over the centuries, housing some of the tallest structures across the globe. The prime attraction is the gigantic model of Shanghai on the 6th floor.
How to reach: Reach directly via the city sightseeing bus.
Entry fee: CNY 30 (SGD 5.86) for admission and CNY 40 (SGD 7.81) for special exhibitions
19. Bargain and browse through Yatai Xinyang fashion and gift market This fashion market is super fun to explore, offering everything from rip-off designer goods to local jewellery, bags, shirts and more. Overall, it's a fun place to pick up something for your peers back home.
How to reach: It's just a four-minute walk from Shanghai Science & Technology Museum. Hop onto the line 2 subway and get off at the Shanghai Science & Technology Museum station.
20. Shanghai Astronomy Museum for all astrophiles out there Among the newest of Shanghai's architectural marvels is the Shanghai Astronomy Museum, which gives you a hands-on experience of all things extra-terrestrial. Opened in 2021, it's the world's largest planetarium in scale. Know all about China's history of space exploration on your visit here.
How to reach: Take the metro line 16 to the Dishui Lake terminal station.
Entry fee: Entry is free but one needs to make advance reservation online using a valid ID.
Book these hotels in Shanghai
(Hero image credit: Yiran Ding/Unsplash)
(Feature image credit: Maud Beauregard/ Unsplash)
This story first appeared on Lifestyle Asia Singapore
Related: 20 Of The Best Things You Can Do In Hong Kong, According To Locals
Frequently Asked Questions (FAQs)
Question: What are the requirements to travel to Shanghai
Answer: All travelers must undertake a PCR test within 48 hours of departure and board the flight only with negative nucleic acid result.
Question: How many days do you need to explore Shanghai?
Answer: 5 days are enough to explore what Shanghai has to offer.
Question: What are the best free things to do in Shanghai?
Answer: Visit the Shanghai Museum, French Concession or check out sculptures of Red Town.
Question: What is the best time to visit Shanghai?
Answer: March to May and September to November are the best time slots to visit Shanghai.
Question: Is Shanghai safe to travel?
Answer: Yes, it is absolutely safe.
Written By