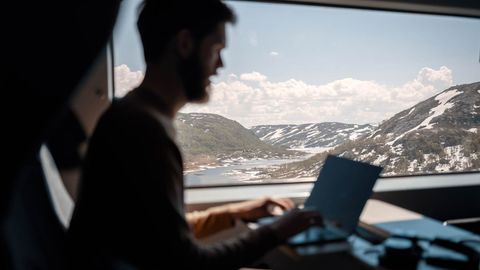 Train travel is having a real moment. As travellers look to enjoy slower, more intentional getaways, they're turning to trains as not just a mode of transportation but an attraction in their own right. Pinterest even named train travel as its top travel prediction for 2023, citing the Gen Z and millennial desire to seek out more sustainable options. But, rather than go on any old train trip, this year, we suggest you seek out one-of-a-kind adventures, including a ride on the Oslo-Bergen railway, the highest railway in Northern Europe at 4,058 feet elevation.
The train line, the Daily Scandinavian explained, broke ground in 1875, opened in sections starting in 1883, and was completed in 1909. On its inaugural journey, the train successfully ran between Bergen and Oslo and was christened by Norway's King Haakon VII. And truly, what a trip it was then, and it is now.
The Oslo-Bergen railway travels between the two destinations several times a day. It takes six-and-a-half hours to complete the 267-mile (429.69 km) journey. It also makes 21 stops along the way, so that travelers can hop on and off as they make their way across the nation. Though really, the journey is the destination, as the train travels across mountains and valleys, next to lakes and fjords, and even rides above the treetops.
Ready to plan a getaway to see it for yourself? Here's everything you need to know about the Oslo-Bergen railway and how to plan a stellar trip along the route.
This train in Europe visits 21 idyllic towns
When does the Oslo-Bergen railway run?
Those travelling from Oslo to Bergen on the train can hop aboard six daily departures. The train schedule can vary depending on the time of year you travel. Those travelling on the reverse route, from Bergen to Oslo, can take one of three departures (again, times will vary by season). Types of seats to book on the Oslo-Bergen railway No matter which time of day guests choose to ride, or which direction they are travelling, they can pick from either economy class or business class. Economy class includes a seat with either a fixed or folding table, luggage racks, Wi-Fi, and power outlets. Food and drink are also available for purchase. Business class offers travellers wider seats with more legroom, a coffee and tea service, complimentary newspapers, and Wi-Fi. There's even a family coach for those travelling with children, which comes with play areas and toys to keep little ones busy as parents enjoy the view outside. Travellers can purchase tickets on the website and either print them out to show the conductor or simply show the barcode to the conductor on their phone prior to boarding.
Where does the Oslo-Bergen railway stop?
The train makes 21 stops in villages and towns sprinkled across the route, including in some of Norway's most idyllic ski destinations, like Mjølfjell. Travellers can get off and check in to the Mjølfjell Mountain Lodge, which serves as the perfect home base for backcountry ski adventures in the winter, or the ideal place to rest after a summer hiking trip.
For a more traditional ski experience, get off at Geilo, which is home to a mountain boasting 46 trails and two terrain parks with runs for all levels.
The stops along the route are just as spectacular in the spring and summer, too. Stop in at villages like Ål, home to fewer than 5,000 full-time residents. See more about the best stops along the route on VisitNorway.com.
Best times of year to take the Oslo-Bergen train
Looking for alpine scenes? Come in winter. Want wildflowers and verdant landscapes? Visit in late spring and summer. No matter what, guests will be rewarded with breathtaking scenery and make memories to last a lifetime. No matter what time of year guests decide to book, they can always keep an eye out for Norway's spectacular wildlife, including the largest wild reindeer herd in Europe, made up of an estimated 9,000 reindeer.
What's the best side of the train to sit on?
No matter which side of the train guests sit, they will be rewarded with gorgeous views. However, many previous riders note that it's best to sit on the left (facing in the direction of train travel) when riding from Oslo to Bergen, and on the right side from Bergen to Oslo.
How to get tickets for the Oslo-Bergen railway
Reservations can be made up to 90 days in advance, and tickets begin at USD 97 (RM 436) for economy class on this Northern Europe railway. The train can (and does) sell out during popular times (especially in the summer), so booking as far in advance as possible is recommended. Tickets can be purchased at Rail. Ninja or Vy.No.
(Hero and feature image credit: Aksel Jermstad/Vy)
This story first appeared on travelandleisure.com
Related: This Is One Of The Most Scenic Train Rides In Europe — Here's What It's Like On Board
Written By