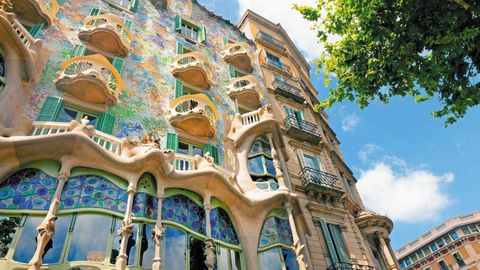 If you've ever wanted to do a deep dive into Europe, there's a new 117-day luxury cruise taking off from New York that might tickle your fancy.
Regent Seven Seas Cruises just announced the Grand Cultural Quest for its 2025–2026 season, which will see the 700-passenger Seven Seas Mariner sail from New York to Barcelona, travelling up Canada to Greenland and Iceland before spending some three months in Europe — with stops in the Middle East and Northern Africa, too. Some ports of call will have multi-day stays, including Reykjavik; Amsterdam; Bordeaux, France; Istanbul, and Jerusalem. With a length that rivals some world cruises, this is perhaps the most in-depth itinerary covering essentially just one quadrant of the planet.
Included in the price of the journey is business-class air to the embarkation and disembarkation cities, excursions in every port, valet laundry including dry cleaning, gratuities, and all meals and beverages. And it should also be noted that all accommodations on board are suites with balconies.
A luxury cruise for a long immersive experience The itinerary is just one of five of Regent's Legendary Journeys for the season. Seven Seas Mariner will also sail the 83-night Grand Arctic Adventure, which comprises the first two-thirds of the Grand Cultural Quest. And the remaining three voyages are the 84-night Grand Continental Sojourn from Barcelona to Sydney on Seven Seas Navigator; the 61-night Grand Asia Exploration from Auckland to Tokyo on Seven Seas Explorer; and the 64-night Indian Ocean Odyssey from Mauritius to Rome via the Suez Canal on Seven Seas Voyager.
"These five new voyages appeal to those who desire longer more immersive experiences, with itineraries ranging from 61 to 117 nights of unforgettable experiences across the world," said Andrea DeMarco, president of Regent Seven Seas Cruises, in a statement released to Travel + Leisure. "Our guests will enjoy unmatched personalised service, impeccable hospitality, and the comfort of our all-suite, all-balcony accommodations."
Reservations for all five voyages opened on May 3, and you can request a callback at rssc.com; rates for the Grand Cultural Quest start at USD 91,999 (RM 4,13,765) per guest.
(Hero and feature image credit: Regent Grand Voyages)
This story first appeared on travelandleisure.com
All RM conversions were done at the time of writing
Related: This Cruise Ship Has The Largest Dry Slide At Sea, A Gin Bar, And 14 Hot Tubs
Written By