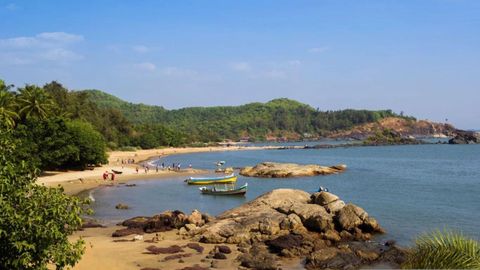 Although the scorching sun has most of the world's population eyeing breezy mountain destinations, a few can't wait to get their fill of the sand and sea. And if you ask the cosmos, there's an astrological connection to it all. Here's looking at a few zodiac signs who are embracing their inner water baby this summer.
From the bioluminescent seas of Andaman to the white sands of the Caribbean – there are several beautiful beaches across the globe just waiting to be discovered. That said, only a certain chunk of the population would gladly brave the heat and use up vacation days to head to one in the summer. As far as the stars are concerned, these individuals have something in common – a zodiac sign with an affinity for water. Of them, a few would enjoy a tranquil trip by the shore, sipping a pina colada and catching up on their reading. Others are likely to be spotted with a surfboard or beach volleyball. Here's a look at them all, complete with destination recommendations.
Zodiac signs who enjoy soaking up the sun at beaches in the summer
Cancer Nurturing and sensitive, Cancer has a romantic heart. Those born under this zodiac sign are likely to chase sunsets at the beach over the summer. They'd also enjoy a quiet picnic by the water, complete with homemade snacks and wine. A great vacation choice? Varkala, Kerala. The sleepy beach town offers morning yoga sessions, delicious seafood spots by the beach, and plenty of locally-brewed coconut wine. And when the sun sets behind the hills close to the Arabian Sea, it paints the skies and sea in the most stunning orange-purple hues – music to this water sign's ears.
Scorpio Passionate and bold Scorpios have an emotional depth to them that few other signs can lay claim to. Not one for small talk, those born under this sign always seek to go beneath the surface. As such they'd be heading to the beach to get up close and personal with marine life. They'd be floored by Andaman and Nicobar Islands – particularly Havelock Island and Neil Island. In the former, a popular point is Dixon's Pinnacle, where you're likely to spot manta rays, turtles, Napoleon wrasse, and even whale sharks. There are also entire gardens of corals to discover. If that doesn't tug at a Scorpio's heart, we don't know what will. In fact, this zodiac sign would likely sign up for a certification course over the summer while here.
Pisces Romantic and idealistic, Pisces is the dreamer of the zodiac. Those born under this sign would head to a beach to get away from the chaos of everyday life. As such, they'd enjoy secluded beaches, walks by the water, and sunset picnics. They're also likely to hop into the water for a swim or go snorkelling to say hello to fellow fish. Lakshadweep would make them swoon. Thinnakara Beach is a place to unwind, offering bioluminescence at night when phosphorescent planktons give the sea a bluish glow. Bangaram Beach, meanwhile, is a snorkelling wonderland with colourful fish and corals. On Parali Island nearby are turtle colonies and nests worth visiting. Throw an intimate dinner into the mix and you'll have Pisces swooning.
Sagittarius Adventurous and fun-loving Sagittarius is the traveller of the zodiac. Those born under this sign seek out unique, off-beat, exciting experiences. Their curiosity is likely to take them to a beach that will satiate their thirst for learning and give them an adrenaline rush. A great spot? Gokarna – particularly Paradise and Om beaches. The former boasts clean white sands, pristine waters, and intriguing rock formations. Frequented by foreign travellers, it offers overnight camping as well as picnic and sunset spaces – the perfect opportunity for this social sign to make some friends. Besides, there are plenty of Instagrammable spots for them to get some shots in for their feed. The latter, which is a fun trek away from the former, has plenty of water sports opportunities like kayaking and paddle boating. This makes for a summer vacation worth taking, as far as this zodiac sign is concerned.
Aries Bold and impulsive, Aries has an unmissable competitive spirit. The leader of the zodiac platoon, this fire sign is all adrenaline come summer. Naturally, those born under this sign would head to the beach, purely to engage in some water sports. We're talking volleyball, wakeboarding, jet skiing, parasailing, paddleboarding, scuba diving, parasailing – the whole shebang. Goa – particularly Candolim and Palolem beaches – is known for its adventure offerings. That, along with its wild parties by the waters at night promises this sign a vacation they'd never forget.
All images: Courtesy Shutterstock
This story first appeared here.
Related: Top International Destinations To Travel To In 2023 Based On Your Zodiac
Frequently Asked Questions (FAQs)
Question: Which zodiac signs love water?
Answer: Cancer, Scorpio, and Pisces love the water.
Question: What are 3 summer zodiac signs?
Answer: Cancer, Leo, and Gemini are often called summer zodiac signs.
Written By