Is this the next Canggu? Long beloved by surfers, Uluwatu has been simmering for some time, but thanks to a spate of new eateries, buzzy cafes, and wellness destinations, it's become the hottest spot on Bali. Here's what's to do there now. FOR DECADES SURFERS HAVE flocked to Uluwatu for some of the most legendary waves on the planet—clean, brilliant blue barrels that line up like corduroy stretching into the horizon when the swell and wind are just right. But the southwest tip of Bali's mesmerizing surf, not to mention dramatic limestone cliffs, idyllic beaches, abundant coconuts and dependably awe-inspiring sunsets were something of a well-kept secret even as neighborhoods such as Seminyak, Ubud and Canggu blew up. An hour south of the airport, Uluwatu—which typically also refers to the beach areas of Bingin, Padang Padang and Dreamland—is no longer home to only simple warungs and surfboard repair shops.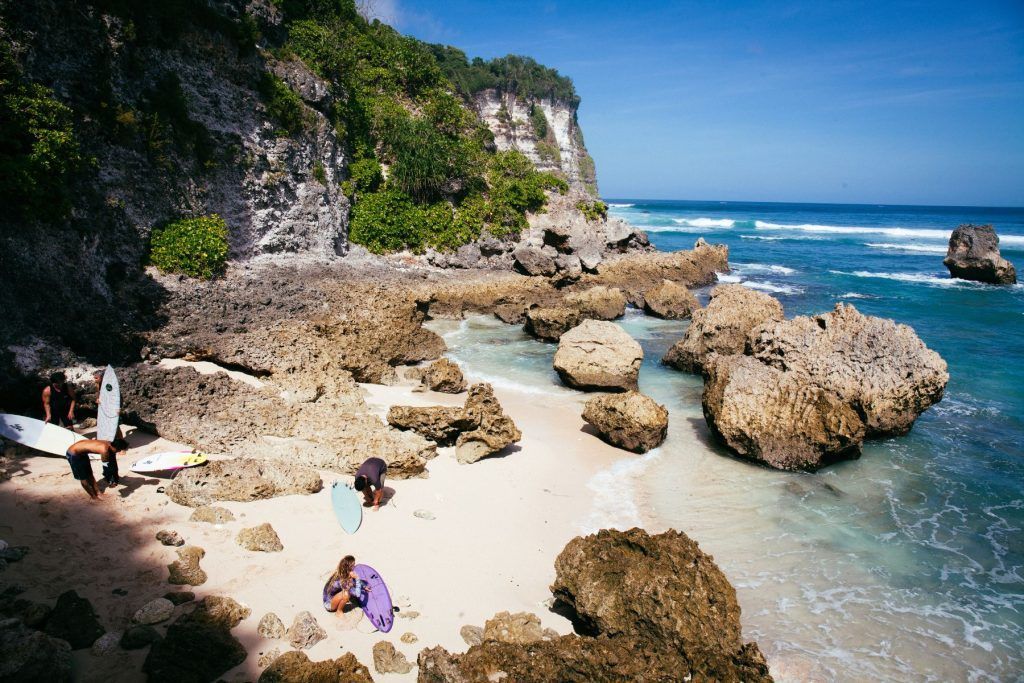 In recent years it's found its groove as a supremely laid-back place for slightly more intrepid folks willing to hop on a motorbike to seek out a remote stretch of sand, oceanview yoga class or hot-cold plunge circuit. As the appeal grew beyond surfers and the surf curious to honeymooners, friend groups and families, international restaurateurs, expat designers and wellness practitioners have creatively filled in the gaps to make Uluwatu a truly well-rounded destination. Party people may still want to stick to Canggu and Seminyak, but for those pursuing fitness and fantastic food, stunning beaches and wellness treatments, plus a dose of Hindu culture, it's the total package.
WHERE TO STAY IN ULUWATU For authenticity alongside unrivaled access to Uluwatu's famed waves, jaw-dropping panoramas and arguably the most photogenic infinity pool in Bali, there's Uluwatu Surf Villas, the OG resort that has occupied its iconic clifftop perch since 2001. The sprawling property has evolved over the years into what epitomizes the concept of barefoot luxury thanks in part to its recent addition of dreamy tropical modern villas, each with its own pool—or pools!—worthy of a design magazine. Meanwhile, surf-stoked guests get access to an impressive board room and private steps down to the water, and the resort occasionally hosts surf retreats with internationally acclaimed coaches (such as one with Brad Gerlach from September 15-21). The Asa Maia is an intimate, new-in-2021, hyper wellbeing–focused resort that pairs practitioners in breathwork, hypnotherapy, Pilates, massage and more with 10 beautifully restored and thoughtfully decorated century-old traditional Javanese houses. There are complimentary yoga and meditation sessions daily as well as contrast therapy for travelers on an intentional sort of holiday. As Uluwatu's jagged limestone cliffs curl around to the south, a string of five-star resorts represents the area's bougiest options. Alila Villas Uluwatu and Six Senses Uluwatu both boast multiple ocean-view restaurants as well as pampering spas and impressive sustainability efforts. Plush pool villas are also on offer at ultra-luxe Bulgari Resort Bali, where there's a funicular down to the peaceful private beach club and Il Ristorante – Luca Fantin is a must splurge culinary event for gastronomes. Padang Padang and Bingin are full of boutique hotels both with beach views—such as Suarga, a sustainable 36-room resort celebrating what they call "rough luxury"—and without (see the charming Mule Malu Tropical Stay). And overlooking Dreamland Beach to the north there's Jumeirah Bali, which debuted in 2022 with pool villas worthy of royalty. The resort's water palace concept plays off the ancient Hindu-Buddhist Majapahit empire not only architecturally but in transportive cuisine, too.
WHERE TO EAT IN ULUWATU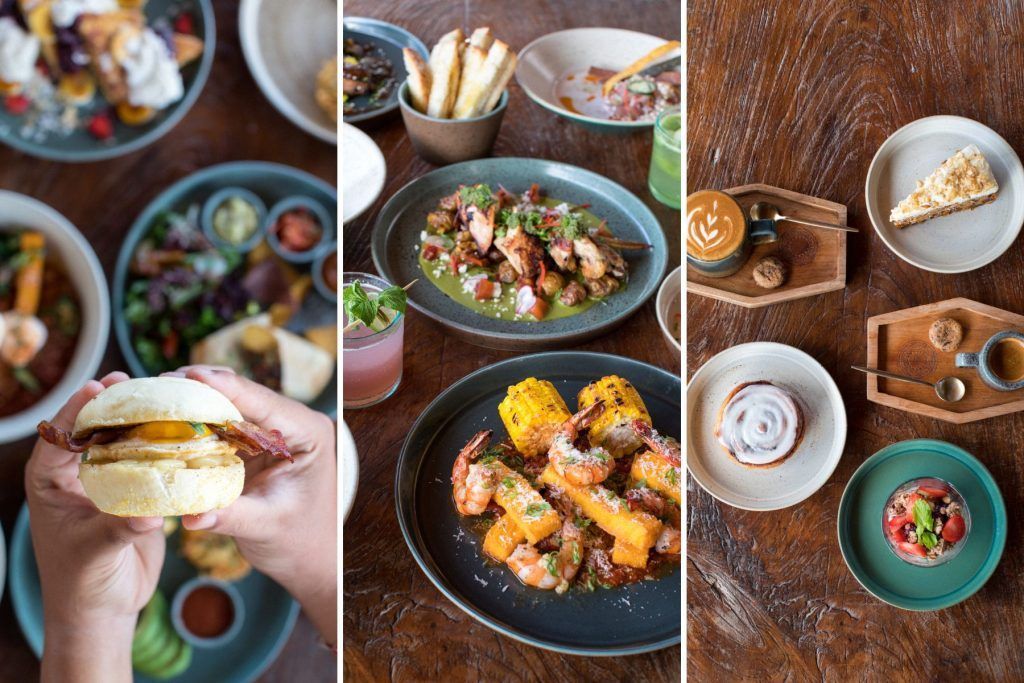 Restaurants and cafes are opening in the Uluwatu area at a mind-bogglingly rapid pace lately. Pre-pandemic favorites include Mana, the open-air three-meal-a-day eatery at Uluwatu Surf Villas where locally caught seafood, diverse tacos and Indonesian favorites are on the menu, pizza havens DiVino by Casa Asia and La Baracca, and Gooseberry, the chic lingerie boutique–slash-restaurant where dry-aged steaks get the wood-fired treatment and flat whites are the best on the island. More recently, however, the scene has spread.
Mason is a concept from Canggu that opened in 2022 and feels like one of the coolest places to be seen, especially for next-level cocktails and wood-fired Mediterranean-inspired fare. Multiple dishes on the menu are addictive, so order wisely. Across the street is Ulu Artisan, where breakfast plates—and the freshly baked seedy sourdough and the buttery pastries—are as epic as their sandwiches (especially the Ayam Love Extreme) and creative dinner dishes and there's live jazz every Saturday night. Bartolo looks like a sleek bistro in Italy and its small and shared plates track with that vibe—there's pici pasta with cavolo nero and funghi, market fish en papillote with wine sauce, and Portuguese squid in ink. It also comes with the recommendation of the hottest young chef in Bali, if that holds sway. Up the road Oyā sells bikinis alongside its multicultural menu with highlights from Tahiti to Thailand. There are plenty of casual stops, too, such as Warung Local, the quintessential place for nasi campur, which translates to "mixed rice" and constitutes a plethora of savory and spicy Indonesian dishes to mix and match for an appetizing price. A few doors down, Road Trip is a brand-new cafeteria-style restaurant dishing out healthfully and consciously prepared global comfort foods, from organic chicken skewers to macaroni and cheese and elote salad, inspired by the owners' actual international road trips. For Mexican, complete with fantastic margaritas, Lola's Cantina Mexicana does the trick, while Alchemy—an Ubud import—is the restaurant and shop specializing in live (as in mostly raw), plant-based cuisine. Inventive treats such as watermelon crumble pair beautifully with pumpkin seed milk cappuccinos at Son of a Baker, which overlooks Padang Padang Beach and its waves.
"I WORK OUT"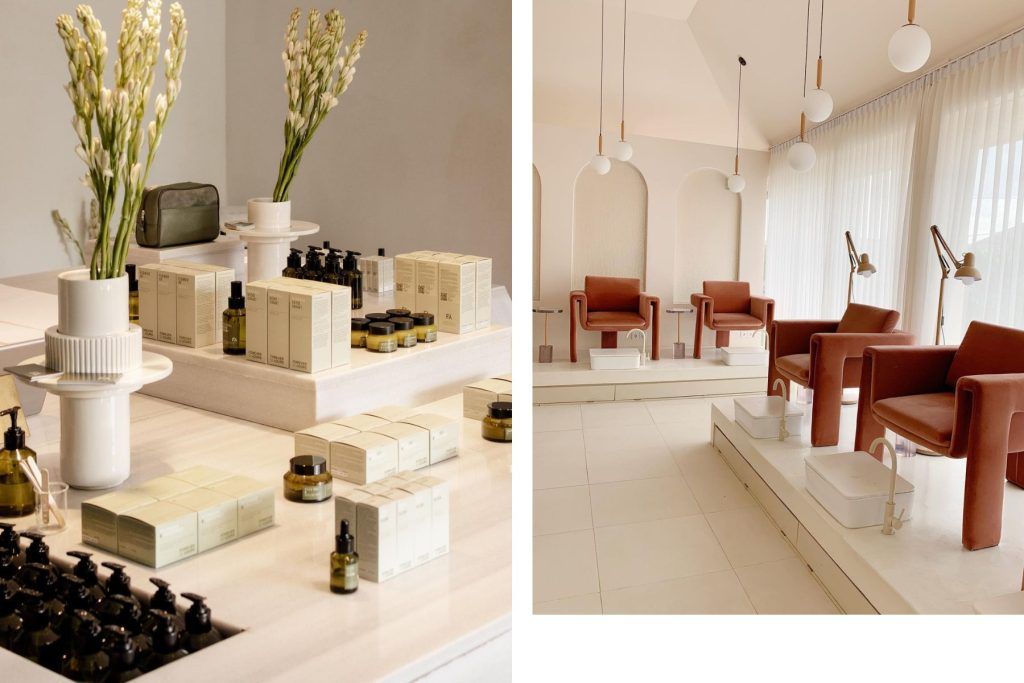 Speaking of which, surfing is still the main event around Uluwatu and you quite literally can't go 10 seconds without seeing a surfboard. Padang Padang, which can either be big and barreling or baby-sized and chill, is the most popular place for beginners due to it mostly being the latter. There are boards to rent on the beach and lessons with local coaches to be had. (You'll know when it's better suited for the pros.) Bingin is another favorite break with its own locals who know the wave like the back of their hand, and Dreamland at the right tide can be super fun, too. With names like Racetrack and The Bombie you might get the hint that Uluwatu's wrapping breaks are not for the faint of heart—and that's exactly why surfers make pilgrimages from all over the world to ride them.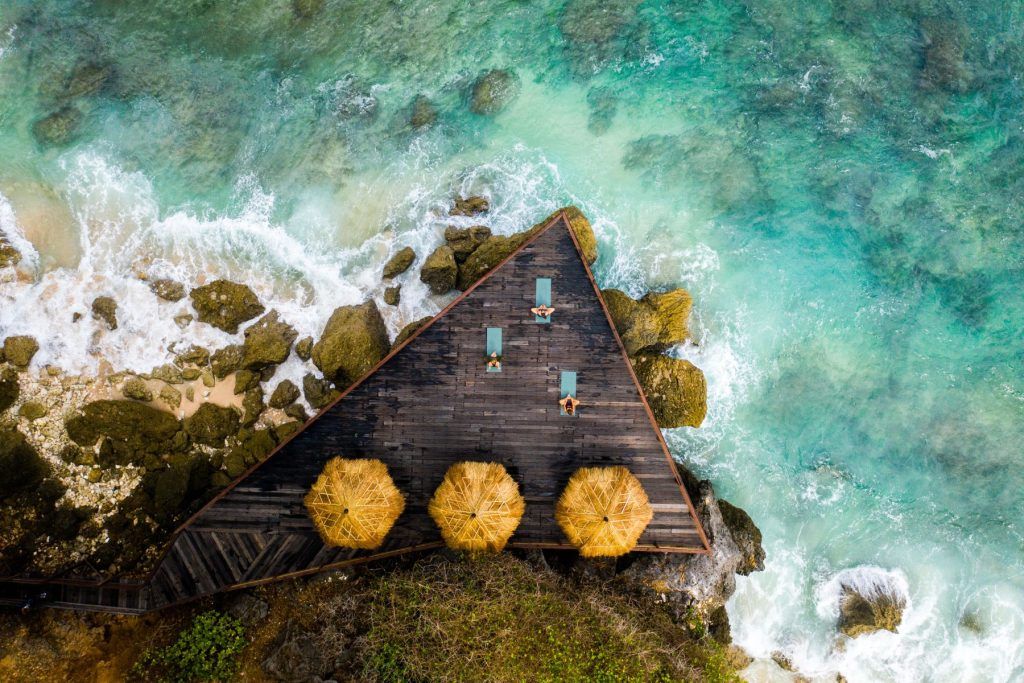 For all that surf there are increasingly more and more places to get sweaty and try a different form of fitness. Over years Bali Training Centre—which occupies a no-frills open-air pavilion in Bingin—has built up a cult following for its Muay Thai boxing, HIIT and kettlebell classes. Not far from it, Bambu Fitness Uluwatu opened a beautiful bamboo gym for CrossFit and bodybuilding. A more unexpected form of exercise is available at the new Island Padel Uluwatu, where from 7 a.m. to 10 p.m. racket sports enthusiasts can play padel on one of four courts. Rock climbers can now get a workout in on the bouldering wall at Habitat Village, a community-building development with restaurants, shops, co-working, gym and hot-cold spa in Padang Padang. Of course, yoga classes are prolific, but by far the best setting is Morning Light Yoga (at Uluwatu Surf Villas), where morning classes vary between vinyasa flow and a delectable combo of spicy flow with deep stretching called yinyasa.
SEEKING WELLNESS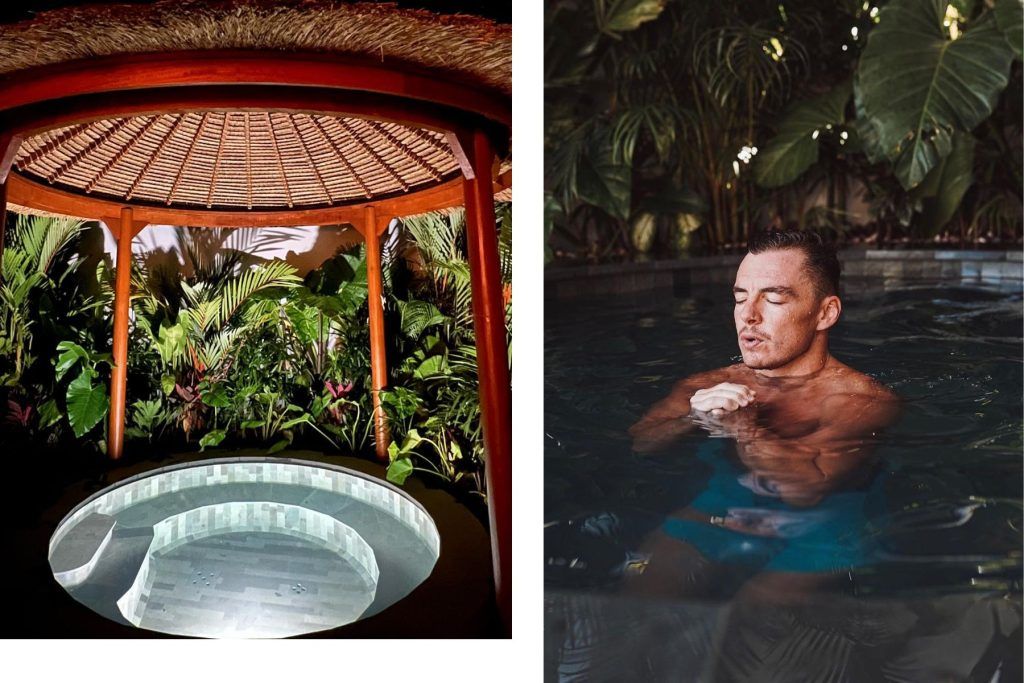 There are smoothie bowls, green juices, health bowls, spas and anti-inflammatory turmeric-infused tonics up the wazoo, but a few spots in Uluwatu do healing particularly effectively. Fondue Recovery is the elegant new brainchild of Norwegian physiotherapist Isabel Amundsen whose brand of manual therapy—set to a soundtrack of '90s hip hop—may hurt a bit but works miracles on countless types of injuries and chronic pain. There's a Normatec lounge for sped-up recovery after a workout like one of the mat Pilates, functional strength or mobility classes on the robust schedule of the adjoining Studio Fondue. Santai Recovery Spa, across from Gooseberry, offers sessions in its sauna, and hot pool for contrast therapy.
For pure pampering, Our Spa—beside yummy Ours Restaurant—is always a good idea for an hour or several, since the menu features treats such as Balinese massage with hot stones, feel-good facials by Dermalogica and nail services. The natural, flower-based skincare line Fields of Yarrow opened an Uluwatu shop and studio where treatments can include LED light, gua sha and oxygen therapy. In Bingin, Jet Black Ginger stands out for its gel mani/pedis and balayage hair coloring.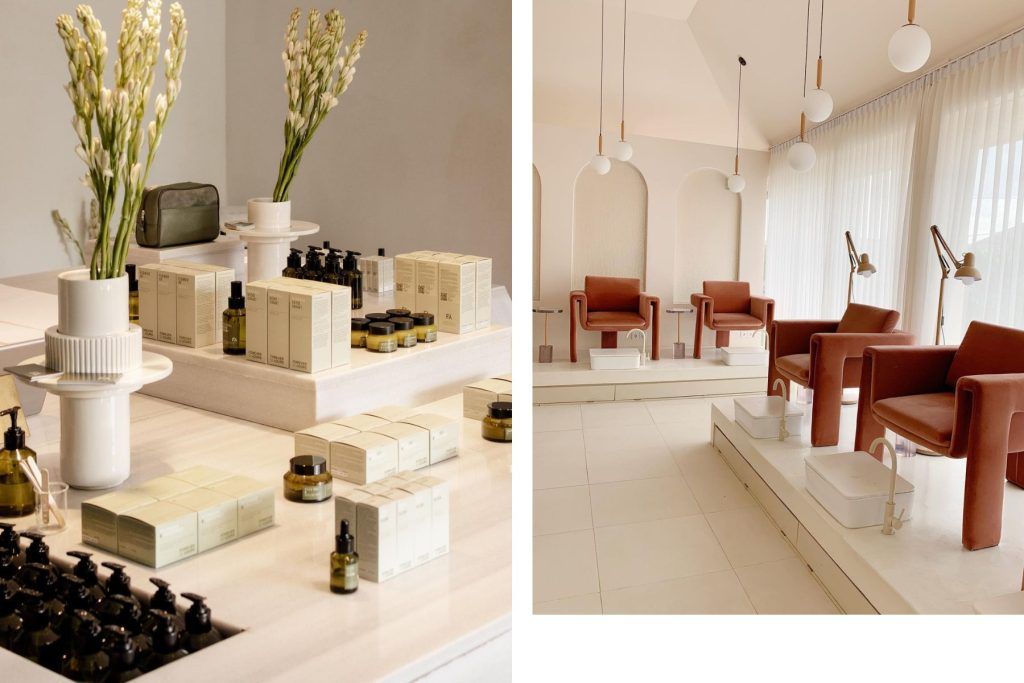 And those who see floating in the sublime Indian Ocean or being cradled by sand as restorative have their choice of many, though be forewarned that most Uluwatu beaches require descending (and eventually climbing) some glute-toning steps. Seemingly endless, perfect and prone to extreme high and low tides, Nyang Nyang used to be the toughest journey, but a new motorbike-only road now takes sun seekers directly to the sand. Not so at Suluban (aka Uluwatu), where you'll pass through a cave (don't try it at high tide) to reach tide pools and front row to the surf show. A little more hidden and much longer, Thomas Beach isn't as crowded as petite Padang Padang, but it does have plenty of lounge chairs for rent and warungs for coconuts and Bintang beers. And Melasti is maybe the best of all worlds, with zero steps, epic crystalline water, loungers and necessary facilities and refreshments.
WHAT TO SEE + WHERE TO SHOP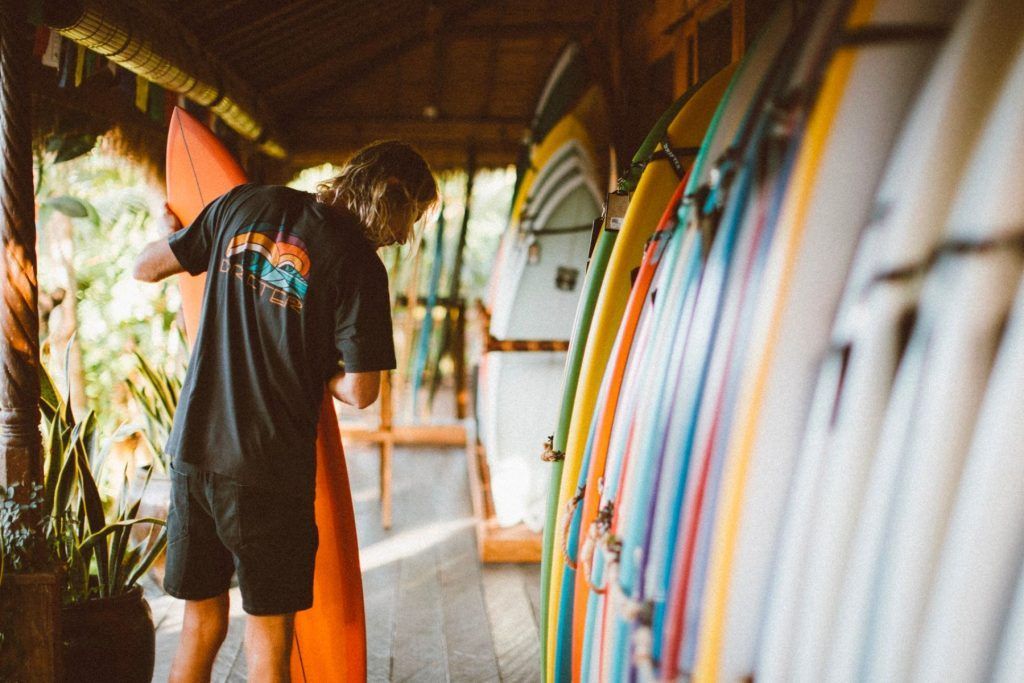 At the low-density tip of Bali there aren't quite as many ways for locals to interact with Balinese culture as, say, Ubud, but it boasts one of the island's six most important temples: Pura Luhur Uluwatu, commonly known as Uluwatu Temple. The clifftop sea temple has its roots in the 11th century and is where the traditional kecak (fire) dance happens every night at sunset. Some hotels can line up guided tours. A dose of local culture and art can be found at Saya, a beautifully compiled shop with authentic artifacts from the archipelago, design objects and lots of statement jewelry. Mana's thoughtful curation of goods ranges from Bali-made ceramics by Gaya to Bali-made fine jewels by Tara Noelle and Balinese textiles, too.
Breezy island wear—most of it midriff baring and flowy—is easily found in abundant boutiques throughout Uluwatu, but especially at The Find, which alongside fashion also sells locally sourced artisan-made home goods. In her Bingin shop, designer Myrah Penaloza, offers sacred garments for everyday and special occasions in richly tactile fabrics and naturally dyed hues. And Drifter Surf, also a pescatarian cafe, art gallery and gathering place for occasional movie screenings, concerts and workshops, has something for everyone from wave riders and spearfishers to avid readers and yogis.