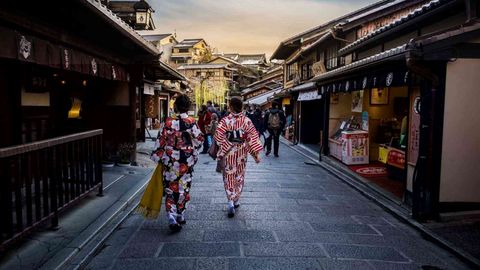 At long last, the country has reopened to travellers, many of whom have, after two years of staying closer to home, put a Japan trip high on their wish lists. But with so much choice — and relatively tight health and entry regulations still in place — piecing together the perfect itinerary for Japan can be a challenge. Enter three experts from T+L's A-List, who shared their hard-won wisdom on the best way to go, whether you're a first-timer, a budget-minded explorer, or a Japanophile eager to get back.
Pick the perfect Japan itinerary for yourself
For the first-timer, designed by Scott Gilman of JapanQuest Journeys Days 1-3
Head for Tokyo and unpack at the Mandarin Oriental, near Ginza, the city's most iconic shopping district. "Make time for the food floor at the Mitsukoshi department store," Gilman says, as well as guided visits to a sumo stable, the famed Tsukiji market, the Meiji Shrine, and ever-hip Harajuku.
Days 4-5 After three days in Tokyo, hop on the bullet train northwest to Kanazawa. "It's home to one of the last well-preserved samurai-era neighbourhoods in Japan," Gilman notes. The city is also known for historic teahouses and shops selling Wajima lacquerware. Next, Gilman recommends visitors spend at least one night in the nearby Kaga Onsen area. This collection of hot-spring towns is home to ryokans such as Kayotei. Also close at hand are the villages of Shirakawa-go and Gokayama, two UNESCO-protected destinations famed for their distinctive architecture and a thousand-year history of mulberry and silkworm farming.
Days 6-10
From Kaga Onsen, it's a three-hour train ride to Kyoto, where the Park Hyatt, set on a hillside overlooking the city, is an excellent choice. Gilman says a three-night stay is plenty of time to see the magnificent Nijo Castle, a former samurai stronghold, and the wooded Arashiyama district, with its Sagano bamboo forest. (He can also arrange a guided day trip to a private tea estate in nearby Uji.) From Kyoto, it's on to Nara, Japan's first capital city. Gilman's favourite home base is actually just outside Nara, the Rice Terrace Villa Sasayuri-ann, which is an ideal jumping-off point for hikes in the surrounding area.
Days 11-14 To round out the trip, go from the ancient capital to the hub of the country's booming contemporary art scene: Naoshima, an island in the Seto Inland Sea. Stay at the museum-like, Tadao Ando–designed Benesse House. Within ferry and water-taxi distance are Chichu Art Museum, Les Archives du Coeur, Teshima Art Museum, and Teshima Yokoo House. Save time to see the Art House Project, a set of seven disused buildings that have been restored as large-scale, immersive works of art.
For the Explorer on a Budget, Prepared by Amy Tadehara of Inside Japan Tours Days 1-4
Another Japan itinerary includes arriving in Tokyo and heading for the historic Asakusa district and the Richmond Hotel Asakusa. The next day, take a guided walking tour that shows two distinct faces of the capital: first the quaint, nostalgic district of Yanaka and elegant Rikugien Garden, before heading to fashionable Omotesando and the neon lights of Shibuya. The following day, take a lesson in kintsugi, the art of repairing broken ceramics with gold lacquer. From the capital, take the train to the Izu Peninsula, home to hot springs and onsens, where you'll check into a traditional ryokan, Hanafubuki.
Days 5-7
Continue on by train to Kyoto, and the Agora Kyoto Karasuma hotel, then sync up with a guide who will show you around some of the city's most notable historic sites — and translate during a visit to one of the city's Buddhist temples, where visitors can partake in a priest-led meditation session. The next day, get a hands-on lesson in roketsu. "This style of indigo dyeing is unique to Kyoto," Tadehara says, "and makes use of wax to block dyes in areas finely drawn by hand on cloth."
Days 8-10 From Kyoto, it's onward to Furumaya House, "a beautiful farmhouse run by a young couple who chose to escape the big city and live off the land," Tadehara says. Guests can take part in a tea ceremony, help with the animals, or wander the country lanes. On day 10, it's an all-morning train trip back east to Nakatsugawa, about half-way between Kyoto and Tokyo. The area around the city is home to the well-preserved postal villages — small villages that formed as rest stops along travel routes — of Magome and Tsumago; the rustic guesthouse Minshuku Daikichi, in Tsumago, is where to stay.
Days 11-14 It's a short trip north to Matusumoto, one of the few remaining well-preserved Samurai castles in Japan. After a tour, explore the town and its noodle shops, which are famous for soba, or buckwheat noodles; the Richmond Hotel Matsumoto is Tadehara's go-to. From there, it's a smooth train trip back to Tokyo, where Tadehara can recommend insider guides to suit any interest, whether it's a style maven who can lead an exploration of the city's buzzing shopping districts or a food expert who knows all the best spots.
For the Japanophile, Arranged by Rebecca Mazzaro of ATJ Days 1-3
This Japan itinerary asks travellers to skip a stay in Tokyo, and instead head straight to Shikoku, the smallest of Japan's four main islands. "It's famous for its pilgrimage circuit of 88 Buddhist temples, a route that's been popular since the Edo period," Mazzaro says. Shake off the jet lag at the JR Hotel Clement Tokushima, then sync up with a guide who'll take you to Ryozen-ji, the start and end point of the temple circuit, as well as other religious sites such as Gokuraku-ji and Konsen-ji, in the foothills of the Sanuki Mountains.
Days 4-5 From the city of Tokushima, it's a short train ride to Takamatsu, home to Ritsurin Park, a centuries-old national treasure. "It's not officially one of Japan's most beautiful gardens, but it certainly rivals any in the country," Mazzaro notes. Spend the days doing hot springs, temples, and traditional cuisine. On beautiful Shodoshima Island, the eight-room Shimayado Mari has manicured gardens and views of Uchinomi Bay; a guide can take you to a sake brewery or Buddhist temples. Then continue down the coast to Dogo Onsen, one of Japan's oldest hot springs, where you'll spend the night at a ryokan, such as Katsuragi Kotononiwa, before stopping in the ancient city of Ozu, sometimes called Little Kyoto of Iyo for its carefully restored buildings.
Days 6-8
On day six, leave Shikoku for Japan's southernmost main island, Kyushu. Post up at ANA InterContinental Beppu Resort & Spa, with its bay-view onsen, then do a guided forest-bathing session at Aso-Kuju National Park. Next, you'll explore the area around Mount Aso, a group of five peaks that includes one of the world's largest active craters, at 71 miles around the rim, before checking in at Takefue, a luxurious bamboo-shrouded ryokan. Also worth a day is Unzen-Amakusa National Park, which has Yellowstone-esque geothermal features, incredible biodiversity, and a 17th-century castle.
Days 9-13 From central Kyushu, it's a short trip to Nagasaki, where more than 70,000 people were killed by a USA atomic bomb in 1945. "A third of the city was destroyed," Mazzaro says, "but Nagasaki has made a remarkable recovery." She recommends a guided full-day tour that includes stops at the Nagasaki Atomic Bomb Museum and Oura Cathedral, Japan's oldest Christian building. Get more perspective on World War II in Kagoshima, in southern Kyushu, where the Chiran Peace Museum displays the stories and personal effects of kamikaze pilots. Aside from war history, this corner of Japan is also known for its sun-warmed sands and fantastic hotels, including the Relais & Châteaux Wasurenosato Gajoen, a series of thatched-roof villas with tatami-covered floors and open-air, hewn-stone onsen.
This story first appeared on www.travelandleisure.com
Main and Feature Image Credit: Puripat Lertpunyaroj/Getty Images
Related: Henley Passport Index 2023: Japan Scores Top Spot; Malaysia Ranks 14th With Visa-Free Access To 179 Countries
Written By