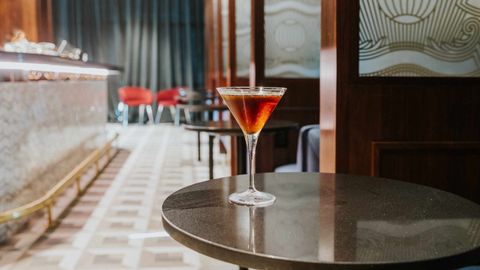 From lengthy security lines to the frenzied scramble for an overhead bin, there's no shortage of stressful situations to encounter at the airport. But in between all of that pre-flight chaos, a Centurion airport Lounge offers the perfect respite. With 24 airport lounges across the globe — and three additional lounges slated to open in 2023 — these polished locales provide select American Express customers with access to free food, drink, and a wide array of carefully curated location-specific amenities.
(Centurion cardholders, American Express Platinum and Business Platinum cardholders, and Delta SkyMiles Reserve and Reserve Business cardholders can all enter centurion lounges.) From New York City to Hong Kong, these lounges offer an opportunity for guests to dine well, with menus curated by well-known local chefs, and enjoy a good cocktail before takeoff.
These are the best Centurion Airport Lounges
Las Vegas
Las Vegas is known for its dazzling casinos and bombastic celebrity restaurants — and all of that glitz and glamour doesn't end once you've set foot inside Harry Reid International Airport. After a weekend of classic Vegas revelry, the LAS Centurion Lounge serves as the perfect oasis of tranquillity, offering showers, semi-private work desks, and a massive buffet spread curated by James Beard Award-nominated chef Kim Canteenwalla. If you're in need of some decadent comfort food, savoury selections like chilaquiles and biscuits and gravy round out the breakfast menu, while meatloaf, honey salt macaroni and cheese, and vegetable curry are all up for grabs for evening visitors.
Hong Kong With long-haul flights to New York, London, and Paris all launching from Hong Kong International Airport, the HKG Centurion Lounge offers some much-needed relaxation before strapping in for a long, long flight. In addition to free-flowing beer, cocktails, and wine, dining options range from typical Western cuisine to Cantonese classics, with a wide variety of dim sum dishes all making an appearance at the buffet. As an added bonus, the lounge is equipped with workspaces and a shower section, providing a welcome refuge for any traveller in the midst of a lengthy layover.
Houston A far cry from the hustle and bustle of downtown Houston, the IAH Centurion Lounge at the George Bush Intercontinental Airport is equipped with its own dedicated wellness space to help soothe those pre-flight jitters. Working with wellness company Calm, the 8,500-square-foot lounge currently offers relaxation and meditation guides, alongside a wealth of beverages like healthy juices and teas. To sweeten the deal, visitors can snag hearty Texas-inspired fare courtesy of chef Justin Yu — a Houston native and the 2016 winner of the James Beard Best Chef Southwest award.
Miami Whether you're jetting out to Colombia or Costa Rica, Miami's Centurion Lounge is perfect for kicking off an unforgettable getaway. To get a head start on the relaxation, be sure to pay a visit to the on-site spa, with massages and manicures both available for booking. Post-treatment, visitors are welcome to swing by the buffet for some Miami-inspired dining courtesy of chef Michelle Bernstein. A James Beard Award winner and Miami native, Bernstein has curated a menu that's perfect for beating the Southern Florida heat, with refreshing dishes like minty pea soup, watermelon Greek salad, and panna cotta all gracing the table.
Seattle In need of a pick-me-up before your next flight? Swing by Seattle-Tacoma International Airport's central terminal to find the Centurion network's very first full-service coffee bar. Built to celebrate the Emerald City's rich legacy of roasting, this buzzing bistro operates alongside local company Caffè Umbria, dishing out the cold brew, espresso, and even the Centurion Lounge exclusive "Blue Roast by American Express." Beyond the realm of coffee and cocktails, the lounge has also mastered the art of Seattle-focused cuisine thanks to chef Kristi Brown. A 2021 James Beard Award semifinalist, Brown brings her unique "Seattle Soul" culinary stylings to the area, serving up flavorful fare like "Peach Cobbla" French toast and Trinidadian-spiced pork belly.
Charlotte, North Carolina One of the hottest hubs for American Airlines, frequent fliers have certainly had their fair share of quick connections through Charlotte Douglas International Airport. But if you've got some time to spare, there's no venue quite as charming as the CLT Centurion Lounge. While amenities range from personal desks to a designated family room, no visit is complete without sampling some savoury Southern fare fresh from the buffet. Crafted by James Beard Award nominee chef Gregory Collier, the menu has cheddar grits and country sausage in the morning, while savoury bone-in chicken thighs, roasted cabbage, and buttermilk chess pie take the stage for a truly flavorful dinner spread.
London While Heathrow Airport made its debut in 1946, the LHR Centurion Lounge offers a wealth of polished amenities fresh from the 21st century. During a visit, guests can spend their layover basking in the beauty of the on-site wellness centre or freshening up in the private showers. They can also snack on shakshuka, baklava, freekeh halloumi, and a wealth of other Middle Eastern fusion dishes designed by chef Assaf Granit. Speciality cocktails range from the Scotch-heavy Cobblestone Fence (made of rum, 12-year-old whisky, maple syrup, and Angostura bitters) to the alcohol-free Hair of the Frog. But of course, no English lounge would be complete without a world-class tea selection, so be sure to pay a visit to the first-ever Centurion Lounge tea cart before you set off to board your flight.
San Francisco The Bay Area is home to some pretty stellar wine, but if you don't have time for a leisurely cruise through Napa Valley or Sonoma County, the SFO Centurion Lounge has you covered. While guests are welcome to take advantage of the West Coast wine wall, the venue recently rolled out its own roster of seasonally rotating wine flights, with California favourites like Sonoma chardonnay and Napa cabernet sauvignon carefully compiled by Anthony Giglio, The Centurion Lounge Global Network's in-house wine director. Once you've explored the world of California wine, fine dining is just a few steps away, with a wealth of Golden State-inspired dishes crafted by James Beard Award nominee chef Ravi Kapur. Think gochujang-marinated chicken thighs, wild rice and coconut soup, and vermicelli noodle salad.
New York City Located in Queens' John F. Kennedy International Airport, this grandiose venue is the first two-story lounge in Centurion history, offering a king-sized array of amenities for visitors to enjoy. The lounge has an Equinox Body Lab, offering a variety of therapies like a vibroacoustic chair and app-driven meditations and stretching.
Renowned NYC restaurateur Ignacio Mattos heads up the dining program around here, with small plates like fennel salad and fried maitake mushroom po' boys. But for any serious spirits aficionados, no visit is complete without stopping by the Prohibition-era bar 1850. Located within the lounge, this cosy speakeasy — there is no password required to enter — is home to high-end liquor and a roster of talented bartenders all prepared to craft the perfect cocktail.
Buenos Aires
After exploring the towering peaks of Patagonia, the EZE Centurion Lounge at Ezeiza International Airport provides weary travellers with a tranquil cityside refuge before the journey back home. Classic cocktails and typical regional cuisine are both up for grabs around here. But for best results, be sure to snag a glass of Argentinian wine. While the nation is best known for its top-tier Malbec, there's a wide array of varietals to sample across the lounge, providing guests with a deep dive into local culture in liquid form.
(Main and Feature Image Credit: American Express)
The story first appeared here
Related: Why Emirates' Legendary First-Class Suites Are Worth The Splurge: From Unlimited Caviar To Onboard Showers
Written By