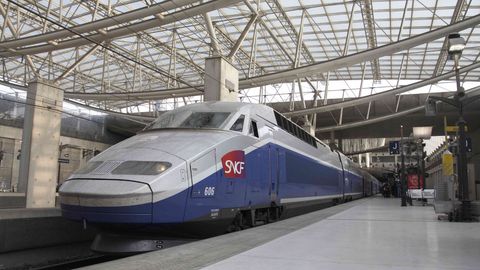 With major airlines expecting a record summer travel season, more travellers than ever will be hitting the skies to visit far-flung destinations around the globe, with countries across Europe leading the top spots for bookings.
When travelling, utilising public transportation can be an excellent choice to save money on commuting expenses, navigate cities more quickly, and plus, are more environmentally friendly. Many countries including Greece, Italy, Spain and more also have unlimited passes for extra savings. Travel + Leisure has compiled ways to find affordable public transportation opportunities and plan an affordable Europe trip this summer season.
Plan the most affordable Europe trip this summer!
France
Travellers through France can utilise the SNCF train system, which provides high-speed rail service throughout most cities in the country and across Europe. SNCF recommends downloading their app to create bookings in advance and save tickets virtually, instead of queuing in person for long lines, where tickets may be sold out.
For travellers looking to commute throughout France's capital city, Paris, there are a variety of public transportation options which can help save time and money.
Single tickets for adults in Paris cost EUR 2.10 (RM 10) or approximately USD 2.30 (RM 10) on most metro lines and bus services. Travellers make at least six transport trips per day to pick up the Paris Visite travel pass, which provides unlimited public transport on busses and metro lines, along with special discounts. The Pass costs only EUR 13.55 (RM 66) or approximately USD 14.84 (RM 66) for Paris only, and EUR 28.50 (RM 139) or USD 31.20 (RM 140) for the expanded zone region including transport to major airports and Disneyland Paris.
Passengers flying out of Paris' Charles-de-Gaulle Airport can utilise public transport starting at only EUR 2.10 (RM 10) or approximately USD 2.30 (RM 10) for a bus, or EUR 11.45 (RM 56) or approximately USD 12.54 (RM 56) for a train in each direction. Keeping all this information in mind, visitors can plan an affordable Europe trip.
Travellers should be aware of strikes that occasionally happen within France's public transportation system, and this website has the up-to-date status of transport lines.
Also for travellers heading to Paris, the city's public transportation system has a network of 170 different luggage drop-off points so that you can explore the city hassle-free before your hotel check-in, or before departing for the airport.
Spain Spain's main rail system, called Renfe, operates more than 5,000 trains daily across the country that connect to all major cities. For travellers looking to splurge this summer, they can check out Renfe's new schedule of Luxury Tourist Trains, which provide plush accommodations and dining.
For travellers in major cities including Barcelona, and Madrid, local public transportation by bus and rail is an excellent and safe way to navigate the city. Madrid's Metro has a Tourist Ticket for unlimited daily use of public transportation starting at EUR 8.40 (RM 41) or approximately USD 9.19 (RM 41).
Travellers to Madrid before June 30, 2023, should consider the 50% discount on 10-pack Metro cards
Italy
For visitors looking to travel amongst Italy's major cities, the Trenitalia Pass is an excellent option only available for foreign citizens who are visiting Italy to explore the country, with a starting price of EUR 129 (RM 631) or approximately USD 141.20 (RM 635).
Within Rome, there are several public transportation options available including rail, light rail, bus, and more. A weekly 7-day pass of unlimited public transportation costs less than USD 30 (RM 135). Keeping all this information in mind, travellers can plan an affordable Europe trip.
Germany This summer, Germany has launched a new monthly all-inclusive public transport pass called the Deutschlandticket, which translates to 'Germany Ticket'. The benefits include unlimited travel for just EUR 49 (RM 239) per month, which is roughly USD 54 (RM 243) based on the current exchange rate. The travel is valid throughout Germany on all local public transport including regional and local trains.
The national ticket is a monthly subscription that can also be cancelled monthly. Therefore, it is more appropriate for travellers who plan to visit Germany for an extended period and intend to explore different cities.
The launch of the ticket, which became active on May 1, was so popular that it crashed the website which was selling the tickets, according to Euronews.
For shorter stays, many major cities in Germany offer tourism cards that provide discounts to attractions and unlimited use of public transit. For example, in Berlin, the Berlin WelcomeCard gives a traveller unlimited access to the S-Bahn, U-Bahn, and buses. The WelcomeCard includes free admission to over 30 different museums or exhibitions, and for an optional fee will also include public train service to the new Berlin Brandenburg Airport.
Hungary
Hungary recently launched a nationwide transit card this month, which provides unlimited public transport for EUR 49.15 (RM 240), or USD 54.18 (RM 243) based on the current exchange rate. The national travel card will provide access to rail and busses. The country pass can be purchased at over 1,000 locations that sell train tickets across the country, according to a listing on the country's website.
In addition to this country-wide travel, Hungary's official tourism website shares that single trips to and from the Liszt Ferenc International Airport are available by bus for HUF 350 (RM 4) or approximately USD 1.04 (RM 4). The same price applies for single trips throughout the city on metro rail or bus.
Visitors to Budapest may be interested in taking advantage of the Budapest Card, which includes unlimited use of public transportation, free entry to museums, walking tours, thermal baths, and more.
Portugal Comboios de Portugal or "CP" is the national rail system for Portugal. The train service has a variety of promotions and discounts ahead of the summer travel season. The Tourist Travelcard provides unlimited use of the train lines across different cities, starting at only EUR 6.00 (RM 29) or approximately USD 6.60 (RM 29).
For younger travellers between the ages of 12-30, make sure to check out the European Youth Card which provides 25% off select train services.
Greece
Greece's Hellenic Train Service is one of the most popular ways to connect various cities in Greece. To save money, the service offers discounts of 25% when tickets are purchased at least 60 days in advance.
Within Greece's major cities, public transportation is an easy and accessible option. In Athens, the Athens Metro operates multiple service lines throughout the city but stops operating at Midnight, according to their schedule. Athens also offers a 3-day "Tourist Ticket" for EUR 20 (RM 97) OR approximately USD 21.96 (RM 98) and provides three days of unlimited public transportation, including round-trip service from Athens International Airport.
Austria
In Austria, travellers can utilise nationwide rail service on ÖBB, which operates a service for 323 million passengers every year. Visitors travelling during the weekend should consider the Einfach-Raus-Ticket which is a group ticket and provides unlimited travel on local and regional trains on weekends at EUR 36 (RM 176) or approximately USD 39.54 (RM 177) for two people.
For visitors to Salzburg, the Salzburger Verkehrsverbund GmbH is the main public transportation service. A 24-hour ticket is only EUR 4.50 (RM 22) or approximately USD 4.94 (RM 22) when purchased in advance at a kiosk or counter.
Denmark
Visitors to Denmark's capital city Copenhagen can get free, unlimited access to public transportation with the purchase of the Copenhagen Card. The card also provides access to 89 different attractions including Tivoli Gardens, Canal Tours, Copenhagen Zoo, Botanical Garden, and more. This experience allows you to plan an affordable Europe trip.
The card's pricing starts at DKK 459 (RM 301) or approximately USD 67.67 (RM 304) and is available for various durations starting at 24 hours, and a maximum of 120-hour visits.
(Hero and feature image credit: Getty Images)
This story first appeared on travelandleisure.com
Related: This Is One Of The Most Scenic Train Rides In Europe — Here's What It's Like On Board
Written By