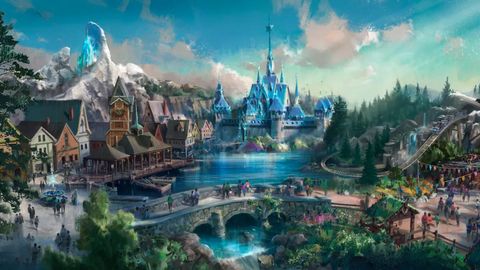 "World of Frozen" is the latest attraction to open at Hong Kong Disneyland. Set for a November debut, the Frozen-themed attraction will allow visitors to explore Arendelle, Elsa and Anna's hometown.
The new attraction will consist of Elsa's Ice Palace and Arendelle Castle. With this new addition, the Hong Kong theme park will have the most castles among all Disney parks! Visitors will also be able to visit the Town Square and forest area that were seen in the Oscar-winning animated film.
World of Frozen in Hong Kong Disneyland: What you need to know
The World of Frozen is the first Frozen-themed land according to the Hong Kong park's Managing Director Michael Moriarty. "World of Frozen will be a defining addition to our world-class attractions that help us win over locals and tourists alike," he said.
Tokyo DisneySea will open its own next spring while Disneyland Paris will follow in 2025.
There will be three new rides in the area, one of which is a revamped version of the Frozen Ever After ride at Walt Disney Resort in Orlando. The other is a family-friendly roller coaster, Wandering Oaken's Sliding Sleighs, which will take riders through the mountains. Playhouse in the Woods will be another new ride for visitors to enjoy.
View this post on Instagram
The park will remain open for more days a week from mid-June
The park also announced that it will start opening six or seven days a week in mid-June. At present, the park is only open for five days. With this expanded opening and a new attraction, there is hope that more tourists and locals will visit.
Last year, Hong Kong Disneyland suspended the iconic fireworks display. It also began renovation work on the Castle of Magical Dreams after the park reopened in February 2021.
Book Your Stay at Conrad Hong Kong via Agoda.com
Book Your Stay at Conrad Hong Kong via Booking.com
This story first appeared here.
Related: How To Plan A Magical Disney World Vacation
Written By