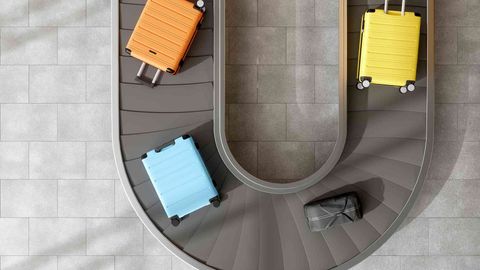 The glory days of aviation might be long behind us, but that doesn't mean the process needs to be miserable today. Though there's nothing appealing about flying in a middle seat in economy, there are some airline perks that can improve your flight experience. Of course, some of those are reserved for business-class passengers, but there are many available to all. Here are eight airline perks you might not know about.
Secret airline perks you should definitely know about!
Some airlines have special check-in areas for business-class passengers If you're flying business class, you'll always have access to a priority check-in desk, along with frequent fliers holding elite status, who can sometimes clog up the line. But some airlines have dedicated check-in areas that are exclusive to business-class passengers. Delta, for instance, has a Delta One check-in area, which comes with a complimentary refreshment bar. Champagne, anyone?
And some airlines have arrivals lounges that are specifically designed for a post-red-eye flight Even in business class, red-eye flights aren't always fun. But you can make your arrival a little brighter by visiting an airline's arrivals lounge for a post-flight refresh. Not every airline has an arrivals lounge at each airport, though, and not every passenger has access — check with your airline before departing. One standout is the Virgin Atlantic arrivals lounge at London's Heathrow Airport, where travellers can take a shower, eat a full English breakfast, and catch up on the morning news.
You can often join the standby queue for an earlier flight for free
In a hurry to get to your destination? Try your hand at flying standby on an earlier flight. Flying standby means being added to a waitlist for extra seats on an earlier flight — most airlines let you join that queue for free. The typical stipulations are that standby flights have the same destination as your earlier journey, be the same day as your original flight, and be earlier than your initial trip, not later. Check your airline's specific policies regarding flying standby to find out more.
You can still tour the cockpit — at the captain's discretion, of course While you're no longer able to visit the cockpit mid-flight, you might be able to tour it before or after your flight, so long as the captain approves it. Both kids and adults are welcome. Speak with a flight attendant about a possible tour, and keep in mind that there are no guarantees.
You can request a second meal onboard
Portions are typically small when it comes to airplane meals, so if you're still hungry after service, ask a flight attendant if there are any leftover meals. If so, you might be able to score seconds. Just be sure to ask after everyone on the plane has been served.
You can ask for freebies like eye masks and slippers Full amenity kits with facial moisturisers, lip balm, and sometimes even fragrance sprays are usually limited to business-class passengers, but you can still ask a flight attendant for some extra amenities such as eye masks, slippers, and toothbrushes to make your journey more comfortable. They might not always be available, but it's worth asking.
If your checked bag doesn't arrive on time, you may be able to get compensated
Delta and Alaska Airlines both offer bags-on-time guarantees. If your checked luggage doesn't make it to the baggage claim within 20 minutes after your flight arrives (more specifically, when the door opens), you can file for compensation in the form of 2,500 miles (4,023.36 km) to your respective loyalty program. Alaska also offers an alternative: a USD 25 (RM 110) credit toward your next flight. There's some fine print to read, though, so check out your airline's specific policies to find out if you qualify and how to request compensation.
The major airlines all offer connections to some destinations by bus or train
Through the Landline bus service, both United and American offer connections to smaller cities outside of their main hubs — you can book it all on a single ticket, and your bags will even be checked the whole way through. United services Fort Collins and Breckenridge from Denver, while American services Allentown/Bethlehem, Pennsylvania; Lancaster, Pennsylvania; and Atlantic City, New Jersey, from Philadelphia. Delta, on the other hand, one-ups its competitors. You can actually book train tickets across Europe, along with your air tickets through Delta's Air + Rail program.
(Hero and feature image credit: onurdongel/Getty Images)
This story first appeared on travelandleisure.com
Related: The Best Budget Travel Tips — From Saving Money On Air Travel To Spending Less On Hotels
Written By