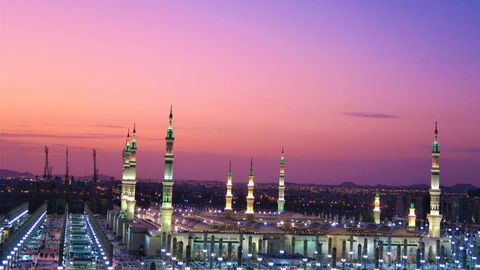 Gulf countries have always been attractive destinations for travellers. But, they seem to have decided to increase their appeal manifold, as countries comprising Gulf Cooperation Council (GCC) plan to introduce a 'Schengen style' visa for border-free travel.
According to media reports, talks were held recently among GCC countries — Bahrain, Kuwait, Oman, Qatar, Saudi Arabia and UAE — to launch a system which will allow travellers to visit all six of them under a single visa. This measure was approved at a meeting held in Muscat early in October. Salim bin Mohammed Al Mahrouqi, Minister of Heritage and Tourism in Oman, announced that the unified visa has been approved unanimously, writes Siasat Daily. The visa will be launched soon, and will save visitors from applying for multiple visas and promote seamless travel among GCC countries.
More details on the 'Schengen-style' visa for GCC countries
The plan for a unified-visa system was revealed during a meeting at this year's Arabian Travel Market (ATM) in Dubai. HE Fatima Al Sairafi, Minister of Tourism of Bahrain, shared that the discussions have begun at the ministerial level to achieve a single unified visa for GCC countries, as per a Khaleej Times report.
"We see that happening very soon because we see people flying from abroad to Europe usually spending their time in several countries rather than in one country. We really saw the value this can bring not to each country but all of us," Al Sairafi said.
"We targeted 8.3 million tourists for 2022 but achieved 9.9 million visitors because we co-promoted Bahrain along with the UAE and other GCC markets. It resulted in an increased number of tourists," she added.
The UAE's undersecretary for the Ministry of Economy, Abdullah Al Salehal, who was part of the discussion, also emphasised tourism and said the sector was necessary for the growth of their economies.
This idea of GCC countries collaborating is reported to have got impetus after the effective cross-collaboration that happened between the Gulf during last year's FIFA World Cup when Saudi Arabia provided 60-day visas to all Hayya Card holders.
What is a Schengen visa? A Schengen visa is a short-stay visa for unrestricted movement between 27 European nations, which together make up the Schengen zone. It is granted to non-EU nationals and citizens of countries not having a visa-exempt agreement with Schengen members. The visa holders can stay in the zone for up to 90 days within a six-month period. The visa can be granted by any of the Schengen countries, depending on whose embassy or consulate or visa facilitation centre you approach. Some visa centres handle applications of multiple Schengen members.
(Hero and feature image credit: Konevi/Pixabay)
Related: 8 Schengen Countries You Can Easily Obtain Visa For
Written By