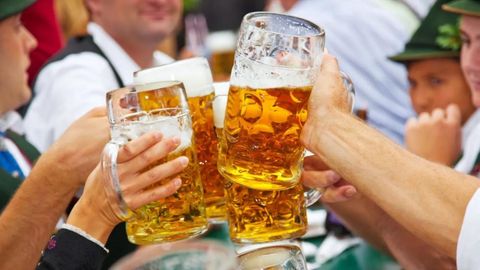 Here is an excuse to consume copious amounts of beer: Oktoberfest is back, and here is where to celebrate the 2023 edition in Singapore.
Possibly the world's oldest beer festival, Oktoberfest began as a wedding celebration on October 12, 1810, in Munich for the Bavarian crown prince. It was marked by multiple days of drinking, feasting, and horse races, and the party stuck around for more than 200 years.
In 2023, Oktoberfest typically starts around mid-September and lasts throughout October, and certain traditions are still practised in Singapore and around the world. Celebrations include traditional Bavarian food like pork knuckle and sausages. sauerkraut, potato salad, and meatloaf. Beer styles range from the light festbier (festival beer) and the amber-coloured Marzen (March) beer to the roasted and malty dunkel (dark beer). In Munich, these beers are made by designated Oktoberfest breweries such as Paulaner and Erdinger, and consumed under huge tents.
People also get into the spirit by wearing the traditional attire of lederhosen shorts for men and the dirndl dress for women and enjoy ceremonies like beer barrel tapping, folk music, and carnival games. In Singapore, non-German restaurants and bars evoke the spirit of Oktoberfest with DJs and rooftop parties. Check them out below.
Book your stay at Hotel Telegraph in Singapore via Agoda.com
Book your stay at Hotel Telegraph in Singapore via Booking.com
Where to celebrate Oktoberfest 2023 in Singapore
Jump To / Table of Contents Written By