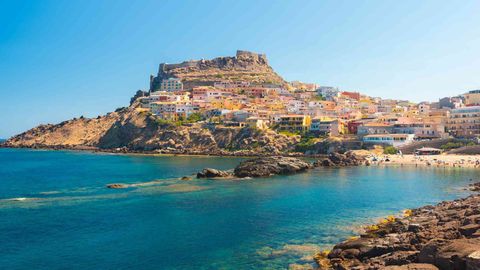 If you've long dreamed of taking your work on the road with you and becoming an official digital nomad, a teeny tiny village in Sardinia is ready to welcome you.
The village of Ollolai, a community of about 1,200 people nestled in almost the dead centre of the island, has opened a very special digital nomad visa for would-be travellers to take advantage of right now. You see, this isn't your typical visa. Rather than paying to live in a new destination, the village of Ollolai will pay you.
This new digital nomad visa allows you to live rent-free on this stunning Italian Island "Work from Ollolai is a new program from the municipality of Ollolai that aims to bring experienced professionals to work from Ollolai rent-free," the visa's application page reads (technically, you need to pay a symbolic EUR 1 (RM 4), but we'll let that slide). All the community asks for in return is that those who obtain the visa share their knowledge with the local community.
"The goal of the program is to promote an exchange of information and experiences between rural communities and the rest of the world, to increase the opportunities for the local students (and non-students) to learn more about the new digital professions, the opportunities of remote work, and cultural interchange."
All you need to do to apply is submit a little personal information, including your name, resume, email, potential start date, and a small paragraph about yourself and what you hope to achieve with the trip.
As for who is eligible to apply, the application page explains that the town is specifically looking for people with "multiple years" of experience in their chosen field, including "technology, media, finance, real estate, architecture," The community is also interested in hosting "professional artists, writers, musicians, scientists, and academics" who are all willing to offer local lectures, presentations, or conduct projects with the help of the community.
According to CNBC, the community has set aside a little over USD 20,000 (RM 93,690) to host a total of 30 remote workers over the next few years, with each staying one at a time.
Every guest will be offered either a one or two-bedroom home, depending on their travel party size, for one month. The only thing to note is that the town doesn't technically offer high-speed internet. Instead, officials recommend that guests obtain e-sims for their phones to "connect to the internet at high speed using any Italian mobile network provider."
Shop the best travel experiences here
Hero and Featured Image credit: Manuel Breva Colmeiro/Getty Images
This story first appeared on travelandleisure.com
All currency conversions were done at the time of writing
Related: Digital Nomads, Malaysia Is Among The Most Affordable Country For You To Work From!
Written By