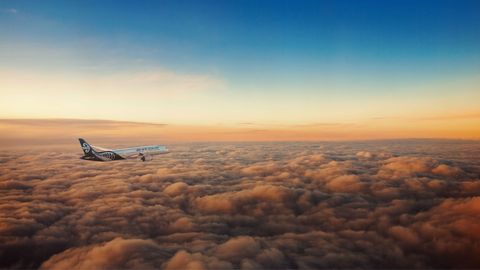 Maybe you've heard about the Air New Zealand bunkbeds coming to economy next year, but what about their rejiggered business class featuring restaurant-style dining, renewable dishes and cutlery to cut weight and save waste, and a sleep ritual and free-flow snack pantries for everyone? We visited the Air New Zealand top secret research lab and are here to tell you what to expect on their awesome new cabins launching next year. WE'VE ALL BEEN THERE.
As sleep (that elusive creature) finally, finally creeps up on you during a long flight, your neighbour's overhead reading light snaps on like a stadium light, obliterating all hope of sweet slumber. It's just one of air travel's inescapable little irritations, like weirdly flat pillows, having the passenger in front fully recline their seat at mealtime, or having to repeatedly rewind your movie because you accidentally yanked out your headphone jack for the 17th time. Why can't things be better, you ask yourself. Well, Air New Zealand heard you. As part of a top-secret project spanning the last five years, it has quietly accrued precious intel by inviting some 300 passengers into its innovation lab, gathering their honest feedback over 2,571 hours of customer research. The results were unveiled last year in its research lab Hangar 22, which contains a full-sized cross-section of its 787 aircraft (spanning all its cabins) and is located in an Auckland commercial precinct so unprepossessing most employees weren't even aware of its existence.
"I think people are really looking for their own personal space," says Leanne Geraghty, chief customer and sales officer at Air New Zealand, describing how air travellers have become more exacting post-covid. "They're also combining both business and leisure travel, taking longer vacations and blending the two. Travellers now are also much more conscious of the sustainability elements of travel." To this end, Air New Zealand has introduced a slew of innovations that will debut on its new Dreamliners arriving in 2024. These include a new Business Premier Luxe suite, a new Business Premier seat and the world's first Skynests—sleeping berths for Economy passengers.
The new Skynest: Business-class beds for economy travellers "Ultra-long-haul economy travel really is an act of endurance," says Louise Leaupepe, senior aircraft programmes specialist at Air New Zealand. (The airline defines a long-haul flight as one in the air for six to 12 hours, and anything beyond as an ultra-long-haul flight. Its Auckland to JFK flight, for example, is about 16.5 hours, the fourth-longest flight in the world.) Compounding this is the fact that the first night away from home, according to the airline's research, is the hardest to get a good night's sleep.
In response, Air NZ has overhauled its economy cabin design and offering, the most exciting of which is no doubt its new Skynest concept, which CEO Greg Foran aptly describes as "a real game changer for the economy travel experience."
These are six lie-flat sleeping pods, or beds (configured in two columns of three bunks each) located at the back of the new Economy cabin on ultra-long-haul flights. Each pod holds one person, and features a curtain that can be pulled closed for privacy. According to Kerry Reeves, head of aircraft programmes at Air New Zealand, each pod is about 80 inches (two metres) in length, with a shoulder width of about 23 inches (58 centimetres). Included are a full-sized pillow, sheets and blanket, along with ear plugs and lighting designed for rest. Other features include a separate reading light, personal device USB outlet, and ventilation outlet. T+L tip: those with accessibility issues might find the middle bunks easiest to get into, while bottom bunks – which are partially occluded by a jutting stairwell – offer the most privacy.
Passengers in the new cabins can book a Skynest in blocks of four hours, as Air New Zealand research indicates this allows you to enjoy a few mood and memory-enhancing REM cycles. But as Reeves notes, even passengers who didn't fall asleep during Skynest trials reported enjoying "the separation from the rest of the cabin" as well as "the ability to stretch out horizontally for those four hours."
While pod pricing and booking processes are still being determined, the airline says that each passenger will be limited to one session, so that no one person can "hoard" consecutive Skynest sessions if there is demand from others.
Comfort and sleep innovations Even if you don't make it into the Skynest, things are about to get a lot more comfortable from the Economy cabin and on up.
Economy seats will be enhanced with more storage, comfort and space, while Economy Stretch allows for more legroom than regular Economy seats. Here, it's also worth mentioning Economy Skycouch, an already-existing Air NZ innovation that allows passengers to convert a row of three seats into a flat surface with a mattress on top. This accommodates up to three passengers and is ideal for a couple, or a parent with small children.
The new Premium Economy seat offers more privacy, allowing passengers to recline without intruding into the space of the person behind. Business class, too, will be transformed, doing away with the current herringbone layout. The new Business Premier seats are 20.5 inches (52 centimetres) wide and can be turned into 80.25 inch (204 centimetre) lie-flat beds. Business passengers can now incline their back and headrest separately, allowing for a more comfortable lounging position. Seats in this section won't have doors but offer privacy shields. Those travelling together in the middle row can open their shields, creating a "shared bubble" in the cabin.
The new Business Premier Luxe suites, however, are truly a upscale innovation, offering everything Business Premier does and more, such as a fully closing door and space for two to dine face-to-face, "restaurant-style." All airline passengers will also receive a new Sleep Ritual, comprising a small tray of calming items like chamomile tea, a hot towel, passionflower sleep balm and sleep-inducing snacks like dark chocolate and nuts. Combine this with Zentertainment, meditative onscreen content of slow-moving scenes across New Zealand and sounds of nature, and zzzs are pretty much guaranteed.
And thank you, Air New Zealand, for giving us the freedom to snack — in Premium Economy and Economy cabins, there are new Sky Pantries (separate from the galley) stocked with snacks and drinks available at all times.
Tech upgrades Movies are an important distraction on long flights, and the new Economy seats will have a 50 percent bigger screen. All inflight entertainment (IFE) in the new Air New Zealand cabins will allow you to pair your device as a remote control and to connect to Bluetooth audio, allowing for a wire-free experience. Also included: universal power outlets and new wireless charging area. And double-screeners rejoice—IFEs will also offer a new "split-screen" option, so you can watch a movie and monitor your plane's flight at the same time.
Happily, overhead reading lights are no more, at least in Business class. Instead, there are now five separate lights plus a reading light that passengers can adjust to their satisfaction. Economy-class lights will also be more bespoke and not as intrusive, according to Reeves.
A more sustainably minded flight Let's face it: no flight can be considered eco-friendly, but there are ways to alleviate the damage, so to speak.
As part of its mission to achieve net zero carbon emissions by 2050, the airline has debuted new serviceware which will reduce environmental impact. In Premium cabins, the new serviceware is 20% lighter, reducing up to 76 kilograms of weight from each flight. In Economy, the new serviceware (made from renewable sugarcane remnants) will eliminate some 28 million single-use plastic dishes and cutlery every year. Leather has been replaced with lighter, "modern fabrics," saving about 1 kilogram in weight per Business Premier and Premium Economy seat. Also new: soft, durable and warm modacrylic blankets, which will replace polar fleece versions, said to shed significant amounts of plastic fibres into the environment with every wash. All of which makes for a truly feel-good flight. Yet Leaupepe had one more incentive to share.
The pillows in the Air New Zealand new cabins will, according to her, be plumper, too. Sign us up.
---
Images courtesy of Air New Zealand.
Written By