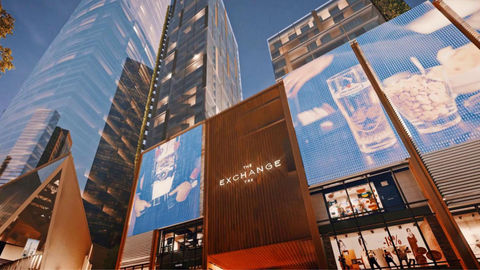 Amid a glittering array of metropolitan skyscrapers, Kuala Lumpur is prepared to welcome another jewel to its crown with The Exchange TRX opening its doors to the general public this November.
Arguably one of the most prominent flagship projects within the Klang Valley's expansive real estate industry, The Exchange TRX, which is nestled at the base of The Exchange 106 tower, is set to become the nation's next prime retail hotspot to complement the Tun Razak Exchange's lauded accolade as Malaysia's next hub for global commerce.
Where retail is concerned, the upcoming mall is expected to offer an unrivaled shopping experience at launch with over 400 stores fanned out across 1.3 million sq. ft. of Nett Lettable Area (NLA). Featuring a 95 percent occupancy rate comprising a varied list of global tenants, the city's latest landmark is also poised to host the debut of a truly prodigious clutch of brands that will mark their first formal brick-and-mortar entry into the Malaysian market.
Additionally, the mixed development is primed to introduce the TRX City Park to Klang Valley residents, which serves to rejuvenate the urban core with an essential, publically accessible green lung measuring 10 acres.
Eager to see what else The Exchange TRX has in store? Here's your first exclusive look at some of the most anticipated highlights to be unveiled at Kuala Lumpur's next hottest address.
1. Maison Kitsuné Multi-hyphenate creative label Maison Kitsuné has carved out a niche for itself through a cultural union of two cities: Tokyo, and Paris. The label, best known for its approach to a slow and considered lifestyle as well as the beloved fox mascot from which it takes its name, will be opening the doors to their first Malaysian outlet at The Exchange TRX.
What's more, they are also set to bring their hospitality arm, Café Kitsuné, along with them. This will mark the café's 28th outlet globally and the fourth in Southeast Asia, after Bangkok, Singapore, and Manila.
2. GENTLE MONSTER Headquartered in South Korea, there's no disputing the fact that GENTLE MONSTER has single-handedly become one of the most talked-about eyewear labels from the past two decades. Founded in 2011 by South Korean Hankook Kim, their unconventional frame designs and strategic collaborations with fashion houses such as Maison Margiela as well as Fendi have solidified their credentials among the fashion-savvy set.
Similarly, their boutiques are a reflection of their pursuit of the unorthodox, famously fusing industrial utilitarianism with futurism to create a truly distinctive ambience. Expect to venture into their first physical store in Malaysia at The Exchange TRX.
3. Alo Yoga With an uptick in interest from Malaysians for fitness that came about from the adoption of home workout regimens during the pandemic lockdown period, local consumer appetite for workout apparel and gear has truly reached new heights. In this case, there has never been a more opportune time for Californian workout apparel brand Alo Yoga to set up shop in Malaysia.
Co-founded by Danny Harris and Marco DeGeorge in 2007, Alo Yoga's collection of adaptable workout apparel offers fitness enthusiasts the option of combining functionality with style through their adept use of prints and contemporary cuts, taking you from the gym to the drinks with the girls effortlessly. What's more, celebrities such as Hailey Beiber and Bella Hadid count themselves as fans of the brand, too.
4. Drunk Elephant Cult beauty brand Drunk Elephant needs no introduction among beauty enthusiasts who know their squalene from their hyaluronic acids. The Texas-based skincare brand has earned the trust of industry insiders for producing result-driven products that incorporate only biocompatible ingredients that work well with your skin.
Previously, Drunk Elephant had only been accessible to Malaysian consumers through beauty giant Sephora's retail network. But with the imminent opening of The Exchange TRX, it has been revealed that the brand will officially be setting up its very own retail presence in the mall.
5. Guerlain and La Prairie @ Beauty Galleria On the topic of beauty, The Exchange TRX has even more to offer enthusiasts with a dedicated precinct dubbed the 'Beauty Galleria'. A thematic space that merges lush greenery with contemporary opulence, it is expected to house an enviable list of the industry's most prominent and established players. Chief among them include Guerlain, which holds the distinction as the world's oldest luxury cosmetics brand still in business, as well as the exclusive, Swiss-founded high-performance luxury skincare brand, Laboratoires La Prairie. Both will open their first stand-alone boutique in the aforementioned district.
5. Marimekko For a splash of rainbow cheer to take you away from the drab confines of the stealth wealth, quiet luxury design trend, look no further beyond Finnish design house Marimekko. Exceedingly popular for its use of bright colours and prints in its fabrics, the brand's enduring popularity since its inception in the 1950s is a testament to its ingenuity.
Many of their creations have been adapted for use in both fashion as well as home decor. Naturally, both will be available as part of the inaugural offerings at Marikmekko's very first Malaysian store in The Exchange TRX.
6. Seibu Japanese retailers have left their mark on the Malaysian retail space since the 1990s, with brands such as ISETAN, Sogo, and AEON all remaining familiar names in the minds of consumers. The Exchange TRX is due to introduce yet another addition to this space, with Seibu Department Stores announcing their imminent entry into the Malaysian market with an outlet in the prestigious shopping haven.
The sister company of Sogo, Seibu is expected to bring as many as 400 Japanese brands into the fold, with 100 of them marking their first debut on local shores. They are said to occupy a space of four flours that measure around 250,000 square feet, offering a wide spectrum of goods from high luxury to daily necessities.
7. Tipsy Flamingo Shopping aside, The Exchange TRX is equally well-outfitted for gastronomes seeking out fresh culinary experiences. Singaporean hospitality group Tipsy Collective, which made its mark through a string of innovative and well-received F&B ventures on the island state, will be expanding its network to Malaysia with the launch of the Tipsy Flamingo.
Likely taking its moniker after the highly popular plastic flamingo lawn ornaments from the United States, the restaurant is expected to feature a highly thematic ambience that takes after the neon-drenched atmosphere of a 1980s pool party in full swing.
8. Amazonas Another new name that will be making a splash in the Kuala Lumpur dining scene is Amazonas, a restaurant conceived by the Kenny Hills Hospitality Group. Built upon the success of their previous ventures, which includes the Kenny Hills string of cafes and restaurants as well as Flour, Fire & Stone in Petaling Jaya, this latest addition is expected to add a Latin American flair to their offerings.
Located on the mall's rooftop, its location makes the restaurant a prime destination for trendsetters looking for their next haunt du jour, serving up sharing plates and cocktails to the backdrop of late-night DJ fiestas.
Shop the best travel experiences here
This story first appeared here.
Feature and hero image credits: TRX
Related: EQ Paradise Pavilion Kuala Lumpur- The Luxurious Shopping Staycation
Written By