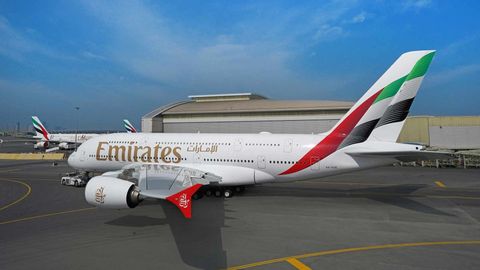 Emirates is getting a new look.
The Dubai-based carrier which is known for its luxury first-class suites that have a shower spa on board has updated its livery, or graphics that are printed on the outside of the plane.
Emirates reveals new look for its carriers
The changes include a larger logo, and a new 3D version of the United Arab Emirates Flag on the tail fin of the aircraft. The airline is also adding new graphics to the winglets, and removing a website graphic from the design.
"Aircraft livery is the most instantly recognisable brand real estate for any airline. It's a visual representation of our unique identity, something we wear proudly, and display in all the cities we fly to around the world." Emirates Airline President Sir Tim Clark said in a statement.
Emirates also shared that this is the third iteration of the aircraft livery design, and will be gradually rolled out to the fleet of aircraft through August 2024. If you are looking to spot the new livery, the aircraft with the tail number A6-E0E was featured in the promotional images sporting the new look.
"Out with the old; in with the new!" Emirates shared in a social media post.
The airline also released a time-lapse video which shows painters and engineers working on the livery transformation inside of an airplane hangar.
It's not just the outside of the aircraft that will be looking different for passengers. Last August, Emirates revealed a multi-billion dollar investment plan to provide upgrades to the fleet. The improvement plan will completely refresh the interior cabins of 120 Airbus A380 and Boeing 777 aircraft.
Emirates Airline started in 1985 with only two aircraft and has grown to a fleet of over 262 aircraft that flew 19 million passengers last year, according to the company. Earlier this year, Emirates celebrated achieving 30 million members of their Skywards frequent flier program.
This story first appeared on www.travelandleisure.com
Main and Feature Image Credit: The Emirates Group
Related: These Airlines Have The Most Luxurious Economy Seats
Written By