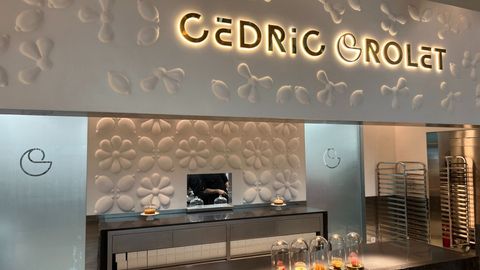 Famed French pastry chef Cédric Grolet opens his first Singapore store at COMO Orchard on September 14, 2023 – read on for a first glimpse of what you can expect on the menu.
The outlet will offer his signature hyperrealist fruit pastries, as well as classic French baked goods like croissants and pain au chocolat.
Taking over COMO Orchard's ground level, the 40-seater café and patisserie will have space for reservations and walk-in customers and is designed with white motifs of fruits and flowers that reflect Grolet's creations.
Cédric Grolet Singapore is his fourth and only outlet in Asia, after two in Paris and one in London.
What will be on the menu at Cédric Grolet Singapore Grolet is known for his Fruit Sculptés or desserts that closely resemble fruits and flowers. The Singapore store will offer Mango Ginger Flower, Paris Brest Flower, Lychee, Dragon Fruit, and Vanilla Bean (SGD 26/RM 89 each), as well as mooncakes (SGD 52/RM 178 for a pair).
A number of these pastries are exclusive to Cédric Grolet Singapore and can be pre-ordered on the website. Only certain items are available each day. More traditional pastries on the menu at Cédric Grolet Singapore's outpost are sold only at the cafe for dine-in or takeaway. Highlights include the flaky, buttery croissant and pain au chocolat, a dreamy, vanilla-scented Parisian flan, the pancake-like Waffle Flower, and hearty avocado toast. The cafe will also offer cinnamon rolls and a special tea menu. See below for a sneak peek.
Croissant, pain au chocolat, and pain suisse Waffle Flower Parisian Flan Prices for the regular pastries have yet to be announced. Stay tuned for updates.
Cédric Grolet Singapore is located at 30 Bideford Rd, COMO Orchard Level 1, Singapore 229922. Opening Hours: 8:00 am to 6:00 pm (Monday to Sunday)
Shop the best travel experiences here
Book your stay at Marina Bay Sands via Booking.com
Book your stay at Marina Bay Sands via Agoda.com
This story first appeared here.
All currency conversions were done at the time of writing
All Images credit: Derrick Tan
Related: 8 Best Old-School Pandan Waffles In Singapore To Snack On Today
Written By