A luxury resort, water park and lush nature all round make the new ocean-facing Fullerton Hong Kong a great family getaway.
"LEARN TO DANCE LIKE a mermaid underwater!" the brochure says, promising a lesson on how to swim, twirl, flip and pose gracefully in a fishtail. It is an activity too good to refuse, but alas, I can't do it. Not because aspiring mermen aren't allowed (he, she, they are welcome), but because I haven't given organizers enough notice.
Nonetheless, The Fullerton Ocean Park has already distinguished itself from the other luxury hotels in Hong Kong, with fun and action a big part of it. If I rattled off a list of offerings and activities, you'd be forgiven for thinking this is purely a family hotel, but the kid-less kid in me also finds the resort a rambunctious good time, not least because it feels like a true city getaway.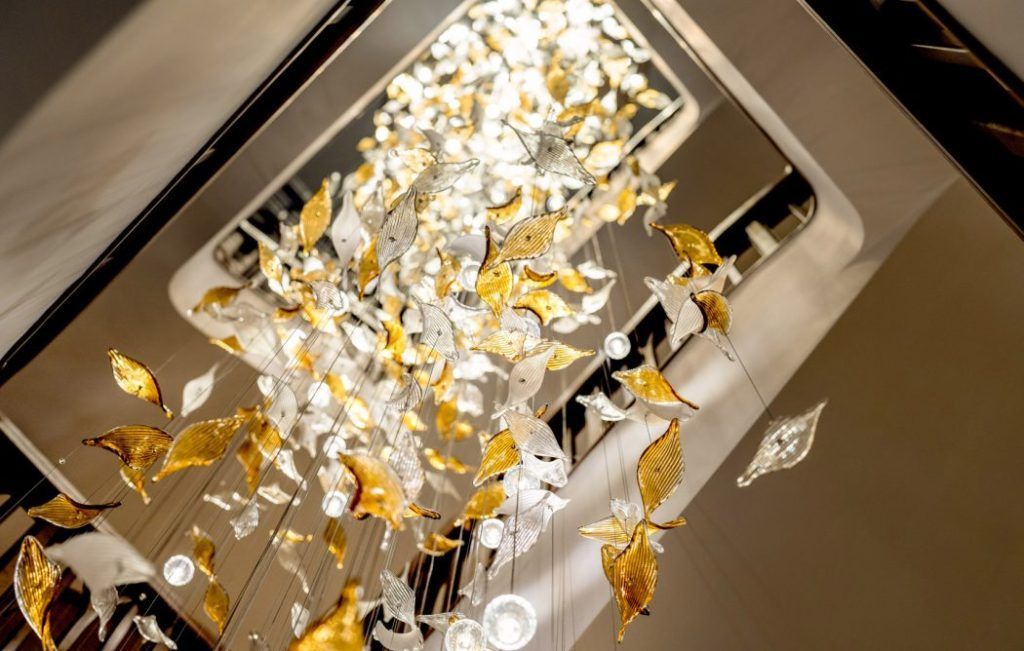 Staff don't bat an eyelid when I arrive early dressed in swimmers and flip flops. Quite the opposite; it's almost expected that you drop your bags off then make your way to the Water World theme park next door, as I did, for a day of aquatic thrills and spills before check-in (T+L tip: Go in the morning and hit the most popular rides first).
For several adrenaline-packed hours, I raft at dizzying speed down and around the Vortex and Skyhigh Falls, and plummet freefall down the Daredevil Drop and Thunder Loop, shrieking in a manner that's thoroughly inappropriate for my age. Exhausted, I make the short stroll back to the city's newest five-star, which soft-opened in mid-July after much delay.
Anyone familiar with The Fullerton properties in Singapore will soon realize that the Hong Kong iteration is different. The former caters to business travelers, while the latter is the brand's first resort, targeted at leisure and family stays. What it shares with its cousins is an enviable location, this time along prime seafront on the southern side of Hong Kong Island. Every one of the 425 rooms and suites feature stunning sea views, and the majority can be interconnected. The nine specially themed rooms, ranging from panda to pirate and safari to submarine, are extremely sought after by families, while the two signature suites come with private plunge pools.
When I visit mid-week, school holidays have just ended, but the resort is still thronging with kids—though there are plenty of couples, too. My room, a balcony ocean lookout, is one of only seven located on the corner of the west wing of the wave-shaped property.
Wraparound glass windows and doors offer spectacular sunset panoramas, with boats bobbing in Aberdeen Harbour and islands anchored among the expanse of the South China Sea. High-rise apartments at one end and a stream of cargo tankers sailing past are reminders that I'm in a densely populated port city.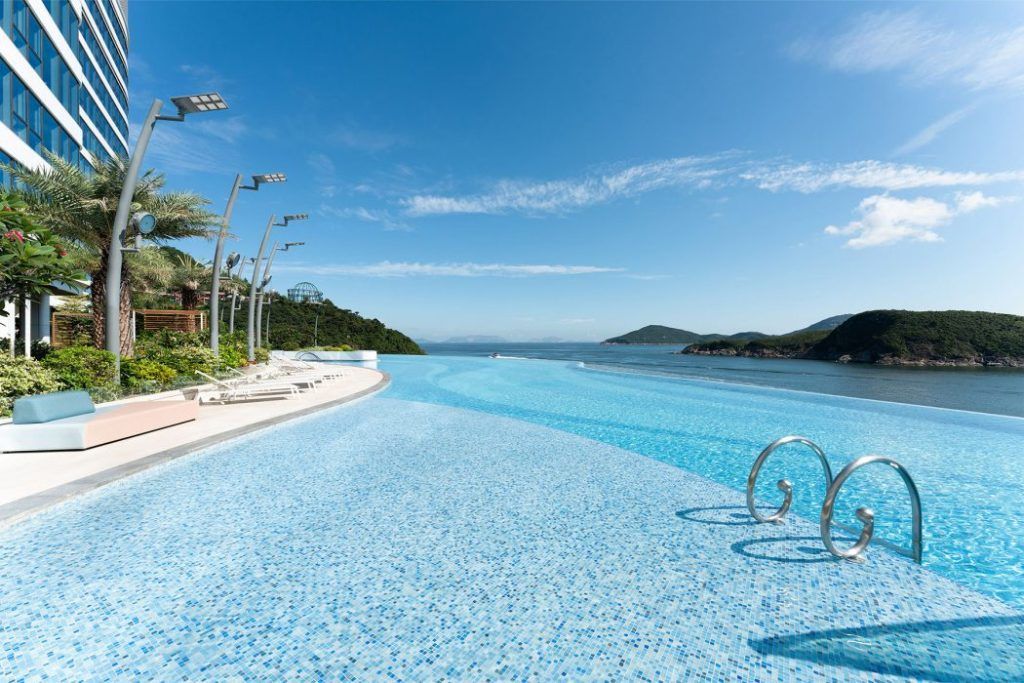 Below me is an impressive 60-meter-long infinity pool, and it's a beauty, a lagoon-like curve that melds into the horizon. It's also very popular, with bookings required to secure a 90-minute slot. Mornings and late-afternoons are especially busy, and competing for one of the few sun loungers and cabanas is like an episode of Squid Game.
Why the property isn't more generous with poolside seating is a mystery to me, because there's plenty of space. Our tip is to get there before your allotted time and wait it out, or to book for the middle of the day, when the sun-drenched pool is less crowded, making it easier to snap a selfie uninterrupted while you're at it.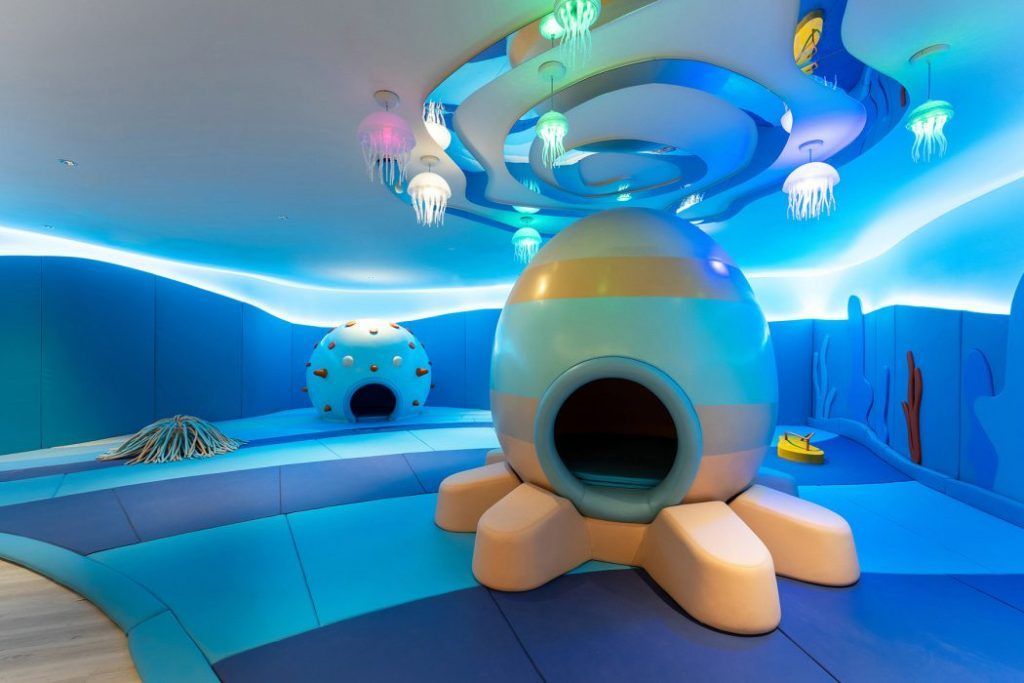 If the pool is full, there are plenty of other activities to keep you and the little ones entertained. The Explorers is a colorful 600-square-meter indoor kids' club featuring seven distinct play zones. Bookings here are essential, too, and come with an entry fee. If you'd rather head out, there are sampan rides, RIB adventure tours, neighborhood walks, snorkeling in a giant aquarium, nature hikes, an evening with nocturnal animals, and more on offer; speak in advance to the resort's FUN (Fun, Unique, Nature & Neighbourhood) team.
I choose abseiling and ziplining up in the hills behind the resort. No prior experience is necessary, but be prepared to climb stairs—lots and lots of them. It's a scorching hot day and I'm dripping sweat, but the exhilaration of hurtling along a piece of rope while suspended from a harness is worth the effort.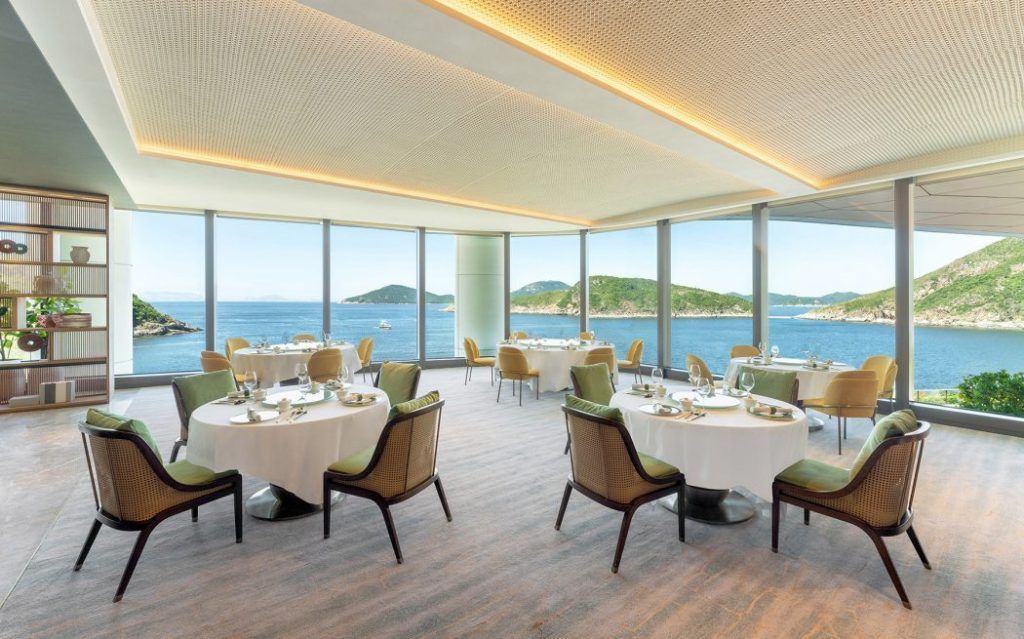 The Fullerton Hong Kong has three restaurants on-site, with a fourth scheduled to open by year's end. Jade is the flagship Cantonese restaurant, an elegant venue with floor to ceiling windows overlooking the shimmering sea—request a table in the main dining room.
Satay Inn nods to the brand's Singaporean heritage, with dishes such as chili crab, cereal prawns, and Hainanese chicken rice. Spice levels are toned down to suit local palates, and if you have your heart set on a particular dish, reserve it in advance, as things run out. Be patient, too, as service is still finding its feet here and around the hotel. Huge buffets await at Lighthouse Café. Breakfast is a spread that includes eggs cooked to your liking, noodle soups made to order, fruit, hot dishes and cold cuts. You only have an hour to gorge yourself though, and—wait for it—bookings are also required.
Lunch is a more relaxed affair and groans with piles of chilled seafood, sashimi, Chinese roasted meats, curries, grilled dishes and salads. Whatever you do, save room for the terrific dessert selection, with ice cream, a chocolate fountain and all manner of delectable cakes and pastries that could be a meal in itself.
A spa is scheduled to open soon and, when it does, will feature four treatment rooms and skincare products by Bamford and Subtle Energies. The 24-hour gym is already up and running, and its views ease the pain of a workout.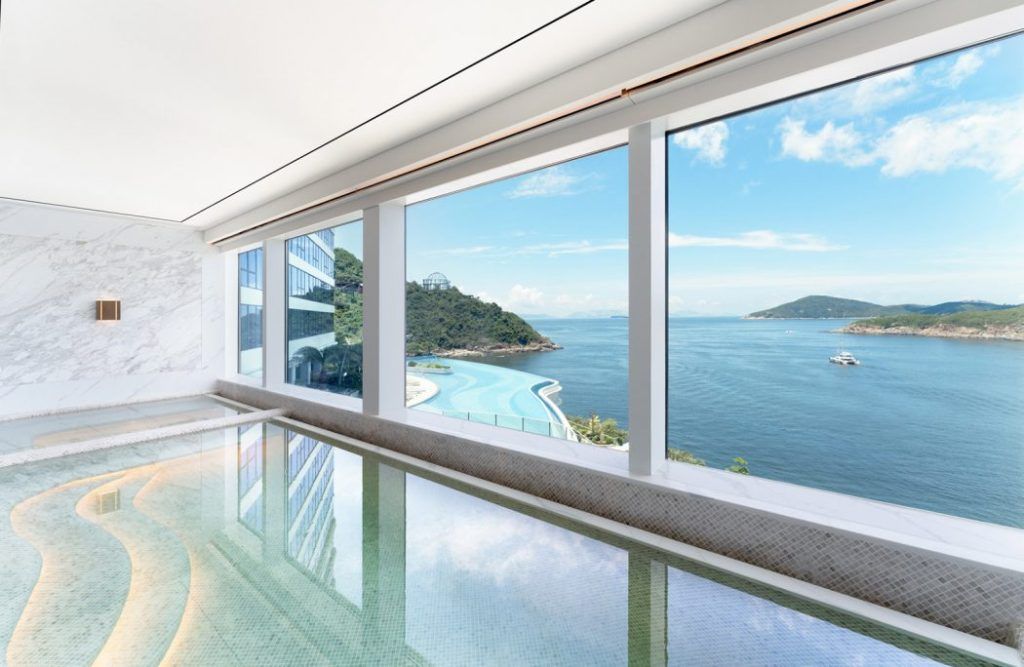 The Fullerton Hong Kong touts its green credentials, and while it may not be fully sustainable, the resort is taking steps to mitigate its environmental footprint. This includes energy-efficient heating, cooling and lighting; water refilling stations throughout; coral restoration and marine conservation projects; a small on-site farm; and an eco-brick path made from recycled plastic waste.
Looking around however, that's not why guests are flocking to the resort. Many families have been unable to travel overseas since the start of the pandemic, thanks to Hong Kong's continuing strict quarantine requirements. The Fullerton offers a wonderful escape from the hustle and bustle, and you really feel like you've gotten away. As such, it's a much-needed addition to the city's stable of luxury accommodations.
www.fullertonhotels.com/fullerton-ocean-park-hotel-hongkong; doubles from HK$2,800.
---
All images courtesy of The Fullerton Ocean Park.