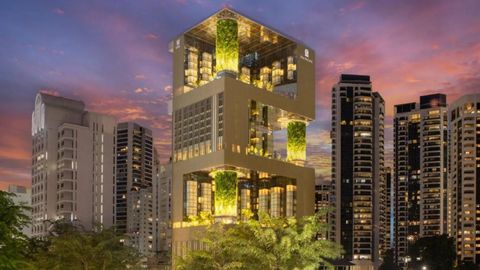 Pan Pacific Orchard integrates nature and sustainable design in this lush and luxurious 23-storey hotel respite in the bustling Orchard Road district.
With countless skyscrapers at every turn, Singapore has earned itself a reputation as a concrete jungle. It has, however, also succeeded in living up to its Garden City nickname, with lush greenery dotting the streets throughout the island. Pan Pacific Orchard upholds this unique distinction by marrying awe-inspiring hotel architecture with the environment in mind.
Conveniently located at 10 Claymore Road (behind the upscale Palais Renaissance mall), and within steps from Singapore's famous Orchard shopping precinct, Pan Pacific Orchard provides a green haven for tired guests to recharge at in peace.
It's impossible to miss Pan Pacific Orchard. At a glance, the latest luxury hotel from Pan Pacific Hotels Group (PPHG) stands out from its neighbours with its vertical 'Jenga '-like architecture.
If you find the juxtaposition of lush vegetation and structural grid construction familiar, it's because this building was designed by WOHA Architects. The award-winning, Singapore-based design collective, known for its innovative and sustainable approach, is also behind the designs of other notable Singapore hotels like Parkroyal Collection Pickering and Oasia Hotel Downtown. This latest flagship property by Pan Pacific is also certified BCA Green Mark Platinum.
Read on for our review of the property to better plan your stay there.
Review: Pan Pacific Orchard Singapore hotel Nature is clearly the dominant element here, as reflected in fixtures like the 14,000 sqm of foliage, water features, a high-ceiling open-air lobby and energy-saving features like rainwater collection, solar panel technology, and a bio-digester system.
The blockish structure of Pan Pacific Orchard is sectioned into four different open-air sky terraces – Forest, Beach, Garden and Cloud – in ascending consecutive order, giving guests the opportunity to experience different environments here. Each open-air sky terrace also showcased a plant-wrapped cylindrical column which supports each section.
Check-in is direct upon reaching the main entrance at the second level of Forest Terrace. For background, the first level serves as an alternative entry to the property through a shrub-surrounded stairway leading up to the lobby. Although the open-air lobby feels a tad warm because of Singapore's perpetual tropical weather, the spacious and high mirrored ceiling helps with ventilation.
Complementing the lush greenery are subtle wood elements, which are featured in lifts and corridors at every level.
Rooms Pan Pacific Orchard's 347 rooms are spread across various categories for different needs and requirements.
One of our favourite spaces here is the Premier Loft option on the Beach Terrace, which connects guests directly to the lagoon-like pool. The room is inviting, thanks to the warm lighting and a neutral colour palette of nude beige with green accents of furniture to match the Beach Terrace aesthetic. Meanwhile, the Garden Terrace rooms (located on the 12th to 16th floors) get botanical hues, while the Cloud Terrace guestrooms on the 19th to 23rd floors see an airy silver-white scheme.
Sustainability practices are present within the lodgings too. In addition to full luxury bath amenities from Diptyque, instead of single-use travel versions, and trash segregation bins to promote recycling, drinking water can also be obtained via the in-room filtered water dispensers with reusable bottles made with ocean-bound material.
A good night's rest is certain with the 400-thread count cotton bedding and the debut of Pan Pacific Hotels and Resorts' therapeutic Happy Sleepers programme at Pan Pacific Orchard. Besides a pillow menu for all sleeping styles, additional services will be rolled out subsequently, such as in-room meditation and yoga, curated dining options and luxury bath products.
Other thoughtful in-room designs include the separate lavatory and shower zones (sadly no built-in bidet), ample USB and pin charging points, as well as a wide full-length sliding mirror to ensure your #ootd is on point.
A couple of minor snags were experienced but they aren't deal-breakers. Blinds must be retracted via the side controls to access the balcony but upon stepping out of the sliding door partition, the blinds automatically descend, suggesting a bug with the centralised system. So you might want to watch out for your head here.
Facilities and Amenities This Pacific Club Lounge is a guests-only private space that's filled with plenty of natural light, thanks to the ceiling window panes. With indoor and outdoor alfresco seatings overlooking the landscaped lawns and cabanas of the Garden Terrace, it's one of the best spots on the property for a quick bite during tea and cocktail hour should you feel peckish before a meal. The Beach Terrace and Pool area bring to mind a resort island, and here you can unwind by the pool with a cocktail in hand, straight from the swim-up pool bar. Those who don't wish to get wet can lounge on the poolside deck chairs. Meanwhile, fitness-focused guests can also find a well-equipped gym on the same level as the Beach Terrace.
Events can be held at the magnificent Cloud Terrace on the 18th floor, which overlooks the iconic city skyline. Here, there's a vast foyer area to network and a pillarless ballroom that allows up to 420 seats.
A plethora of dining options awaits Most of the culinary action occurs at Pan Pacific Orchard's signature restaurant Mosella. Lunch and Dinner are ala carte, both boasting Mediterranean cuisine with a Peruvian twist, thoughtfully created by San Sebastian native and Executive Chef Pedro Samper. Here, diners can witness Chef Pedro and his team work their magic in the open kitchen.
We loved the Hokkaido scallop ceviche, which is a nod to Peruvian cuisine with its vibrant amarillo leche de tigre spiced-blend sauce. Another surprise is the tender lamb chops that are cooked over the charcoal-fired Josper grill. Here, the addictively savoury dish is enhanced with aji panca miso, Peruvian red pepper and Japanese miso marinade.
Pair these with expertly done classic Mediterranean dishes like the pan-seared buttery Black Cod and lightly charred grilled octopus with romesco sauce and rosemary aioli. For dessert, the tarta de queso, or Burnt Basque Cheesecake, is a standout. The creamy crustless confection sports a beautifully caramelised top, complemented with apple compote and vanilla ice cream.
The daily continental breakfast buffet spread also takes place at Mosella. Start your day with hearty options like omelette and noodles alongside salads and fresh fruits here. Come nightfall, head up to the hotel's destination bar Florette, located at the Garden Terrace. Focusing on premium oysters and a rotating menu of carefully curated champagne, guests can indulge and appreciate exclusive seasonal pairings. The bar's in-house crafted cocktails are inspired by florals and botanicals, following its namesake which represents the Goddess of Flowers in Roman mythology.
Sip on the herbaceous Chicory, a concoction of Monkey Shoulder and Averna (a popular Italian bitter liqueur), and gently lifted by the addition of sweet honey and acid. The aromatic Lavender is also another standout, with rich and fruity flavours thanks to its mix of Plantation 3 Stars Rum, El Dorado 12, and velvet falernum.
Pan Pacific Orchard is located at 10 Claymore Road, Singapore 229540. Bookings can be made here.
Book your stay at Pan Pacific Orchard via Agoda.com
Book your stay at Pan Pacific Orchard via Booking.com
Shop the best travel experiences here
This story first appeared here.
Hero and Featured Image credit: Darren Soh
Related: Singapore Is Having a Hotel Boom: Here Are the Best New Openings For 2023
Written By