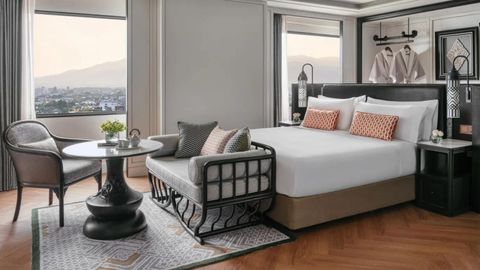 Escape the summer heat in a luxurious way at InterContinental Chiang Mai Mae Ping Hotel.
Although Chiang Mai is popular for winter vacations, can you believe that this city is also great for the summer holidays? Surrounded by beautiful mountains, the weather during this time is slightly cooler, with lower humidity levels than in other parts of Thailand. So why not plan a summer escape and experience a new era of luxury at InterContinental Chiang Mai Mae Ping?
About the InterContinental Chiang Mai Mae Ping On 6 July 2023, the InterContinental Chiang Mai Mae Ping is set to open its doors. This newly renovated hotel has much history in Chiang Mai, as it once was known as the famous Imperial Mae Ping Hotel Chiang Mai. Now, they are prepared to bring back their glory days with a new chapter. By joining hands with IHG Hotels & Resorts and Thailand's leading integrated lifestyle real estate group, Asset World Corporation, the hotel welcomes a new era of luxury in Chiang Mai.
Located in the heart of Chiang Mai's historic district, the hotel offers guests a unique experience. Just a short drive from the international airport, visitors can indulge in true luxury, escape the city, and relax in nature. The hotel blends tradition and modernity seamlessly, embodying Lanna's heritage yet providing contemporary designs and services. To have more vibrant, layered, and engaging spaces, the design team of PIA Interior Company Limited drew on the city's Lanna heritage.
Once the first renovations are completed, the hotel will feature 240 lavish rooms and suites, either overlooking the fascinating old city or the lush Doi Suthep mountain. These units will contain exquisite Lanna-inspired décor, such as traditional crafts. Guests will love the spacious zen-styled bathrooms with a plunge bathtub and a separate shower.
[gallery size="full" columns="2″ ids="14242,14244″]
The hotel's central location allows guests to connect with both the environment and the city at their doorstep. Travellers can relinquish the breathtaking views of the mountains since the InterContinental Chiang Mai Mae Ping is surrounded by the district's iconic landscapes. Yet, visitors can also find famous landmarks, such as Chiang Mai's walking streets, the buzzing night bazaar and the historic Tha-Pae Gate. Not to mention, the hotel is only 30 minutes away from Chiang Mai's Grand Canyon. Talk about a perfect place to water raft and cool down whilst relishing in nature.
For a more immersive experience, the hotel will offer many activities. From pottery and umbrella-making to traditional toy workshops, guests can absorb the uniqueness of Lanna culture like no other. The hotel will also provide ways to explore the contemporary artworks of Chiang Mai's renowned artists. Those travelling with kids can also unwind because there will be a variety of children's activities from the brand's signature Planet Trekkers programme.
[gallery columns="4″ size="full" ids="14246,14248,14250,14252″]
Discover the taste of the North's unique flavours with the five restaurants and bars at InterContinental Chiang Mai Mae Ping. Guests can lounge around the lobby or grab a drink at the spectacular rooftop bar. They can even enjoy authentic Chinese cuisine with a modern twist or eat at the hotel's market-themed all-day dining area.
The InterContinental Chiang Mai Mae Ping Hotel is also the perfect venue for organising special functions. From a big grand ballroom to a quiet courtyard set within the grounds of Chang Khong Temple, guests can decide which option they prefer. This temple has been around for 600 years and is shaded by large trees that have stood there for centuries. Although available for private events, the calming green space will be a cultural hub. Travellers and the local community can experience rotating art exhibitions and music events. This is definitely a one-of-a-kind celebration in the heart of Chiang Mai.
Book Your Stay at Chiang Mai Mae Ping via booking.com
The InterContinental Chiang Mai Mae Ping is now accepting reservations for arrivals on or after 6 July 2023. For further information, please visit the hotel's website here.
This story first appeared here.
[Hero & Feature Images Courtesy of InterContinental Chiang Mai Mae Ping]
Related: The Best Hotel Pools (And Over-The-Top Suites), According To Travel Experts
Written By