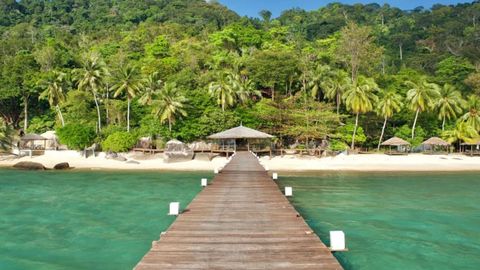 Here's everything you need to know about the exclusive Japamala Resort on Pahang's beautiful Tioman Island.
Surrounded by the vast South China Sea, Tioman Island in Pahang is a remarkable and charming paradise. The turquoise sea and 150-million-year-old rainforest take centre stage on the island, a marine park on Malaysia's east coast. To get there, Johor's Mersing Jetty awaits as the ferry transports you to an idyllic realm. When you're at Tioman Island, that's when a luxury boutique resort — Japamala Resort — enters the picture. It's the place to stay and rejuvenate.
Exclusive through and through, the 16-room island resort prides itself in offering the "eco-luxe" concept. At Japamala Resort, expect to experience utmost relaxation alongside the crystal clear ocean views, towering boulders, steep cliffs and natural streams. You will be one with nature, just as the establishment was designed to be. Coexistence with Tioman Island's flora and fauna is prioritised, including during the 10 years it took to build Japamala Resort.
Views from the resort
An aerial view of Japamala Resort

The jetty that leads to the resort's lobby

The walkway to the Jungle Luxe Sarang
The exterior and interior of the sanctuary use materials — such as bamboo and timber — sourced directly from Malaysia's indigenous tribes. Moreover, craftsmen from the resort are responsible for concocting all the handmade wooden fixtures that are utilised to fuse with glass windows and polished cement. Thus, giving birth to the chic yet rustic appearance aesthetics that Japamala Resort has come to be known for.
Accommodations at Japamala Resort comprise beachside villas, hillside sarangs and wooden chalets. From the 16 rooms available, there's also the luxurious Penghulu House. Urban yet traditional in design, this is the sole double-storey and two-bedroom villa at the resort. This heightens its uniqueness and exclusivity. Upstairs in the main bedroom, wondrous sights of the sea beckons while a private swimming pool can be accessed directly from the bedroom on the lower floor.
The bedroom in a Seacliff Chalet

The bedroom in Penghulu's House

The view from Penghulu's House
Perfect for couples, families and even individuals looking for some time away, the resort sure has lots to offer. Looking to do a little shopping? Head over to Samadhi Boutique where you can discover a variety of products — from Asian antiques and one-of-a-kind clothing to items from the Samadhi Spa. Speaking about the spa, Japamala Resort's wellness space executes its treatments like unparalleled experiences. Rejuvenate as you relax in a spa jacuzzi or unwind over a mani-pedi. After all, self-care is a must.
When you're already in an incomparable location such as Tioman Island, there's really no need to head anywhere else for food. In fact, Japamala Resort has a few F&B spots in its space. That includes Mandi-Mandi, a restaurant housed in an overhanging pavilion above the waters. Here, international flavours are available or if you want to watch the sunset, complement that moment with a tipple or two. For Indochinese and Thai dishes, there's Tamarind Tioman. The all-day dining house is an elegant dining area that showcases the grandeur of Asian gastronomy.
Mandi-Mandi is one of two dining spots at Japamala Resort

Tamarind Tioman offers a Thai and Indochinese menu
Like many Samadhi Retreat establishments, sustainability plays a massive role. Here at Japamala Resort, responsible tourism is highlighted — from not importing plastic water bottles to only utilising second-hand timber. This means that the natural river surrounding the resort is used to produce reverse osmosis drinking water and construction does not involve the cutting of trees.
It goes without saying that Japamala Resort is a jewel, a prime example of top-of-the-class Malaysian hospitality. It's a journey to get there but the adventure is worth it. From the sublime surroundings to the impeccable guest rooms, the luxury island resort is the epitome of bliss. Ah, now… take us there!
Learn more about Japamala Resort HERE.
Book your stay at Japamala Resort, Tioman Island via Booking.com
Book your stay at Japamala Resort, Tioman Island via Agoda.com
This story first appeared here.
All photos by Japamala Resort
Related: 12 Stunning Island Resorts In Malaysia To Add To Your Bucket List
Written By