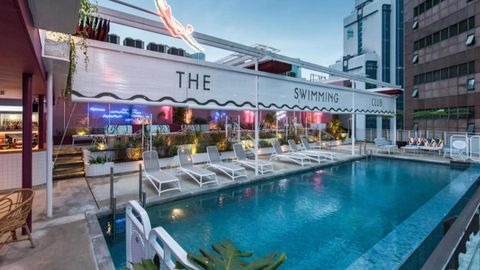 Let's face it — we all have hectic lives. Booking an impromptu holiday is difficult, and most of the bigger holidays take months ahead in preparation. So where does that leave you for the in-between periods when you're in desperate need of an escape and you're too tied up to even head to nature retreats outside of the city? A quick staycation within the city, naturally. This time, forgo the ultra-luxurious chain hotels and instead, try some quaint and chic boutique hotels in KL.
Why boutique hotels? They're small, eccentrically designed, and are located in interesting places within the city. While one might expect that hotels are located in prime tourist spots, these boutique hotels are tucked in the roads less taken, where true locals would appreciate. Think Petaling Street, on the quiet Jalan Beremi just a street away from Changkat Bukit Bintang, and more.
But make no mistake – staying in a boutique hotel does not equate to it being any less luxurious than a regular five-star hotel. From stylish contemporary boutique hotels to raw, industrial-designed and repurposed homes, these boutique hotels in KL will definitely offer a different sort of staycation experience. And that includes the escape you so desperately need.
Here are some chic boutique hotels in KL for a weekend staycation
CitizenM Kuala Lumpur One of the newer boutique hotels in KL to open (in July 2019), CitizenM Kuala Lumpur is one of the three of the brand name to open in Asia. The boutique hotel takes on CitizenM's iconic disruptive attitude. Everything is designed to be smooth, convenient, artsy, and comfortable with select Vitra furniture pieces dotting the entire property. For example, the check-in counter is similar to self-check-in kiosks at the airports. There are no queues and no idle chitchat — just a quick procedure to get you into your room. A total of 210 rooms are available in the hotel, all equipped with a huge XL king-sized bed. The rooms are by no means expansive, but the hotel makes it up for a smartly-designed one. Everything in the room is controlled by an iPad, from the TV to the lights, and also room temperature.
Address: 128, Jalan Pudu, Bukit Bintang, 55100 Kuala Lumpur
Contact: +603-9212 6340
More information: Website here
MoMo's Kuala Lumpur Breathing new life into the quaint Chow Kit area is MoMo's Kuala Lumpur, one of the two boutique hotels by Ormond Group to open side by side in the area. With The Chow Kit fronting the main road of Jalan Sultan Ismail, MoMo's is the more hip and raw sibling of the two. The boutique hotel houses 99 micro-rooms fitted with bespoke amenities, plush beds, a smart TV, and more. The view outside may not always be great, which is why MoMo's KL cleverly designed inward-facing rooms that look out onto a large gallery lightwell. As for the in-house dining, there is MoMosita's, a fun and gritty self-serve dive bar that whips up tacos in addition to beer and bottled cocktails.
Address: 316, Jalan Tuanku Abdul Rahman, Chow Kit, 50100 Kuala Lumpur
Contact +603-2776 6666
More information: Website here
The KL Journal Hotel Come for the whimsical Malaysian heritage, stay for the modernist rooms and rooftop infinity pool. The KL Journal hotel famously pays homage to its Malaysian roots, from photographs of old Malaya hung in all the rooms to the 555 notebooks used throughout the hotel. It's also within walking distance to the party area of Changkat Bukit Bintang and the famous Jalan Alor, so you're never out of things to do.
Address: 30, Jalan Beremi, Off, Jalan Sultan Ismail, Bukit Bintang, 50200 Kuala Lumpur
Contact: +603-2110 2211
More information: Website here
Lantern Hotel Petaling Street is not just for buying designer rip-offs and sneaking into hidden bars — they have pretty decent boutique hotels too if you look hard enough. Lantern Hotel is one of them, a beautiful boutique hotel championing the use of wooden elements. A standout feature of the hotel is the in-house cafe's open-air terrace, giving you a view of Petaling Street from above the chaos.
Address: 38, Jalan Petaling, City Centre, 50000 Kuala Lumpur
Contact: +603-2020 1648
More information: Website here
The Chow Kit – An Ormond Hotel You won't miss The Chow Kit when you're driving along Jalan Sultan Ismail. Its handsome and arresting facade is a stark difference to the neighbourhood that Chow Kit is so known for. Yet, this 113-room boutique hotel is all about paying homage to Chow Kit's storied past, which is why you'll find that its rooms are named after what the neighbourhood was known for: gambling dens, small businessmen and their equally commandeering wives.
Address: 1012, Jalan Sultan Ismail, Chow Kit, 50100 Kuala Lumpur
Contact: +603-2778 6666
More information: Website here
The Yard Boutique Hotel Penang and Melaka are not the only places where you can experience staying in a repurposed colonial house. You can do it right in the heart of KL too, at The Yard Boutique Hotel. With its 11 rooms, staying in this boutique hotel feels more like staying in a family home than a stuffy hotel. We especially love the outdoor area with white iron benches and hanging lanterns.
Address: 51 D, Tengkat Tong Shin, 50200 Kuala Lumpur
Contact: +603-2110 2449
More information: Website here
Wolo Bukit Bintang Located right on Bukit Bintang, this boutique hotel is within walking distance of most of the hot spots in the city: the Golden Triangle, Changkat Bukit Bintang, and more. Within the building, there are two already outstanding dining options: Brasserie Fritz and Mr Chew's Chino Latino Bar. The boutique hotel itself won Best Interior Hotel Design in 2015 by the Southeast Asia Property Awards, so it is as stylish as it is conveniently located.
Address: Corner of Jalan Bukit Bintang & Jalan Sultan Ismail, 55110 Kuala Lumpur
Contact: +603 2719 1333
More information: Website here
Hotel Stripes Kuala Lumpur, Autograph Collection Part of the Marriott's Autograph Collection Hotels, Hotel Stripes is a stylish boutique hotel in the city centre and close to iconic eateries including Yut Kee Restaurant, Joloko, Woo Pin 45, Tapestry, and more. It's also close to The Row, which has a host of cafes. All 184 rooms are elegantly styled with modern amenities. Try out Brasserie 25 for French food, and then head upstairs to Mantao Bar for a good view of the city's best skyscrapers.
Address: 25, Jalan Kamunting, Chow Kit, 50300 Kuala Lumpur
Contact: +603-2038 0000
More information: Website here
Villa Samadhi Kuala Lumpur Perhaps one of the more iconic retreats in KL in the past decade, Villa Samadhi is where you go to feel like you're in an oasis far away from the city – when in fact, you're in the middle of it. The 21-room resort is perfect for couples looking for a romantic getaway – the balcony opening up to the swimming pool is a particularly favourite feature of most people staying there.
Address: 8, Jalan Madge, Taman U Thant, 55000 Kuala Lumpur
Contact: +603-2143 2300
More information: Website here
KLoé Hotel KLoé Hotel is a new boutique hotel in Kuala Lumpur, opening its doors to the public in March 2020. This creative design-forward hotel is located in the heart of the city, perfect to begin your journey around KL. Other than its deluxe rooms facing the courtyard and the city, there are also five "Lofts" – essentially suites – that take on five art-centric personalities: Room to Read, Room to Listen, Room to Draw, Room to Grow, and Room to Taste. Within the hotel is also Lucky Coffee Bar for coffee and pastries; Monroe, a bistro-style restaurant; and soon to come, The Secret Mermaid bar.
Address: 227, Bukit Bintang Street, Imbi, 55100 Kuala Lumpur
Contact: +603-2772 1313
More information: Website here
The Ruma Hotel & Residences This gorgeous hotel in the city is perhaps the best testament that boutique hotels can be luxurious. The Ruma Hotel & Residences pays homage to the many local influences, from the copper elements (a nod to our former mining industry) to the Malay weaves present in different parts of the hotel. One of our favourite parts of the hotel is its flexible check-in and check-out times, so you're never restricted to just checking out at 12 pm. Be sure to check out Atas Modern Malaysian Eatery, a fantastic restaurant that serves refined Malaysian-style food using indigenous produce. Then, pamper yourself at UR SPA for a spot of traditional massage treatments.
Address: 7, Jalan Kia Peng, Kuala Lumpur, 50450 Kuala Lumpur
Contact: +603-2778 0888
More information: Website here
This article first appeared on Lifestyle Asia Kuala Lumpur
Written By