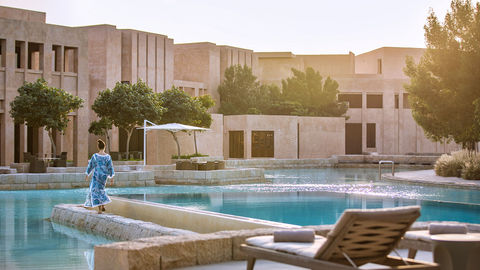 This new retreat in Qatar is guided by Traditional Arab and Islamic Medicine. Never heard of it? We visited Zulal Wellness Resort by Chiva-Som to find out all about this lesser-known but broadly practiced form of holistic health. ON A WINDSWEPT PENINSULA 45 minutes from Doha, a tip of Qatar so northernmost that if you squinted you might think you could make out Bahrain in the distant sea, sits a first-in-its-country destination with revolutionary aspirations. Zulal Wellness Resort by Chiva-Som is the only resort that we know of specializing in Traditional Arabic and Islamic Medicine (TAIM), in the first foreign foray by Chiva-Som, the storied health resort that pioneered its brand of detoxifying luxury wellness beachfront in Thailand 27 years ago. Dreamed up by Her Royal Highness Sheikha Moza bint Nasser, one of Zulal's main goals is to impart health wisdom and practices to the entire family: start kids young so wellness becomes lifestyle; teach adults an integrative path they can take home. The wellness center is anchored on key pillars – spa, physiotherapy, fitness, holistic health, and aesthetics – that each have a wing around a pretty garden that includes local herbs used for some treatments, and in the sugar-, gluten- and dairy-free cuisine. The women's spa (they're divided by gender) is truly a sight to behold, centered as it is by a massive aquatherapy circuit, with a salmon-pink salt room, and a snow room that generates real powder, to go along with the steam room, the sauna and the two wildlife-rainforest-jungle showers (how I like to refer to the multi-sensory lights, natural noises and water from all sides cubicles that seem to be all the rage in high-end spas these days). Outside there's a lap pool where I saw guests taking water aerobics and other classes.

When you're ready for enlightenment, track down Dr. Purnima Siddhanta, the TAIM specialist whose job really is to set the tone for the whole resort as its holistic health manager. A medical doctor, an Ayurvedic doctor, and an herbalist, she told me that "TAIM is as old as Arab culture," an amalgam of prophetic medicine (meaning the lifestyle practices of the prophet Mohammed), Islamic religious beliefs, Hippocrates's humoral theory, Traditional Chinese Medicine and Ayurveda. "TAIM works on mind and body, diet, spiritual practices and applied sciences," she said.

[gallery ids="9203,9202"]

Like those ancient practices from which it derives, TAIM says you should find wellness through food first (making nutrition another integral pillar at Zulal), then medicinal herbs, then treatments such as applied therapies including hammam and cupping, and only when all else fails should a person turn to surgery. "Human will is immense. You should not be surprised by the healing power of the body," Siddhanta said.

One wing of the resort is adults-only, and made up of semi-detached suites and villas, all with private pools and access to a large, pretty, man-made lagoon that's filled with filtered sea water, so that on warm days you can get the benefits of swimming in salt water without having to trek half a kilometer out from the shoreline, which is where at the lowest of tides the ocean finally begins to reach your knees. There are actually some cool benefits to this topographical anomaly. It creates a wide-open expanse for grounding, also known as earthing, the simple act of walking barefoot outside to absorb, advocates believe, electrical charges from the earth that can improve immunity, sleep and mood, and decrease inflammation, cardiovascular disease, muscle damage, and pain. The idea is that contact with the Earth's surface both exposes us to electrons, created by its negative charge, that act as antioxidants in our bodies, and helps maintain our circadian rhythms. Grounding provides both a physical and spiritual sense of being of a place – particularly here at Zulal, where a wide-ranging amble on a beautiful sunny day across the squishy sand brought me to an old fishing system left by those who held this place long ago. Hand-built rock walls now less than knee-high were shaped into a large funnel for fish, who would swim closer to shore at high tide and get trapped when the water receded, ready for the plucking. Alone, in the middle of the not-quite-ocean, a vast empty sea- and skyline in panorama before me, I pondered this simple, generations-old engineering ingenuity and it made me feel buoyant. I clambered over a wall, next to which grew a series of shrubs that presumably would be submerged when the tide returned, and headed further out where my ankles finally got wet. By the time the ocean reached my thighs, the water was robin's egg blue, refreshing and kinetic, as the sun shone through the light wind whipping around me. Turning to face the shore, I had the odd sensation of seeing a mirage. Air, ocean, sand and land combined to a shimmery haze in the distance. That's where I was supposed to long to return, yet I wanted to keep moving out to sea. How far could I actually get into the Gulf before it consumed me?
Is this what five days of detox – from both alcohol and the internet – on unfamiliar terrain does to your brain? Zulal means 'pure water' and I was certainly was experiencing a cleansing ritual here. I reluctantly headed back through the shallows to the resort, as I had about 100 appointments that day and didn't have more time for frolicking. OK, not really 100, but the Zulal retreats are action-packed, especially if in between your prescribed massages and energy healing and superstretches, you sign up for the complimentary fitness classes (pilates on a balance beam – I dare you), book private speciality sessions (electrocution sweat-therapy in an EMS suit is a hardcore yet surprisingly fun way to double your calorie-burning during HIIT) and take advantage of the aquatherapy circuits, the gorgeous double-height House of Wisdom with books curated by the Qatar National Library, and the tea house with sommelier ready to brew to your mood.
Over in the Zulal family section of the resort, called Discovery, wellness takes less a therapeutic approach and is more like camp for the whole family – but based on circadian rhythms, and stimulating children's cognitive, physical, social, emotional and language growth. Family therapist Joelle Alkoury, who previously worked with refugees and in women's protection and empowerment, and is now running the Zulal family programming, told me, "the concept of bonding appealed to me. Parents and children coming together." Mornings are for personal time – wellness retreats for the parents, developmentally appropriate activities for the kids that tend to be more physical as adrenaline levels are highest earlier in the day. "We try to book families meditations or beach walks at sunset to calm them down," Alkoury said. Then it's time to share a meal and get to bed: "serotonin levels drop by 11 p.m., so you want to be in bed by 9 to get that deep sleep," Alkoury said. Family spa offerings include reiki massage for infants that is meant to help with stranger danger. Screen time and nannies are discouraged.

The entirety of Zulal Wellness Resort by Chiva-Som is set up to align with what Siddhanta said are the six essential factors of TAIM: Food and drink should be specifically for you (I am omnivorous, but the Zulal me craved their tasty and creative vegan room service menu); evacuation (it's a gentle euphemism); physical movement and repose (seek balance even in training); mental movement and repose ("One day you should not be thinking," Siddhanta said, to which I replied, "Yes, please! And how?"); sleep and wakefulness; and the air should be clean.

[gallery ids="9200,9199"]

That is most certainly is at Zulal, whether offshore in the melty sands or while the crisp wind whips across the inland saltwater lakes. Coming from congested Bangkok, I found the air quality alone restorative. But this project is a gateway to a new method of looking at health based on several very, very old practices. It's cerebral and effective – well, if you stick with the program. "Wellness is only obtained if you practice it," Siddhanta said. "It is your responsibility."

zulal.com; rates starts from QR4,075 single-occupancy per night in low season (May through September) and QR4,500 high season (January through April), but check with the resort for costs of the various retreats, rooms and family options.

The easiest way to get to Zulal is to fly Qatar Airways, which offers direct flights to Doha from the major Southeast Asian cities. Now that they've reintroduced planes with the Q Suites on many of these routes, flying Business Class is more appealing than ever because who doesn't want a door of their own on an airplane?! Your social distancing concerns and overall desire for a private cocoon are taken care of in one spacious, storage-filled, lay-flat seat.

T+L Tip: Book the Al Maha Platinum service for your arrival at Hamad International Airport. It includes a friendly staff to greet you at the aerobridge and escort you to the serene, luxe lounge, where there are snacks and refreshments to enjoy while a porter waits with the regular people to pick up your luggage from the carousel. Only once your bags are retrieved are you ushered through a no-wait, private immigration desk, whisked through customs and brought to your ground transfer easy-peasy. Highly recommend.
---
All Images Credit: Courtesy of Zulal Wellness Resort by Chiva-Som.
Written By