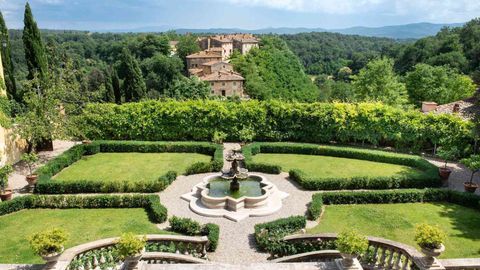 Are you ready to drool? Want to experience wanderlust like never before? Do you dream about Italian vacations with endless vineyards and sweeping vistas? Maybe you should sit down, because Il Borro, a Tuscan hotel owned by the Ferragamo family, might just take your breath away.
Yes, that Ferragamo. And yes, that means luxury should come to mind. But the Il Borro estate is a different kind of luxury that fuses history and modernity in stunning ways.
The estate is erected out of the remains of a 13th-century walled medieval village. The village history was once overseen by princes and dukes and lords and counts. But the current high-born Ferragamo tenants have turned it into a wonderland.
Here's a peak inside the luxury Ferragamo Tuscan hotel At Il Borro, you can stay within the medieval confines with its stone-laden walls and narrow cobblestoned streets lined with boutique jewellery and shoe stores (a homage to the merchants of the past) alongside epic views of the Apennine Mountains that surround the property. Ideal for families who want an extended Italian stay or honeymooning couples looking to be pampered, the resort also has multiple private villas that extend around the grounds complete with private pools, tennis courts, horseback stables, and even a golf course. As part of the Relais & Châteaux hotel group, you can all but guarantee that food and wine are paramount to any stay. Il Borro has two main restaurants, the more casual Tuscan Bistro with succulent plates of traditional food from the region (think tagliatelle with homemade tomato sauce or herb-crusted braciola with roasted potatoes) and Osteria del Borro, a fine-dining affair with farm-to-table products that come directly from Il Borro's organic orchards and vineyards. On the experience side, there's a little something for everyone. The fully decked-out spa has mind-boggling services like anti-ageing caviar treatments (yum), wine-sensory body exfoliating therapy (delicious), and ritual treatments with olive oil—infused massages (scrumptious). Other experiences include cooking classes, a magic show featuring an automaton Pinocchio, biking and trekking tours, and of course, wine tasting. The semi-biodynamic Il Borro vineyards lace the rolling hills around the property and guests are encouraged to tour the winery, indulge in the vintages, and take as much wine home as possible. Finally, the resort prides itself on its commitment to sustainability. The vineyard is organic, solar panels provide endless energy, composting is used for limiting waste, and water recovery systems help with drought resistance. Are you ready to go to Italy, live like a Ferragamo, and experience unique services that meet exacting standards, with offerings that go above and beyond expectations? Then put Il Borro at the very top of your next vacation list.
This story first appeared on www.travelandleisure.com
Main and Feature Image Credit: Francesca Pagliai/Courtesy of Il Burro
Related: 29 Most Beautiful Places In Italy
Written By