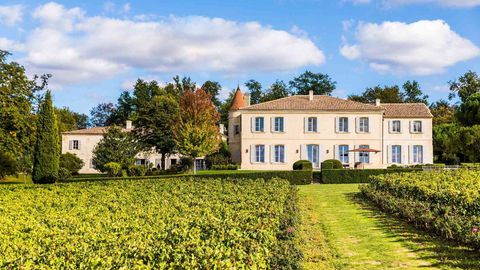 Wine may have been invented in Georgia, but it was perfected in France. French winemaking heritage dates back to the sixth century BC. Today, the vin-famous European nation relies on both its deeply rooted tradition and world-leading innovation to produce an average of 37.6 million hectoliters of wine (though it's on track to outpace that number this year), coming second only to Italy in volume. By Lindsay Cohn
Even still, it's very much quality rather than quality that earns France such international acclaim. The country has solidified its status as one of the premier wine producers and exporters. A chief example of its superlative standing? The fact that it's not called Champagne unless it comes from the Champagne region of France.
An essential part of French culture, wine is joy and pleasure, not to mention the lifeblood for many family-operated vineyards stretching generations. Not surprisingly, there's an ample stock of superb wineries and vineyards throughout France — particularly in the prominent viticulture regions of Bordeaux, Burgundy, Champagne, the Loire Valley, and the Rhône Valley.
It makes sense that such an important aspect of life would wind its way into the tourism sector. For true oenophiles (and just about any traveller who loves sipping and sleeping in the same place), it doesn't get better than staying at a storybook château overlooking old vines. That's why we've scouted the most spectacular hotels and resorts across France with vin-centric offerings ranging from estate-made vintages and tastings with a master sommelier to guided vineyard walks and multicourse wine dinners. Salut!
The best wine hotels in France
Royal Champagne Hotel & Spa, Champillon Situated in the famous birthplace of bubbly, Royal Champagne Hotel & Spa serves luxury on a silver platter — or, more accurately, in a crystal flute. It has an unparalleled selection of more than 850 different new releases, vintage wines, and iconic Champagnes, plus some of the rarest varietals from small-batch local growers that you'd be hard-pressed to find anywhere else. The concierge will gladly coordinate exclusive private tastings at illustrious Champagne houses that are closed to the public. Craving a nightcap? Hit the "Champagne Please" button on the in-room phone and have some fizz delivered straight to your door.
Château Troplong Mondot, Saint-Émilion You'll often hear wines described as having a specific terroir. The same can be said about the entirety of Château Troplong Mondot, a gorgeous hilltop gem with a distinct sense of place that overlooks undulating vineyards and the UNESCO-listed village of Saint-Émilion in the heart of Bordeaux. The renowned Premier Grand Cru Classé wine estate is deeply devoted to sustainability — it's a member of the International Wineries for Climate Action (IWCA). On the hospitality side of things, there's a white stoned country residence with two character-filled bedrooms and one suite, as well as a regal 18th-century château that's available for rent.
Les Sources de Cheverny, Cheverny Les Sources de Cheverny is an idyllic château-style getaway with heaps of French country charm and a notable wine program in the Loire Valley. Vineyards planted with Romorantin — a grape variety favoured by King Francis I of France — and lovingly cared for by Philippe Tessier ripen in the sunshine. The atmospheric bar housed in the old wine storehouse supplies an inviting spot to swirl the estate-made, certified organic Cour-Cheverny vintage, La Grand' Vigne, or participate in a master sommelier-led tasting workshop. Grapes go beyond the glass at this fairy-tale hotel. The spa utilises grape seed extract-infused Caudalie products in many of its signature face and body rituals.
Coquillade Provence Resort & Spa, Gargas Located just outside the village of Gargas in Luberon, Coquillade Provence Resort & Spa — named the best resort in France in Travel + Leisure's 2022 World's Best Awards — is an exemplar of pastoral elegance. This picturesque wine hotel in France teems with fragrant lavender, cypress trees, and olive groves. It's the perfect setting to enjoy a glass of Cuvée Coquillade — a crisp, refreshing rosé that's made on-site at Aureto and exclusively available at the hotel — while sitting by the pool on a warm summer afternoon. Visitors keen on doing more than just sip and swirl can partake in guided walks through the vineyards, tasting workshops, wine and cheese pairings, vinification tours, and trips to the impressive barrel cellar.
Le Saint-James, Bouliac Le Saint-James, a part of the Relais & Châteaux portfolio, puts a modern twist on a traditional French wine country holiday. Perched in the "balcony of Bordeaux," this architect-designed hotel offers a treasure trove of contemporary style, viticulture, and sweeping panoramas. The 950 west-facing vines thriving at an altitude of 90 meters remain a huge point of pride. Once ripe, the organic merlot grapes are used in the on-site production of Vin du Jardin, which is limited to just 600 bottles and available at the bar and lauded restaurants. Gourmands also love the hands-on vine-focused cooking classes.
Château de Mercuès, Mercuès One of the country's best-kept secrets, the beautiful Lot Valley of southern France produces many palette-pleasing reds and is home to Château de Mercuès. Calling this grand 13th-century castle turned Relais & Châteaux hotel on a wine estate a fairy-tale getaway would be an understatement. It's incredibly atmospheric, with manicured gardens and fruit-laden vines. Guests have the chance to visit the underground cellars, learn about viticulture principles, enjoy tastings under the guidance of the trained sommelier team, and walk through the vineyards. The Michelin-starred Le Duèze restaurant delights epicureans with regional Quercy dishes and malbec AOC Cahors.
Le Relais Bernard Loiseau, Saulieu This wine hotel in Burgundy, France, Le Relais Bernard Loiseau provides easy access to many of the most prestigious wineries in the region. Of course, you don't have to leave the property to taste delicious vin. Gourmet dreams come true at La Cote d'Or restaurant, a two-Michelin-starred establishment famed for its refined Burgundian cuisine and 15,000-bottle Bernard Loiseau cellar. Prefer to try a few different pours with dinner? A state-of-the-art Oenoteca dispenser allows diners to sample several vintages during a meal. This iconic Relais & Châteaux property also makes its own line of private label Bernard Loiseau wines.
This story first appeared on www.travelandleisure.com
Main and Feature Image Credit: Courtesy of Château Troplong Mondot
Related: Inside Napa Valley's Most Stunning Wine Mansion — And The Chilling Ghost Story Behind It
Written By