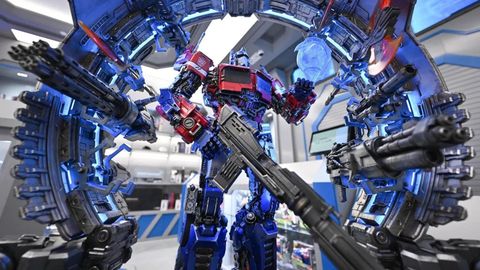 The world's first immersive Transformers-themed flagship restaurant – The Ark has just opened up in Causeway Bay, Hong Kong. In partnership with Hasbro, the restaurant uses 3D technology in its spaceship design for a truly unique dining experience.
Telling the story of how the Autobots ended up in Hong Kong, the facade of the restaurant sees three-dimensional rear thrusters of The Ark spaceship in combination with a massive LED screen to bring the entrance to life. "While approaching Earth, their ship lost power due to an energy depletion and made an emergency landing in the bustling Causeway Bay district of Hong Kong, thus entering the world of humans," reads the restaurant's official statement.
Interior
On the inside, guests will be greeted by Asia's first three-meter-tall Optimus Prime animatronic statue as they travel to various "Decks" in the restaurant. The "Upper Deck' features the control room of the spaceship where custom LED screens play live views of outer space to give off the impression that they are travelling through space. Other areas include a souvenir shop with exclusive merch, figures, and limited-edition collectables.
Premium Fast-Food Dining
Set to serve "Cybertronian" cuisine, food is prepared by Bumblebee and Optimus Prime inside the "Food Lab" located on the Upper Deck. The food will be prepped by the Autobots via 3D screens and then delivered to customers through virtual conveyor belts that run throughout the restaurant.
Signature dishes and drinks arrive in the form of:
-Prime Burgers (Black Truffle Angus or Crab Meat Avocado)
-Fried Chicken
-Blue Space Energy Drink
-Konjac Oolong Tea
Fans of the franchise that is located in Hong Kong can visit The Ark at the address below:
Transformers: The Ark
G/F, 38 Russell Street, Causeway Bay, Hong Kong
Opening Hours: 11:00 am – 11:00 pm
Book Your Stay at Harbour Grand in Hong Kong via booking.com
(Images: The Ark/Hasbro)
This story first appeared here.
Related: Best New Restaurants In Hong Kong Right Now
Written By