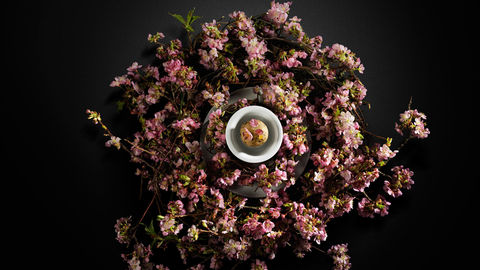 Talk about a moveable feast. We sat down for an exclusive interview with two-Michelin-starred chef Yoshihiro Narisawa, who is temporarily bringing his nature-inspired cuisine to Singapore. Read on for his philosophy on service and how to make an elusive reservation during his upcoming Mandala Club residency.
SINCE OPENING HIS EPONYMOUS restaurant 20 years ago, chef Yoshihiro Narisawa has built an enviable reputation far beyond his native Japan. Gourmands from across the globe make pilgrimages to Narisawa to sample the exquisitely presented, inventively constructed cuisine that has won this restaurant two Michelin stars, in place since 2011, and a spot on the World's 50 Best list for the past 15 years. Fellow chefs and foodies alike speak of Narisawa-san with hushed reverence, and the experience of dining at his eight-table temple of gastronomy, situated in the leafy Tokyo suburb of Aoyama, tops many a connoisseur's bucket list. Most chefs in a similar position would take advantage of their renown by opening a string of franchises around the world. Not Narisawa. While he does have plans to establish a restaurant in Shanghai, the chef is in no hurry to create a global empire.
In part, that's because Narisawa believes he owes it to his guests to actually be in the kitchen, rather than simply putting his name on the door, coordinating a menu and then leaving day-to-day operations to a trusted lieutenant (as is so often the case at 'celebrity chef' restaurants). "I don't want to disappoint our guests," he tells me during a Zoom interview. "Many of our guests come from abroad, sometimes they travel specifically to dine at Narisawa, and if I was not there, they would be disappointed. I also want to give instructions to our staff directly."
SUMI

OKINAWA

Narisawa Satoyama Cuisine Photobook
That is exactly what Narisawa will be doing during his upcoming five-week residency in Singapore at the Mandala Club. From March 24 through April 30, he and his team will be decamping to the equatorial city-state while the Tokyo restaurant undergoes renovations. Those fortunate enough to secure a reservation will be treated to a sumptuous degustation meal of a dozen or more courses, based on Narisawa's philosophy of satoyama — living in harmony with nature, taking only what is needed from the forests and the sea — integrating local produce from Singapore and its surrounds.
"We are all part of nature," the chef says. "Nature is where I find my inspiration." Glance at the images of Narisawa's cuisine here, and you'll see exactly what he means. Mandala Masters x Porsche Presents NARISAWA, March 24 to April 30, 2023. Lunch from SG$518, dinner from SG$748 per person. Reservations open February 23, but you can sign up for the waiting list now at mailchi.mp/mandalamasters/priorityaccess; for enquiries contact reservations@mandalamasters.com.
---
Images Credit: Courtesy of Yoshihiro Narisawa unless otherwise noted.
Written By