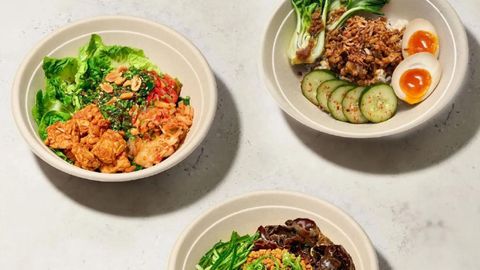 Cai fan gets a wholesome makeover at these places that serve the best salad and grain bowls around Singapore.
At its heart, the grain bowl is a modern interpretation of the Chinese mixed rice and Nusantara nasi padang. It consists of a base starch such as brown rice or baked potato, accompanied by meat, seafood, and vegetables, garnished with herbs and seeds, and flavoured by sauces. Many places also offer preset and customisable bowls for those who have trouble deciding, as well as plant-based proteins for vegetarians and vegans.
With a focus on nutrition and convenience, grain bowls make for an easy grab-and-go lunch, especially among office workers. In Singapore's Central Business District, diners can turn to favourites like The Daily Cut, Surrey Hills Deli, and Grain Traders, while Bamboo Bowls offer flavours created by renowned chefs. In the tech hub of Fusionopolis, Bowl Chap combines a cheeky name with Japanese- and Singapore-inspired items, while Da Paolo Gastronomia brings grain bowls with a Mediterranean bend. Check them out below.
Whether you're counting your macros or simply just want a healthy and easy meal, here's where to get the best options in Singapore.
Book your stay in Singapore via booking.com
9 best salad and grain bowls in Singapore today:
Jump To / Table of Contents Written By