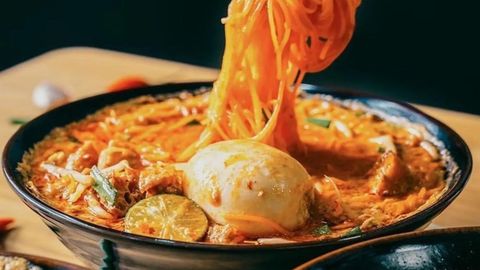 From Thailand to Tanjong Pagar, mee Siam is a classic example of a foreign dish adapted to suit local palates. Here is where to get the best mee Siam in Singapore.
Mee Siam is a soupy noodle dish composed of vermicelli, egg, and taupok coated in a sweet and sour gravy. The name literally means 'Siamese noodles,' referencing the origins of rice noodles in present-day Thailand, and was brought here by Malaysian migrants.
According to Malay food expert Khir Johari, there are three styles of mee Siam found in Singapore. Dry mee Siam involves stir-frying fatter strands of noodles with a thickened paste. There is also mee Siam bĕrkuah, or mee Siam with gravy (see Johari's recipe for this version here). Finally, mee Siam kĕring is a disappearing variant that combines thinner noodle strands with clotted coconut cream.
The dish is readily available at Singapore's hawker centres, where stalls like Hup Hup, Jia Xiang, and Shi Xian have been specialising in it for more than 30 years. Likewise at Robert, which has made mee Siam its sole focus, while Old Teochew is helmed by a former showbiz personality. There is also The Royals Cafe, whose mee Siam has been named the top in town.
Where to get the best mee Siam in Singapore:
Jump To / Table of Contents Written By