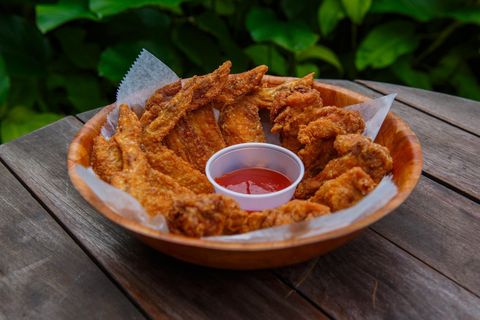 Every major food culture has its own form of fried chicken wings. For us, it is har cheong gai, and here is where to get the best ones in Singapore.
Har cheong gai means "prawn paste chicken" in Cantonese, which gives away how the wings are made. The meat is marinated with fermented prawn paste and other ingredients like Chinese rice wine and sesame oil, then battered and deep-fried. Done well, they are fragrant, crispy, juicy, and fantastically savoury – the perfect accompaniment to dinner and drinks.
In Singapore, the dish is most commonly found at tze char restaurants such as Ban Leong Wah Hoe and Bee Kia, where diners order it together with chilli crab and hor fun. It also rivals the signatures of eateries including Whampoa Keng Fish Head Steamboat and Holland Village XO Fish Head Bee Hoon. Then there is No.5 Emerald Hill, which takes har cheong gai out of its spiritual home and turns it into a bar snack but feels so natural alongside dirty martinis. Find out more about where to get the best versions of this morish dish below.
Book your stay at Marina Bay Sands via Booking.com
Book your stay at Marina Bay Sanda via Agoda.com
Where to find the best har cheong gai in Singapore
Jump To / Table of Contents Written By