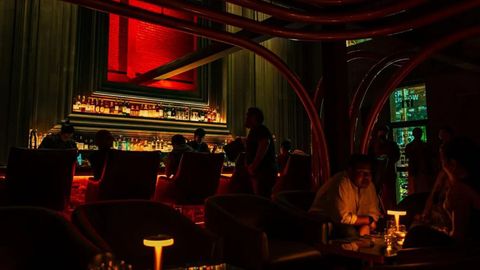 Thonglor is known for fun nights and partying until the cops come, but they do have laidback bars and lovely speakeasies for a change of pace.
While the area is not known for rest and/or relaxation, many bars and speakeasies have popped up to ensure that your evening in Thonglor has variety. Gorgeous highballs? There's plenty. Lovely jazz sessions? You got it. We all know nightlife in Bangkok is never boring, so here's some more to add to your bucket list. After all, is there a better place to be than Thonglor after a long day?
The best cocktail bars in Thonglor are perfect for your next bar-hopping session
Rabbit Hole Inspired by Singapore's 28 Hong Kong Street, Rabbit Hole stays hidden in plain sight. Behind a massive wooden door (without signage) on Thonglor's main drag lies one of Bangkok's best-designed bars, three narrow floors of dark leather and exposed beams, accented by a brilliant red-and-gold bottle rack. While looks aren't everything, Rabbit Hole hits all the marks in the drinks department, too.
They recently unveiled a new drinks menu filled with 26 new creations inspired by the alphabet, showing how inventive drinks can be once you put your mind to it. Try the "V" for Velvet, a beautiful drink with sweet and sour notes made from fermented raspberry, red beans, shiso water, zesty lemon, Ketel One Vodka, and a touch of the smoky Ardbeg 10YO.
You can find more information at Rabbit Hole.
Find The Locker Room Find The Locker Room is a passion project; a collaboration between Colin Chia (Nutmeg & Clove, Singapore), Hidetsugu Ueno (Bar High Five, Tokyo), Nick Wu (East End, Taipei), and Ronnaporn Kanivichaporn and Chennarong Bhumichitr (Backstage Cocktail Bar, Bangkok). The drinks are imaginative, with dumplings and other Chinese delicacies to accompany the cocktails really well. The vibes are relaxed yet lively — that is if you manage to find the hidden entrance behind the wall of lockers. What really shines at this Thonglor bar is the hospitality, and you can expect to be treated right even if you come alone.
Try the "Who Wears Short Shorts?" from the new 'Time Capsule' menu. It's inspired by hot pants and packs a real punch of multi-layered flavour.
You can find more information at Find The Locker Room.
Book your stay at Waldorf Astoria Bangkok via Booking.com
Book your stay at Waldorf Astoria Bangkok via Agoda.com
Midsummer Night's Dream Fulfil ye Shakespearean fantasy at the Midsummer Night's Dream Bar. It's a hidden gem tucked above a beautiful flower shop, and the bar is equally gorgeous, with flora and fauna adorning the interior. Their menu is filled with beautiful cocktails named after the characters in A Midsummer Night's Dream. Each drink is inventive, tells a story, and is attached with a price tag more than reasonable.
Don't forget to try the 'Theseus Morning Hunt,' a complex, yet deeply creative drink made from Niam White Pampero Rum, Caribbean pineapple liqueur and custard, then topped with mulled wine foam with palm sugar and plant-based bacon.
You can find more information at Midsummer Night's Dream.
The Japanese Highball Bar 1923 Think of your usual highball, now add a dash of sophistication and a slice of attention to detail, and you have this little spot. The Japanese Highball Bar 1923 features quality ingredients, and meticulous craftsmanship, and shows that even a simple drink like a highball can be filled with care and a sense of culture. Couple that with the mouthwatering bites and lively atmosphere, and it's a place drinks enthusiasts cannot miss.
Our tip is to get a katsu sando to go with your highball. The pork has been through the sous vide a process for four hours, which makes the texture so succulent, and tastes so good that one bite will make you order more in no time.
You can find more information at The Japanese Highball Bar 1923.
Discover more dining experiences here
008 Bar Enjoy the laidback atmosphere and Prohibition-era-inspired signature drinks that 008 Bar is known for. Let the staff know your mood, and let them suggest something that's perfect to start off your evening in Thonglor. With a charming space and live jazz sessions on Saturday nights, it's the perfect place to be when you're looking to unwind.
We recommend starting things off with "Punch in the Mirror," a concoction made from aged rum, sherry, guava, and chocolate, and topped with some bitters and spices — it's foamy and punchy in all the best ways.
You can find more information at 008 Bar.
Lost in Thaislation Helmed by the red-haired fairy Fahbeer, Lost in Translation is a new speakeasy with the perspectives of Bangkokians in mind, which reflects directly into their menu. Their first signature series pays homage to the street foods of the capital — something all of us, no matter our background or upbringing, enjoy. If you're a fan of classics, Fahbeer makes a very, very mean 20th Century, too.
The menu includes Khao Man Gai, Pad Thai, Moo Sub Kium Buey, Khao Niew Mamuang, and more — all in liquid form, which strangely works really well. I mean, have you seen anyone else sous vide vodka with chicken?
You can find more information at Lost in Thaislation.
Book Your Stay at Rosewood in Bangkok via booking.com
Book Your Stay at Rosewood in Bangkok via Agoda.com
Sugarray Apartment From the folks behind Sugarray: You've Just Been Poisoned comes a venue with the vibes of drinking in your own apartment. It's cosy and it's intimate, yet has a certain lively energy that you know will be one to remember. Order a coffee Negroni to start off, and see where the evening takes you.
They're also known for their DJ sessions, so keep a look out on their socials for lineups and happenings.
You can find more information at Sugarray Apartment.
Thaipioka Thaipioka is fun, feisty, and a popular spot among Gen Zs and millennials. Keep an eye out on their socials for the DJ lineup, because chances are you'll get to vibe and chill to some good music provided by a live DJ any day of the week.
Their drinks department isn't anything to scoff at, either. We strongly recommend the "Paloni," an ambitious crossover between two classics made from dry gin, five spices of sweet vermouth, Campari, sweet soy sauce, and garnished with an orange peel.
You can find more information at Thaipioka.
Bar Marco Tucked comfortably in one of the quieter corners of Thonglor is Bar Marco. Once you step inside, however, you'll see the bar bustling with like-minded people looking to have a good time. The vinyl collection that the bar holds, as well as the DJs behind the station, will make sure the vibes are on point. If you're hungry, their kaprao is simply amazing.
We recommend the "City of Stars," a straight-forward drink made of Don Julio Blanco, Aperol, lemon, and lavender honey, as well as the "No Woman No Cry," a feisty cocktail utilising jalapeno-infused tequila, mezcal, rosemary, lime, agave, pink peppercorn, and a touch of salt.
You can find more information at Bar Marco.
Untitled For the first time, Yolo Group (the ones behind Teens of Thailand, Asia Today, Tax, and Independence) have stepped out of Soi Nana. Untitled, themed after a pawn shop, is filled with great tipples, beautiful interiors, and DJs playing behind the station on the regular.
Many times you'll find hidden gems you'd never thought to discover in a pawn shop — think of that as you look over the ingredients in their signature drinks. The "AFS" is made from the fish sauce that was aged in an old cask, then combined with scotch, apple, and topped with some soda, highball-style. The "Cacti" blends the refreshing sensation of prickly pear and melon, along with all the flavours that the cactus offers.
Book Your Stay at Bangkok Marriott Marquis Queens Park via booking.com
Book Your Stay at Bangkok Marriott Marquis Queens Park via Agoda.com
You can find more information at Untitled.
Gir Every part of Gir spells out a sense of sophistication. Located on the 40th floor of the T-One Building, the bar offers you a glimmering view of the Bangkok skyline as well as a serene, intimate vibe to match. The theme of the bar is "conservation," considering they named themselves after the Gir National Park, an endangered lion conservation site in India.
The absolute must-try is the "Hochimin Pizza," a cocktail with the taste of pizza and oregano, presented in clear, drink form.
You can find more information at Gir.
Cardroom Cocktail Club Pick a card — any card, and you just might find your new favourite drink. Cardroom features signatures themed around prominent figures of the poker scene, including the "Edward Thorp" an American mathematician famed for pioneering modern applications of probability theory, and "The Ho," named after female poker master Maria Ho.
They also have live DJs, an attentive team of mixologists, as well as a storyteller who will take you on a journey through various classic cocktails around the world.
You can find more information at Cardroom Cocktail Club.
Echelon Bangkok Embark on an otherworldly train ride at Echelon Bangkok. Inspired by the TV show and film Snowpiercer, the venue is a gorgeous, opulent cabin, equipped with first-class interiors and a DJ booth at the opposite side of the bar. Start your night early with a couple of refreshing cocktails, and see the vibe of the place shift to a lively party from 10 pm onwards when the DJ comes on daily.
We recommend the "Chemical X," a colourful concoction brewed from gin, Midori, and a dash of tonic, as well as the extensive whisky menu they have at the bar.
You can find more information at Echelon Bangkok.
Book Your Stay at Park Hyatt Bangkok via booking.com
Book Your Stay at Park Hyatt Bangkok via Agoda.com
This story first appeared here.
Hero and Featured Image credit: Untitled.thonglor/Facebook
Related: 22 Rooftop Bars In Bangkok To Enjoy The Sunsets
Written By