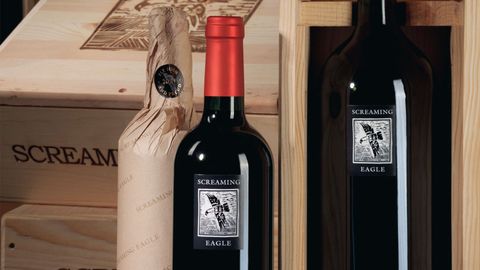 They say the best things in life age like fine wine. No wonder vintage and rare bottles fetch sky-high prices at auction houses. Nothing short of prized possessions, each of the most expensive wines in the world occupies coveted positions in collectors' cellars.
With a harmonious blend of quality grapes and meticulous refining, some bottles of rare wine have multiple attributes that justify their soaring prices. Certain vintages with exceptional taste and texture become even more valuable due to a low annual harvest. Others achieve greatness through a long and complex ageing process. Distinct packaging or a touch of historical significance can also add to the wine's novelty.
From a bottle of Screaming Eagle Cabernet Sauvignon to a pour of a Saint Emilion wine, the list of the most expensive wines in the world has many tales to tell. The rare wines will take connoisseurs on a historical ride through the annals of the First World War, eras of former US presidents and more.
These are some of the costliest wines in the world
1945 Domaine de la Romanée-Conti
Price: USD 558,000 (RM 25,89,120)
In 2018, acclaimed auction house Sotheby's sold a single bottle of 1945 Domaine de la Romanée-Conti for over half a million dollars. The most expensive bottle of wine ever sold at auction was produced in Europe right after World War II. Only 600 such DRC bottlings were made before the vines at the legendary Burgundy estate were replanted.
Sotheby's, New York sold another bottle of the same wine from the private cellars of négociant Robert Drouhin. They fetched a total of over a million dollars in two separate bids.
The sale dethroned a six-litre bottle of Cheval-Blanc 1947, which was sold in a 2010 auction in Geneva for USD 304,375 (RM 14,12,300), to earn the title.
Screaming Eagle Cabernet Sauvignon 1992 Price: USD 500,000 (RM 23,20,000)
A California cult wine, Screaming Eagle is known for receiving perfect and near-perfect ratings from wine critics. The six-litre bottle of the Screaming Eagle Cabernet Sauvignon 1992 sent ripples across the market when it sold for a whopping half a million dollars at the 2000 Napa Valley Charity Auction. The rich, opaque purple drink has a strong blackcurrant flavour and is laced with toasty oak, vanilla and mint aromas.
It is bottled unrefined and unfiltered and is aged in 60 per cent new oak. In 1995, wine critic Robert Parker awarded the 1992 vintage a near-perfect 99 points. Before the Romanee-Conti bottle took the crown, this was hailed as the most expensive wine in the world.
Jeroboam of Chateau Mouton-Rothschild 1945 Price: USD 310,700 (RM 14,41,648)
An illustrious name among the most expensive wines in the world, the Jeroboam of Chateau Mouton-Rothschild 1945 hails from the vineyards of Nathaniel Rothschild. Counted among the best wines of the last century, this 1945 vintage bottling is marked by blackberry and oak flavours and is finished with rich aromas of mint, vanilla and baking spices. The label is noted for its historical significance — the signature 'V' symbolises the end of the Second World War and the victory of the Allied Forces.
It was sold to an anonymous buyer in 1997 at a Christie's London auction.
Château Cheval Blanc 1947 Price: USD 305,000 (RM 14,15,200)
Often regarded as the best Bordeaux of all time, the Château Cheval Blanc 1947 has a rather thick and dense texture. Rendered irreplicable by unique weather conditions, the wine was made from a rare batch of grapes that ripened to its best in 1947. The great wine offers a 14.4 per cent alcohol content with rich flavours of plum and blackberry and aromatic notes of vanilla, oak and earth.
A product of excellent savoir fare and unique terroir, this is one of the best vintages to be awarded the rank of Premier Grand Cru Classe (A) in the Classification of Saint-Emilion wine in 2012. It was one of the only two wines to be named so. In 2010, it was sold to a private collector at a Christie's auction in Geneva.
Shipwrecked 1907 Heidsieck Price: USD 275,000 (RM 12,76,000)
Not every expensive wine has achieved its extravagant price tag because of its fine ageing or unique tannins. The 1907 Heidsieck & Co. Monopole Diamant Bleu "Shipwrecked" Champagne is actually a piece of living history.
In 1998, a collection of 2,000 champagne bottles was discovered from a shipwreck in the Gulf of Finland. Despite being buried undersea for over 80 years, the bottles were intact. It is believed that in 1916, a Swedish ship named Jönköping was carrying this freight to the Russian Imperial Court when it was struck by a torpedo from a German submarine. While the drink may not be the perfect meal pairing, it does make an interesting dinner table conversation.
Chateau Lafite 1869 Price: USD 230,000 (RM 10,67,200)

The bidding war for the Chateau Lafite 1869 in Hong Kong in 2010 remains a fascinating event in the circuit of the most expensive wines. Three of these bottles were lapped up for USD 230,000 (RM 10,67,200) each at a Sotheby's auction by an anonymous Asian buyer.
Pauillac, in the Médoc wine region, offers the best-suited conditions that make the winery at Château Lafite-Rothschild globally renowned. The gravel from the nearby Gironde River provides the ideal setting for the perfect grape juice to be extracted from ripened Cabernet Sauvignon fruits.
Chateau Margaux 1787 Price: USD 225,000 (RM 10,44,000)
Known for making some of the best Bordeaux wines, Chateau Margaux and its traditions have remained largely unchanged since the 17th century. A product from the prestigious winemakers, the rare 1787 bottle once belonged to the private collection of the third American President, Thomas Jefferson.
However, no one ever got the opportunity to taste this scintillating wine. Over the years, the bottle changed hands and landed in New York wine trader William Sokolin's cellar. He once brought it to dinner at the Four Season Hotel where a waiter accidentally knocked it off. Initially tagged at USD 500,000 (RM 23,20,000), it never got the chance to go under the hammer to realise the price. The insurance amount Sokolin received was USD 225,000 (RM 10,44,000).
Ampoule from Penfolds Block 42 Price: USD 168,000 (RM 7,79,520)
This is one of the most expensive wines from the well-known vineyards of South Australia's Penfolds. It is sold in ampoules, futuristic glass encasements which are sealed, not by any cork, but by a piece of wood. One can only take a sip of this fine wine by breaking off the wood.
To add to its novelty, the ampoule is hand-blown by renowned glass artist Nick Mount and is suspended from a wooden Jarrah cabinet designed by furniture craftsman Andrew Bartlett. The making of the glass ampoule helps preserve the drink at an ideal temperature. The wine within, too, is a work of art. It is a fine Cabernet Sauvignon produced from a single vineyard.
Penfolds Grange Hermitage 1951
Price: USD 157,624 (RM 7,31,375.36)
Another Penfolds bottle has made its way on the list of the most expensive wines in the world — a classic Shiraz. The brainchild of Penfolds' first chief winemaker, Max Schubert, this drink speaks Australian terroir, unique savoir fair and innovation.
In 2021, the bottle created a record at a Langton's auction when it fetched a lavish amount. With just 35 bottles of the first edition of Penfolds Grange in existence, it is also a rare wine and connoisseurs leave no stone unturned to collect any bottling that goes under the hammer.
What adds to the exclusivity of Penfolds Grange Hermitage Bin 1 Shiraz 1951 is the fact that Schubert produced just three to four barrels and gifted most of it to his friends. This marks the master's first experimental wine.
Chateau Lafite Rothschild 1787
Price: USD 156,450 (RM 7,25,928)
Another wine with a connection to President Jefferson, this Bordeaux produce is more of a collectable than a consumable drink. Prior to becoming president, when Jefferson was ambassador to France, he spent long hours exploring the scenic vineyards of Bordeaux and Burgundy. He often picked up bottles for his collection as well as for friends. This specimen is particularly famed, as it bears the American leader's initials 'ThJ.'
Henri Jayer, Vosne-Romanée Cros Parantoux 1999 Price: USD 136,955 (RM 6,35,471.20)
Sold at a Christie's Hong Kong auction, this lot of rich wines was made by famous French winemaker Henri Jayer in Burgundy. Seasoned with hints of ripe red fruits, minerals and spices, the Vosne-Romanée Cros Parantoux 1999 is a coveted collectable for connoisseurs. So much so that the winning bidder took home an entire case of these expensive bottles instead of a single bottle.
Cheval Blanc St-Emilion 1947
Price: USD 135,125 (RM 6,26,980)
One of the only two Saint-Emilion wines with a Class A status, this Cheval Blanc vintage is an asset for any wine lover. It is believed that out of the 110,000 bottles produced, only a few are remaining. Hence, when the three-litre bottle was auctioned in 2006 in San Francisco, it fetched a high price.
Like all other Cheval Blanc drinks, this is also known for its rich flavours and textural complexities. The particularly favourable weather and perfect ripening of the grapes between April and October of 1947, made a rich Merlot wine. Composed of 50 per cent Cabernet Franc and 50 per cent Merlot, it has 14.4 per cent ABV.
Romanée-Conti 1945
Price: USD 123,900 (RM 5,74,896)
While a Domaine de la Romanée-Conti bottle became the most expensive wine in the world in 2018, another bottle of the same drink was sold for this huge amount in 2007 at an auction.
These bottles fetched such high value because of their scarce availability. In 1946, phylloxera pests destroyed the vineyards, and as a result, only 600 bottles could be produced that year. The one that went under the hammer in 2007 was from connoisseur Audebet de Villaine's collection.
Chateau d'Yquem 1811 Price: USD 117,000 (RM 5,42,880)
Perhaps one of the finest white wine bottles ever, this vintage star was produced in the famed Chateau d'Yquem, situated in France's Sauternes region. The castle reportedly belonged to the King of England in the Middle Ages. Later, a flourishing winery was built under the supervision of Françoise Joséphine de Sauvage d'Yquem. She was the widow of Count Louis Amédée de Lur-Saluces and matriarch of the family. The place was often frequented by former President Jefferson during his vineyard sojourns.
This 1811 bottle is one such exceptional wine which was bought by French restaurateur Christian Vanneque when he celebrated 50 years of his career. The sweet Bordeaux wine is known for its long shelf life.
Domaine de la Romanee-Conti Romanee-Conti Grand Cru 1990 Price: USD 21,200 (RM 98,368)
The La Romanée-Conti Grand Cru vineyards are often considered the producers of the best of the Burgundy terroirs. Originally known as Cros des Cloux, the vineyard has a long history. However, it is mostly known for its modern-era productions after new vines were planted between 1947-48.
The 1990 vintage bottling is a much sought-after release and is seen as one of the finest pinot noir wines with a balanced harvest of hearty grapes. According to a report by KL Wine Merchants, several wine critics and reviewers have awarded it a near-perfect score.
Hero and Featured Image credit: Christie's
All currency conversions were done at the time of writing
This story first appeared here
Related: How To Plan A Family Trip To Wine Country — That's Fun For Both Kids And Parents
Frequently Asked Questions (FAQs)
Question: Which is the most expensive wine?
Answer: In 2018, a bottle of 1945 Domaine de la Romanée-Conti red wine went under the hammer for USD 558,000. It became the most expensive wine ever sold.
Question: Who makes the most expensive wine?
Answer: The 1945 Domaine de la Romanée-Conti bottle of red wine, which sold for USD 558,000 (RM 25,89,120), was made by the winemakers at the Domaine de la Romanée-Conti estate in France's Burgundy region.
Written By