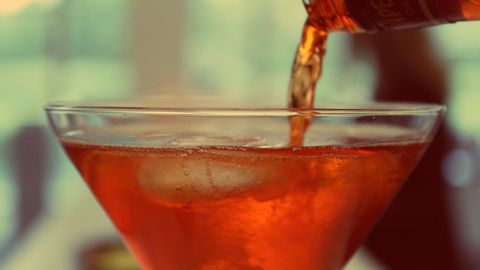 As the annual showers come knocking at your window pane, what better way to welcome our rainy guests than with a monsoon cocktail, tailor-made for the rains in hand?
Whether you have the stereo playing your favourite songs, settled into your bed or sofa with a loved one or sitting on the high tops at your favourite bars playing the latest bops while the rain beats down incessantly outside, warm your heart with a touch of spirit, with these classic yet gold cocktail recipes. We've all had the occasional hot toddy to beat the cold and drudgery, here are a few other classic whiskeys, rum and brandy-based cocktails to keep you company and heat up your chilly bones this monsoon. The warmest and loveliest cocktails can be made in multiple different ways with multiple different twists, but with simplicity as an origin, easy to recreate in the comfort and shelter of your home with these quick recipes.
5 best monsoon cocktails to keep your soul warm from the rain
Irish Coffee To give you the best of both worlds, Irish Coffee is the ideal blend of both coffee and Irish whiskey. It is the perfect hot drink for a rainy day for coffee lovers as well as for someone looking for a hot and flavourful whiskey cocktail. Served with a little whipped cream to add a touch of dessert, to make it the yummiest drink to enjoy this monsoon.
Ingredients
50 mL Irish whiskey; 120 mL hot coffee; 50 mL fresh cream/ whipped cream; 1 tsp sugar (preferably brown), with a sprinkle of grated nutmeg as garnish
Brandy Hot Chocolate Another specifically crafted dessert cocktail to satisfy your sweet tooth with the perfect addition of hot brandy to make your insides warm. A chocolatey blend that beats the cold rains with its creamy goodness.
Ingredients
Your favourite hot chocolate recipe with an added 50ml Brandy topped with a dollop of whipped cream and chocolate flakes for garnish
Hot Buttered Rum A holiday season beverage with a rich colonial history. A more nuanced dessert cocktail to keep you warm with the double benefits of alcohol and buttered brown sugar, with a hint of cinnamon to treat your tastebuds.
Ingredients
50 ml of dark rum; 1 tablespoon brown sugar; 1 tablespoon unsalted butter with ground cinnamon; nutmeg; cloves for the batter which is then dissolved in boiling water or apple cider, served with a garnish of nutmeg
Whiskey/ Rum Old Fashioned A contrast to the sweet goodness of the previous drinks. This good old classic cocktail made with whiskey or dark rum is sure to give you a fire in your belly. It makes for a more subtly flavoured, stiffer drink for all whiskey and rum enjoyers. This beautiful classic cocktail stays true to its name.
Ingredients
45ml whiskey/dark rum; 1 sugar cube; 2-3 dashes of Angostura bitter served on the rocks with an orange slice garnish
Whiskey/Brandy Sour Originally a Whiskey-based classic cocktail that can also be made with a Brandy base with the optional egg white. It is an undeniable addition to your monsoon cocktail list. A classic sour is the simplest yet most comfortable cocktail to enjoy on a rainy day. With a balanced tartness and sweetness, it sets the perfect tone for a relaxing rainy evening.
Ingredients
45ml Whiskey/Brandy, 30ml Fresh lemon juice, 30 ml simple sugar syrup, shaken with an optional egg white, served on the rocks with an orange slice garnish.
This story first appeared here.
All images credit: Shutterstock/Unsplash
Related: 7 Of The Best Cocktails Served In The Sky
Written By