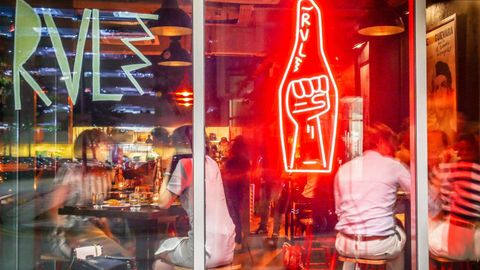 From classic styles to provocative examples, these 15 best wine bars in Singapore are driving the country's vinous landscape forward.
Burgundy, Bordeaux, and Champagne still rule the pointy end of the wine world, and these places have plenty of examples on hand. Ma Cuisine taps on the founders' Burgundian connections to stock their 3,000-strong cellar, while Park90 goes heavy on labels ranked highly by wine publication Robert Parker. The members-only 67 Pall Mall has 5,000 bottles ready to go, and Le Quinze Vins delves into the minutiae of France's most renowned regions. Gaston uncovers labels from Burgundy that do not cost a bomb, and Napoleon serves 32 wines by the glass, even premium ones.
If this crop of bars champion wine with white glove service, another group seeks to do it with disco balls and Davie Bowie. AT RVLT, organic, biodynamic, and natural wines are poured amid a riotous atmosphere, and it is a similar situation at Le Bon Funk and Rebel Rebel. Bar Cicheti has a wine guessing game called The Picky Blinder, and FOOL makes you wiser on Greek whites and English sparkling wine. At Humpback, wine is music, judging by how they lay out their menu like a Spotify playlist.
Whether your taste leans traditional or radical, these 15 wine bars in Singapore should have a bottle to suit your style. Check them out below.
Discover luxury travel experiences in Singapore here
The best wine bars in Singapore in 2023
Jump To / Table of Contents Written By