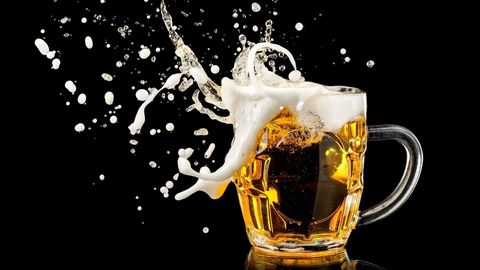 From fruity numbers to coffee-laced affairs – there are as many bottles of fermented malts as there are enthusiasts of boozy refreshments. And if you can never quite decide which to sip casually at your next bar visit – the stars might have some answers. Here's a look at the best beer option for each zodiac sign come alcohol hour.
With an origin story that goes as far back as the fifth millennium BC in present-day Iran – when a barley-based brew was concocted – beer has found many iterations over time. Today, options range from the breezy India Pale Ale – a style that originated in Himachal Pradesh – to intense Stout, which takes after the strong Porter malts of 18th-century London. Each comes with its own variations, boasting of an eclectic set of flavour notes – citrus, chocolate, vanilla, coffee, apple cider, berries, the works.
And in a country that boasts of some of the best breweries in the world, the options shoot through the roof. Zeroing in on one at the bar or a store can, hence, be an exercise in exhaustion. Our recommendation? Taking cues from the cosmos. Especially considering how our astrological identities often shed light on our most dominant traits – determining our taste in clothes, partners, and food (amongst others). If you've got alcohol hour scheduled this weekend, here's the zodiac guide to the best beer to order at the bar.
Best beer to chug this weekend, based on your zodiac sign
Aries: BroCode Known to be spunky and bold, Aries thrives on adventure. Those born under this sign are often the life of the party. Their ideal beer, hence, would have to capture their wild spirit (pun intended). BroCode – from the party capital Goa – fits the bill, and how. It's a biere brut (or bière de champagne) – a new beer style that was first explored in Belgium in the early 2000s. It's also top-brewed and matured in bottles with champagne yeast cultures. The payoff is a punchy sip that has a refreshing fruity, citrus flavour and a jaw-dropping alcohol percentage. This makes it the perfect alcohol option for a party – which is where you'd find this zodiac sign. Besides, as the strongest beer in India, it goes hard just like an Aries.
ABV: 15 percent
Shop These Must Have Beer Accessories
Taurus: Susegado Vanilla Porter The grounded, practical, and stylish Taurus enjoys staying home and engaging in domestic chores. Those born under this earth sign often go with comfortable, bankable options. They'd enjoy a beer with classic, warming flavours. Goa-based Susegado's Vanilla Porter channels the comfort of a rainy night in. It fuses the sweetness of chocolate and the bitterness of coffee, balancing the two out with a touch of vanilla. Every sip of this dark beer is sweet and warm – promising to make one feel fuzzy. It's perfect for a night of board games with loved ones or a football match – both of which underline this earth sign's idea of fun.
ABV: 5 percent
Gemini: BeeYoung The social butterfly of the zodiac, Gemini thrives on communication. Those born under this sign have a youthful energy to them. They are also charming, adaptable, and complex. Their beer of choice would have to be a crowd pleaser like them. BeeYoung is reflective of this air sign's spirit. The new kid on the block is dedicated to the tastes of the modern, young Indian. It's crisp and clean with citrus touch and subtle bitterness. It also features Columbus and Styrian Golding hops – both of which make it sessionable. Best part? It's quite strong despite being smooth and refreshing. This makes it ideal for brunches and alcohol-laden parties – this zodiac sign's favourite weekend destination.
ABV: 7.2 percent
Shop These Must Have Beer Accessories
Cancer: Goa Brewing Co. Breakfast Cereal Stout The nurturing homebodies of the zodiac, Cancers are emotional, sensitive, and comfort-seeking. Those born under this sign enjoy simple pleasures, going down the memory lane, and hosting loved ones. Their ideal beer would have to be just as sweet and comforting as this water sign. Goa Brewing Co.'s Breakfast Cereal Stout has what it takes to make it to their refrigerator. Packed with warm Sleepy Owl Coffee, cornflakes, oats, and milk – it's reminiscent of a lazy morning of digging into cereal. This gives it a nostalgic quality that would warm a Cancer's heart. The malt is aged on single-estate cacao nibs, which give it an indulgent, creamy quality. It's the ideal accompaniment – or conclusion to – a home-cooked meal – this water sign's love language.
ABV: 4.5 percent
Leo: Kati Patang Bareilly Bold The fiery Leo boasts of a spunk that few others of the zodiac can lay claim to. Those born under this sign are quirky, free-spirited, intelligent, and confident. They enjoy their time in the spotlight, often going for vibrant clothing and bold experiences. They'd enjoy a beer that makes a statement. Craft beer brand Kati Patang's Bareilly Bold comes with a touch of drama. The vibrant bottle features the popular Palash flower – which paints several towns a fiery red come spring. The beer pours golden and is light-bodied with minimal froth. The finish is sweet and refreshing, making it highly sessionable. Most importantly, only a Leo would truly do justice to the beer's tagline, 'Confident. Strong. Muh Khol.'
ABV: 4.8 percent
Virgo: Copter 7 Smooth Lager The perfectionists of the zodiac, nothing misses a Virgo's keen eye. Those born under this zodiac sign are also known to be practical, sensible, and hardworking. They'd enjoy a classic, reliable, quality beer that they can kick back with after a long day of work. Enter, Copter 7's Smooth Lager. With Mahendra Singh Dhoni on board as the brand ambassador, it has built a reputation for being quite dependable. It pours amber and has herbal, floral, and spicy notes. Each crisp sip also comes with hints of caramel and fruit. Besides, this an easy-on-the-pocket alcohol choice – perfect for this zodiac sign to stock up the refrigerator with for the everyday guzzle (likely scheduled and followed to a T).
ABV: 4.5 percent
Libra: Buho Strong The charmers of the zodiac, Libras are connoisseurs of all things elegant and aesthetic. Represented by the scales, they seek synchronicity and harmony in their lives. They're also known to be adaptable and affable. Their ideal beer would have to be as balanced and crowd-pleasing as them. New to the world of craft brews, Buho Strong is fruity and breezy. It pours a pale yellow and comes with hints of roasted malt, Belgian hops, and nuts on the nose. Every sip, meanwhile, is reminiscent of bananas, bread, coriander, vanilla, and apple. It's quite well-balanced and can easily be paired with a host of foods. It's also sessionable, enjoyable to both connoisseurs and beer curious. All characteristics a Libra would enjoy.
ABV: 7 percent
Scorpio: Simba Stout The most passionate of the zodiac, Scorpios deal in all things bold, intense, and complex. Those born under this sign aren't afraid of dark subjects. They're also surprisingly sensitive, loyal, and adventurous. Their ideal beer would have to be as robust as their personalities. Ente, Simba Stout. The malt – which happens to be the first of its kind in India – is creamy and bursting with flavour. The bitterness at the first sip gives way to sweetness, with notes of caramel, espresso, and dark chocolate. The beer pours an ebony and is bold – right up the Scorpio's alley. Besides, only this water sign could do justice to its tagline, "Plunge into the dark side."
ABV: 5 percent
Sagittarius: Amsterdam Navigator The adventurer and experimentalist of the zodiac, Sagittarius is as free-spirited as they come. Those born under this sign are open-minded and honest. Their ideal brew would have to capture their wise yet wild ways. The bottom-fermented Dutch beer Amsterdam Navigator fits the bill. It has a smooth yet intense flavour that's underlined by fruity and nutty aromas. The brew pays homage to Dutch explorers of the 16th and 17th centuries – which the traveller in Sagittarius would be intrigued by. The brew pours a dark blonde, with every sip being reminiscent of apricot and dried fruit. This beer is quite a strong, party-friendly alcohol choice – quite like this zodiac sign.
ABV: 8 percent
Capricorn: Guinness Draught Stout Perhaps the most hard-working sign of the zodiac, Capricorns enjoy the grind. That said, they enjoy letting their hair down just as much. Grounded, practical, and connoisseurs of all things luxurious and classic – they'd enjoy a beer that's as complex, elegant, and dependable as them. Guinness is an iconic stout beer – with a legacy that dates back to the late 1900s. Creamy and rich – it comes with hints of roasted coffee and chocolate. The balance of bitter and sweet is reminiscent of this earth sign's 'work hard, play hard' motto. And the touch of coffee is the perfect complement to their need to hustle. That aside, this is a timeless, practical alcohol choice for this zodiac sign.
ABV: 4.2 percen
Shop These Must Have Beer Accessories
Aquarius: Bira 91 Rise The most quirky of the zodiac, Aquarius is drawn to all things unusual. Those born under this sign are known to be eccentric, intellectual, and rebellious. Their ideal beer would have to be as unique as them. Bira 91's Rise malt – an innovative rice lager – fits the bill. Fusing the flavour of coastal Indian carbs with Sorachi Ace hops from Japan – the brew is breezy with a subtle citrus aroma. It's highly sessionable – reminiscent of this air sign's easygoing social reputation. It also calls for an experimentative palate, which this sign is known for. Besides, it's the first of its kind in the alcohol market – which this zodiac sign would be intrigued by.
ABV: Less than 8 percent
Pisces: Maka Di Honey Ale The romantics of the zodiac, Pisces enjoys all things indulgent and sweet. Those born under this sign are imaginative, nurturing, and sensitive. They're also known to enjoy a confection (or two). A dessert-like, smooth beer would be ideal for this water sign. Enter, Maka Di's Honey Ale – a mellow, layered brew that features wild honey sourced from Uttarakhand's Jim Corbett Park. It's the perfect brew to end a meal on a sweet note. Besides, it's often found perched on tables across Goa – a seaside destination that this water sign would never tire of visiting.
ABV: 7-8 percent
Cheers!
All images: Courtesy Shutterstock/Brands
This story first appeared here
Related: Horoscope Happy Hour: Pick The Right Whiskey Based On Your Zodiac Sign
Frequently Asked Questions (FAQs)
Question: Which alcohol is best to consume in Indian summer?
Answer: Beer is the perfect go-to for summer. Other popular options are gin, white rum, and white wines (including champagne).
Question: What is the best beer for Aries?
Answer: A strong and bold beer like BroCode is the perfect option for an Aries.
Written By