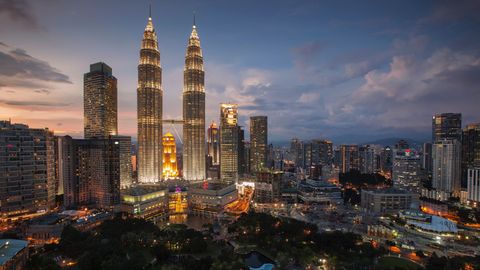 A remarkable skyline with tall buildings, British colonial-era architecture, a multicultural modern society, lively streets and exuberant nightlife — need we say more about this contemporary city that is Malaysia's capital? If this concoction of both new and old world charm in Kuala Lumpur appeals to you, plan a trip to this alpha world city and keep this travel guide handy — from things to do in Kuala Lumpur to where to stay, eat, shop and explore, it has it all.
Be it finding the best hotel in Kuala Lumpur, having street foods at Jalan Alor, visiting historical sites like the Sultan Abdul Samad building, eating out at fine dining restaurants, or exploring the KL Central Market, you can take your pick.
Here is an overview of the fascinating journey you're about to embark on before you dive into the specifics of visiting this Southeast Asian gem. For instance, Wilayah Persekutuan Kuala Lumpur houses one of the world's tallest structures, the Petronas Twin Towers, which should be on the bucket list of almost every tourist.
How to plan a Kuala Lumpur trip?
Travelling to a new city requires detailed research. Start with fixing the dates, duration and budget followed by gathering all the information available. It's ideal to plan and book your flights and accommodations well in advance for a budget-friendly holiday.
Kuala Lumpur trip cost
Expect to spend a minimum of RM 230 (around USD 52.12) per person per day. This average cost includes RM 50 (around USD 11.29) for meals, RM 24 (around USD 5.65) for local transportation and RM155 (around USD 35) for the stay. If you pick luxury hotels or resorts, your average cost per day may increase based on the tariff. The average cost does not include airfare, shopping, buying souvenirs or other activities. Kuala Lumpur visa requirements
To visit Malaysia, the following are the basic requirements to get a visa.
A passport that is valid for over six months

Sufficient funds in the bank account to sustain your stay in Malaysia

Flight tickets (to and fro)

Duly filled

Malaysia Digital Arrival Card

(MDAC)
Foreigners (non-Malaysian) can get an eVisa from the respective embassy. A processing fee of RM 105 plus a convenience fee will be charged. According to the official website of the High Commission Of Malaysia, New Delhi, "eVISA is not applicable to foreigners residing in Malaysia, Singapore, or countries that do not have a diplomatic relationship with Malaysia."
Best time to visit Kuala Lumpur
Kuala Lumpur is situated near the equator resulting in the city experiencing a hot and humid climate throughout the year. However, with respect to the popular festivals, December to January and June to August are best to visit Kuala Lumpur.
Kuala Lumpur weather
Located in Southeast Asia, Kuala Lumpur experiences an annual mean temperature of 25.4°C. During January (winter in most places), the temperature drops to its lowest point of 24.9°C. Monsoon season hits Kuala Lumpur mostly during November and December when the city experiences an average of 350 mm of rain. During light monsoons in June and July, an average of 200 mm of rain is experienced by the city. How to reach Kuala Lumpur
By Air
The fastest way to reach the capital city is to take a flight and land at Kuala Lumpur International Airport, located in Selangor, which is 25.7 km away from the Kuala Lumpur city centre.
By Rail
Various places in Malaysia, Singapore, and Thailand are well connected to KL via train. For both intercity travel and international travel, you can arrive at the KL Sentral Railway Station. The Rapid KL Light Rail Transit and KL Monorail are the best ways to tour Kuala Lumpur.
By Road
Kuala Lumpur and other cities in Malaysia have well-developed roadways. The North-South Expressway and East Coast Expressway are two of the smoothest ways to reach the city.
Best places to visit in Kuala Lumpur
Petronas Twin Towers
Your visit to Kuala Lumpur is incomplete without seeing the world's tallest twin towers. This iconic pair of 88-story skyscrapers is known for its magnificence. You can take a guided tour of the Petronas Twin Towers by purchasing a ticket (book the tour here for RM 98 for an adult) in advance or on the spot. This covers the double-decked Skybridge at levels 41 and 42 and the observation deck at level 86. From here, you can enjoy a spectacular view of Kuala Lumpur. Tourists recommend visiting this marvel at night, as the lights of the buildings and city look striking. While here, do visit the KLCC park, which was designed to have a green patch with various species of trees, surrounding the landmark along with artificially created fountains and structures.
Thean Hou Temple
An amalgamation of three beliefs — Buddhism, Taoism and Confucianism, the Thean Hou Temple is one of Southeast Asia's largest and oldest temples. The six-tiered house of worship features Chinese architecture, pagoda roofs, red columns, beautiful archways and ornate carvings. This temple is dedicated to the Chinese gods and is decorated with glowing lanterns for festivities. You can watch the KL skyline from here as it sits atop Robson Hill. Menara Kuala Lumpur
The world's 7th tallest tower, the Menara, popularly known as the KL Tower, is a free-standing telecommunications tower with a height of 421 metres above ground level. It offers various activities and interesting spots, including the SkyBox, which is a full glass box offering a panoramic view of the city. Other exciting things to do at the Kuala Lumpur Tower are visiting the Atmosphere 360 — a revolving restaurant, Mini Zoo, Observation Deck at 276 metres, Sky Deck at 300 metres, the Jelutong Tree — preserved for over 100 years, the Blue Coral Aquarium and much more.
Jalan Alor
Situated in central Kuala Lumpur, this vibrant street offers some of the most delicious local food in the Malaysian capital. Old buildings stand tall and the lanes are lined with hawkers and seafood restaurants. Rightly known as the foodies' favourite, you can try various Chinese and Malaysian dishes here. What was known to be a red light area, previously, is now a culinary destination with vibrant buildings featuring artwork by noted artists. The night scene at Jalan Alor is striking too, with the street decorated with bright lanterns and a buzzing crowd.
Book your dining experiences here Batu Caves
When in Kuala Lumpur, you must plan a day's trip to Malaysia's most prominent heritage site. The Batu Caves are a series of limestone caves and temples. The Sri Subramanian Swamy Temple is where you can find the over 42-metre-tall golden statue of Lord Murugan, a Hindu deity guarding the cave temple. It is considered sacred, and ardent devotees visit this temple from all over the world. Another attraction here is the Ramayana Cave, which illustrates the epic from ancient India. Every year around January, the temple celebrates the Thaipusam Festival, which is a beautiful experience.
Kuala Lumpur Butterfly Park
Imagine stepping into an enchanted garden with over 5,000 butterflies. Experience the beauty and serenity of the largest butterfly garden in the world. The Kuala Lumpur Butterfly Park covers an area of 7,432 square metres. On your visit, along with a butterfly museum, you can even find Japanese koi fish, freshwater turtles and live insects.
Masjid Jamek Sultan Abdul Samad
Located at the confluence of the Klang and Gombak rivers, the Sultan Abdul Samad Building is one of the world's finest Islamic mosques. Built in 1909, it has a Mughal and Moorish architectural style. The three onion-shaped domes and a pair of minarets give this mosque an iconic look. This is the oldest place of worship in Kuala Lumpur. Take a stroll at Merdeka Square (also known as Independence Square), which is within walking distance from here.
Islamic Arts Museum Malaysia (IAMM)
Located in the vicinity of Kuala Lumpur's Lake Gardens, the IAMM houses over 10,000 artefacts and an extensive collection of books on Islamic arts. You can discover the world of Persia, the Middle East, India, China and Malay through the collections on display in the museum's various galleries. Aquaria KLCC
Walk through the mesmerising 90-metre-long underwater transparent tunnel of Aquaria located in the Kuala Lumpur Convention Centre. You can have an immersive experience by witnessing over 5,000 creatures. The aquarium is spread over a 60,000-square-foot area. Some of the exhibits include the Evolution Zone, the Touch Pool, the Flooded Forest, and the Jewels of the Jungle. Spot coral fish, sea turtles, sea horses, sand tiger sharks and more.
Chinatown
The most colourful and lively neighbourhood in Kuala Lumpur, Chinatown is a must-visit even if you're in the city for a couple of days. There are various things to do here like shopping at Petaling Street Market and Madras Lane Night Market, enjoying delectable street foods, visiting Chinese and Hindu temples, discovering street art and going to mosques.
Kuala Lumpur City Gallery
One of the busiest tourist attractions in Kuala Lumpur housed in the 115-year-old heritage building, you must head here to browse through collectables, souvenirs and gift shops. It also has a tourist information counter to gather details about the city and even a map. Don't forget to take pictures at the iconic 'I LOVE KL' photo stop.
Book bespoke wellness experiences here
Nightlife in Kuala Lumpur The Kuala Lumpur nightlife is tasteful and caters to all kinds of crowds that prefer fine dining, nightclubs or high-end rooftop bars. Kuala Lumpur is also known for the buzzing local streets with shining lanterns and food stalls at night.
Troika Sky Dining
One of the most sought-after fine dining restaurants in the city is Troika Sky Dining. It comprises three sections: Strato (an Italian bistro), Claret (a wine bar) and Cantaloupe (a fusion fine dining restaurant). Watch Kuala Lumpur's breathtaking skyline with the backdrop of the Petronas Towers while enjoying sumptuous tapas, grills and cocktails.
Kyō Kuala Lumpur
Dance the night away at this underground club in Kuala Lumpur. The House of Kyō is where you can enjoy European music with Japanese undertones. Groove to hip hop, R&B, house, and several other genres of music at this space, accompanied by striking neon lights.
SOULed OUT Ampang
This contemporary restaurant at The Linc, Golden Triangle in Kuala Lumpur is best for family dinners and catching up with friends. Get seated in the breezy, spacious dining area with an open-air bar. Enjoy a delicious meal at this al fresco dining space with salads, soups, pizzas and much more.
Things to do in Kuala Lumpur
The Kuala Lumpur skyline is unquestionably a work of art. One of the first things to do in Kuala Lumpur must be to explore the magnificent, tall skyscrapers. Then explore the city's vibrant markets, parks and upscale restaurants, and indulge in the local cuisine. If you have an additional day in the city, make sure to check out the Sunway Lagoon Theme Park.
Where and what to eat in Kuala Lumpur? Nasi Lemak Saleha
Originally a Malay dish, Nasi Lemak is a popular breakfast dish in Kuala Lumpur. It used to be prepared with rice, fried fish, kangkung and stir-fried sambal. Now it's simplified to rice being paired with anchovies or anchovy-infused sambal variations. Nasi Lemak Saleha is Ampang's well-kept secret. Located in Kampung Pandan, the restaurant serves the tastiest rendang chicken, meen sambal and coconut rice.
Ishin Japanese Dining
This is one of the most authentic Japanese restaurants in Kuala Lumpur. Located in Jalan Klang Lama, Ishin Japanese Dining gives you a fine dining experience while serving genuine Japanese and Kaiseki-style cuisines. Head here for everything, from fresh and juicy sashimi to a bowl of unagi stone pot rice.
Vasco's
If you're in the Malaysian metropolis, you should have a hearty meal at Vasco's Hilton. Located in Jalan Stesen Sentral, here's where you can have the best buffet in Kuala Lumpur. They also have an a la carte option and serve Malay, Indian, Cantonese, Continental and English cuisine. The alfresco restaurant is very popular, especially among tourists.
Where and what to shop in Kuala Lumpur? Petaling Street
One of the most lively and bustling local markets in Kuala Lumpur, Petaling Street is a mix of a shopper's and a foodie's paradise. The market is itself a main street with two side streets where hawkers and shops sell clothes, bags, watches and souvenirs. You can walk through the colourful market and spend the day shopping. Cheap yet quality bags, suitcases, shirts, jeans, Chinese herbs and toys are some of the best things to buy here.
Central Market Kuala Lumpur
Known as Pasar Seni among the locals, the Central Market is one of the most iconic places to shop in Kuala Lumpur. Located in the city centre, it is within walking distance of Petaling Street. The bazaar has over 350 shops divided into three sections, Lorong Melayu, Lorong Cina and Lorong India. These zones have stores selling local handicrafts, art collectables and traditional products. You can buy original Malay keepsakes like Borneo pearls and batik.
Pavilion Kuala Lumpur
Visit The Pavilion, a prestigious and award-winning shopping centre in Kuala Lumpur. The mall, which is in Bukit Bintang, includes over 700 shops and eateries.
Suria KLCC Mall
Another renowned shopping mall in the metropolis is Suria KLCC. It is located right near the Petronas Towers in Kuala Lumpur City Centre. You will be spoiled for choice owing to the mall's eye-catching position and its 360 speciality stores, including international and concept stores. Post-shopping, you can relax at the 50-acre (242811 square metres) park with a symphonic water fountain and have a meal at any of the two large food courts.
Where to stay in Kuala Lumpur
Related: 20 Must-Try Matcha Cafes In KL And PJ For The Best Matcha Desserts
Frequently Asked Questions (FAQs)
Question: How many days are enough to explore Kuala Lumpur?
Answer: The must-visit locations in Kuala Lumpur may be explored in no less than two to three days. You can plan a week-long trip to Kuala Lumpur if you want to spend a leisure time in Malaysia's capital.
Question: What should I know before planning a trip to Kuala Lumpur?
Answer: Before planning a trip to Kuala Lumpur, you must know about the Malaysian currency, intercity transport, the weather, etiquettes to follow in Kuala Lumpur, the different cultures and the best way to respect locals.
Question: Which is the cheapest time to visit Kuala Lumpur?
Answer: Usually June and October are off-season months and as a result, they can be called the cheapest time to visit Kuala Lumpur.
Question: What is the dress code in Kuala Lumpur?
Answer: As a cosmopolitan city, there is no particular dress code in Kuala Lumpur for tourists. However, there are strict rules on acceptable attire for religious places like mosques, which you must keep in mind while packing.
Question: What are the do's and don'ts in Kuala Lumpur?
Answer: Basic etiquette must be followed in Kuala Lumpur, like treating locals with respect, being friendly and patient, being respectful towards the culture and places of worship, maintaining a respectable distance, not littering and so on. One of the must-do things is greeting people with their traditional Malay gesture, which is a heart-warming salam.
Question: Which is the coldest month in Kuala Lumpur?
Answer: Kuala Lumpur has its lowest temperature in the month of January which is around 27°C (81°F). Hence, it can be called the coldest month.
Question: Do you need cash in Kuala Lumpur?
Answer: It's best for a tourist to carry a minimum amount of Malaysian Ringgit (RM). You may need cash in Kuala Lumpur to pay at local shopping and food stalls and even for emergencies if needed.
Question: Which is the most beautiful city in Malaysia?
Answer: Kuala Lumpur is one of the most beautiful cities in Malaysia with skyscrapers and cultural landmarks adding to its magnificence.
Question: Which are the most famous historical places in Kuala Lumpur?
Answer: Masjid Jamek Sultan Abdul Samad and Thean Hou Temple are two of the most famous historical places in Kuala Lumpur.
Question: Which are the best malls in Kuala Lumpur?
Answer: Pavilion Kuala Lumpur and Suria KLCC Mall are two of the best malls in Kuala Lumpur.
Written By