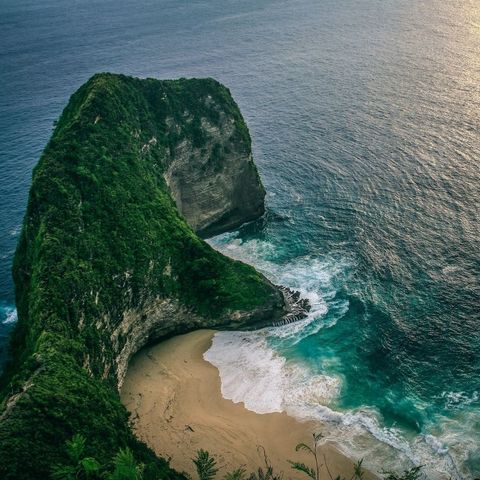 Catch the sun on stunning beaches, surf along the swelling waves, watch rich cultures unfold at sea temples, and unwind at beach clubs—this Indonesia's widely explored gem is where you can check off these things from your bucket list. Bali is a dream come true for all kinds of travellers—surfers, spiritual beings, simple living practitioners, sea lovers, and nightlife enthusiasts. It is rightly known as the 'island of the gods' for its alluring temples and as a 'tropical paradise' for its mesmerising beaches. So, if you're planning a trip to this culture-rich and adventure-filled island, the ultimate travel guide for a Bali trip awaits you!
Here's a detailed rundown of everything you need to plan your dream Bali vacation. Hiking up volcanic peaks, visiting magnificent temples, watching the Balinese culture unravel, eating authentic local food, partying at beach clubs, discovering unexplored beaches, participating in traditional festivities, finding the best Airbnb rentals, staying in luxury villas, and more of these wonderful things are covered below. So, dive in!
How do I plan a Bali trip?
Gather all of the information you'll need to plan and explore the tropical province before you go. Read the below article, which will be more than just resourceful in planning a perfect trip to Bali. Once you decide on the travel dates, book your flight tickets in advance (to and fro). After that, you can plan your itinerary. Accordingly, decide on your accommodations, places to visit, and transportation. Lastly, you can pack your bags with all the essentials you'll need for the beach vacation and set out on a fascinating journey with this Bali travel guide.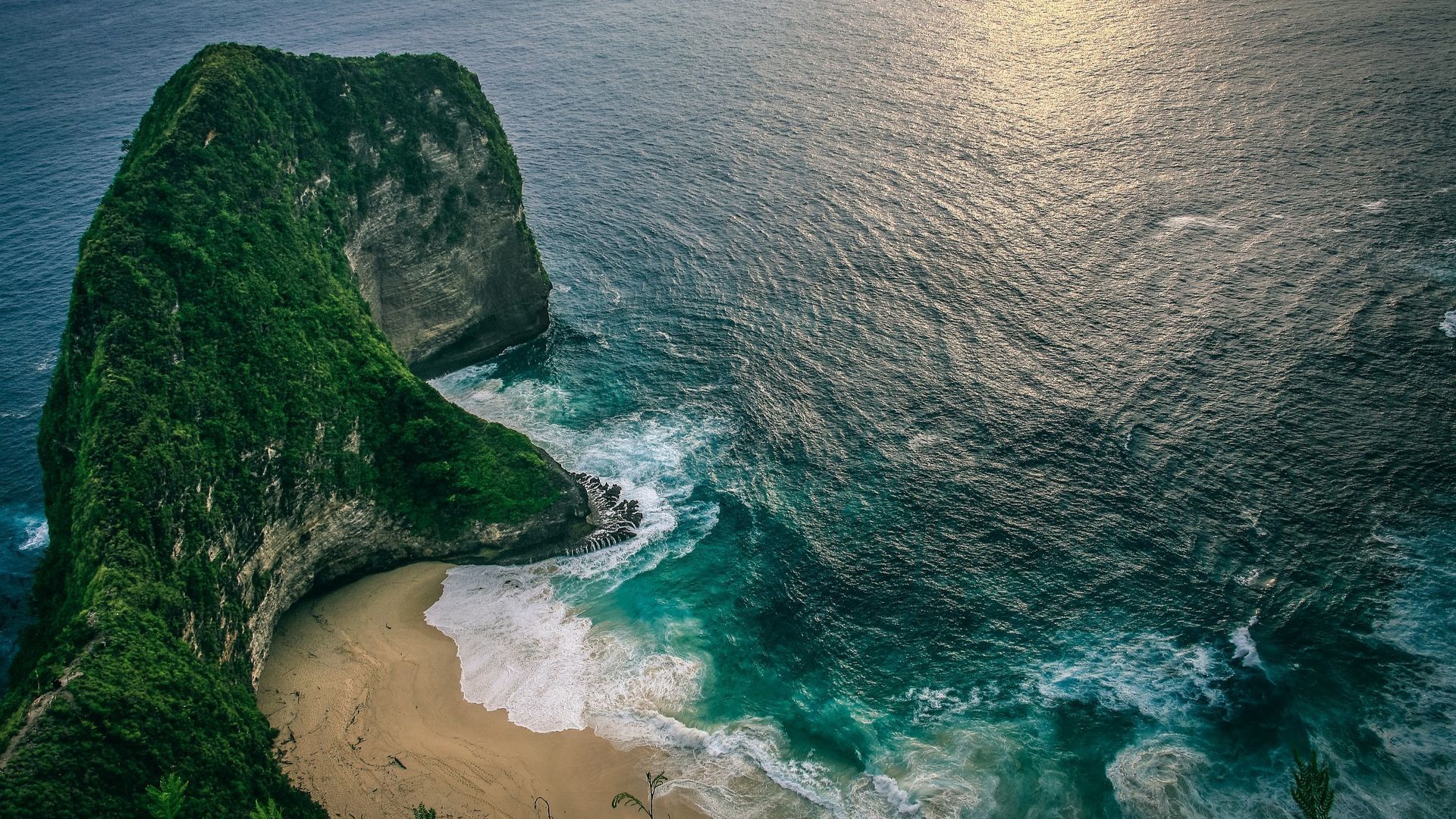 Bali trip cost
While you can find various Bali vacation packages online, the cost of your trip will depend on various aspects. You can take along an estimated USD 3,000 (RM 13,213) for two people for two weeks if you're planning the whole trip on your own. This approximate cost includes flights to Bali, accommodation, food, activities, and transportation within the province. Let's look at various aspects that you must consider to stay within your budget and make the most of your trip.
Airfare: If you're travelling to Bali in the peak season, round-trip flight tickets will cost north of USD 1,300. Whereas, you can save over USD 300 in airfare during the off-season. So, try to book your flights well in advance to get the best prices.

Accommodation: Where to stay in Bali will be one of your least worries as it offers picturesque villas on an affordable budget. Starting at USD 15 per night for hostels and going up to USD 300 per night for luxury hotels, there is a wide variety of accommodation options available. The most popular staying options are scenic Airbnbs (prices per night start at USD 50).

Food: A meal on the street in Bali can cost as little as one dollar. Going up to USD 30 for food and drinks at a fine dining restaurant, the food cost in Bali very much depends on where you eat.

Activities: Spending ranges from USD 50 to USD 100 per person on adventures like scuba diving, and USD 10 is the entrance fee for sights like the Ubud Monkey Forest.

Transportation: Getting around in Bali is quite easy and affordable. It's well connected through public transport and will cost you around USD 50 per day. Or you can rent a scooter for as little as USD 5 per day. You can even use Uber alternatives from the city's very own cab companies, like Grab and Gojek, for short distances.
If you prefer an open itinerary or day, you can plan your budget around USD 200 for two people per day and make the most of your trip comfortably.
Bali visa requirements
Visa on arrival for Indonesia is available to passport holders from over 60 countries. To be eligible for the visa, your passport must be valid for at least six months from your date of arrival. You must also have proof of sufficient funds, return tickets, and two passport-size photographs with you.
To apply for Indonesia eVOA, please click here. This certificate permits a single-entry stay of up to 30 days for tourism purposes, which includes travelling to and within Indonesia.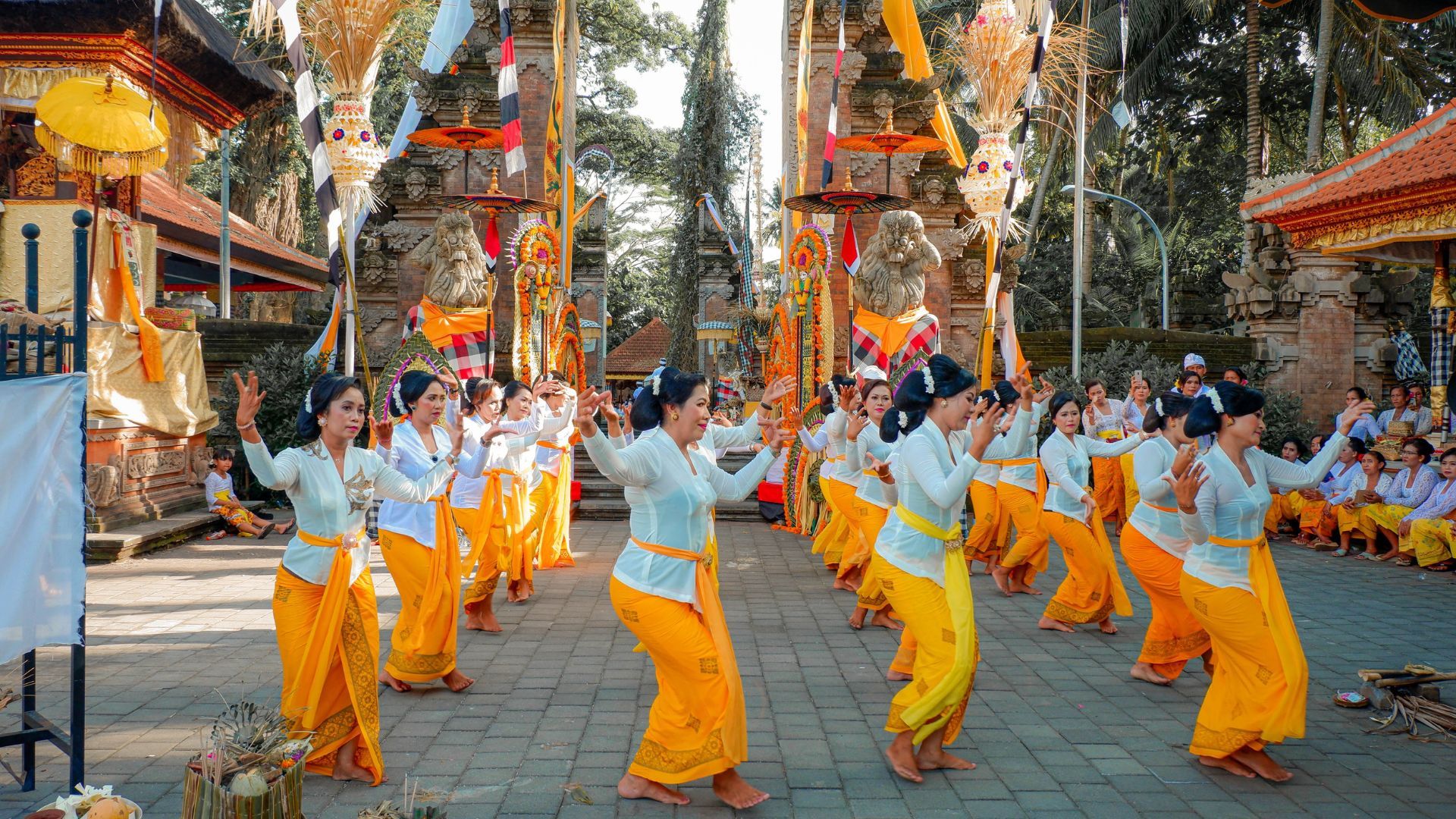 The best time to visit Bali
Depending on how you'd like to spend your vacation, we've listed down the best time to visit Bali.
In the beginning of October and the months of January and February, you'll find the least crowds in Bali due to the rainy season. This is when Bali flights, accommodations, and activities are available at comparatively lower rates.

The months of May to September are ideal for exploring Bali's tranquil beaches, as this is the period of the dry season with less humidity.

The Bali Arts Festival takes place in June and July. If you want to experience the vibrant Balinese culture and arts, the festival is held at the Taman Werdhi Budaya Arts Centre, and you can plan your trip at this time.

The dry season is also the best time to visit Bali if you're looking forward to various hikes. From watching the sunrise at Mt. Batur to visiting the Ubud monkey forest, hiking on non-rainy days will be much more comfortable.
Bali weather
Because Bali is a tropical region, the weather is mostly hot and humid all year. The Bali weather is classified into two seasons: dry (April to October) and wet (November to March). The dry season in Bali is the best time to visit Bali, and the average temperature around that time is 26–32°C (80–90°F). The humidity is comparatively low during this time, making it a pleasant experience. During the rainy season, the humidity rises, and the temperature ranges between 24–30°C (75–85°F.)
How to reach Bali
Ngurah Rai International, also known as Denpasar International, is the main airport, located in the south of Bali. It is 13.2 km away from Sanur and 36.3 km from Ubud.
Book your luxury staycation here
The best places to visit in Bali
Tegallalang Rice Terraces
This UNESCO world heritage site comprises layers of rice paddies. These are maintained by farmers with the help of an ancient irrigation system. It is one of the most picturesque sights in Bali. While you're here, you can also visit the Bali Swing, an Instagrammable way to get a bird's eye view of the whole region. Mount Batur and Lake Batur
Mount Batur is an active volcano located in Bali's Kintamani district. It'll take an ascent of about two hours to reach the sunrise point of the 5,600-foot volcanic mountain. You'll be passing through splendid villages along the way and witnessing a majestic panoramic view of the surrounding greenery. Lake Batur sits adjacent to this volcano. It is one of the largest volcanic lakes in the world and is considered sacred by the locals.
Tanah Lot Temple
This ancient temple, often called "the land in the sea" honours the sea gods. This Hindu temple, which is located in the Beraban village and faces the sea, is a must-visit because of its unique location, breathtaking scenery and extensive history. Adults will be charged about USD 4 as entry fees.
Nusa Penida
A less explored gem, Nusa Peni is an amalgamation of temples and spectacular shores. You can take a speedboat or ferry from Sanur, Bali, to reach this island. The top attractions you can cover are the Pura Dalem Ped, Broken Beach, Bukit Teletubbies, Angel's Billabong, and more.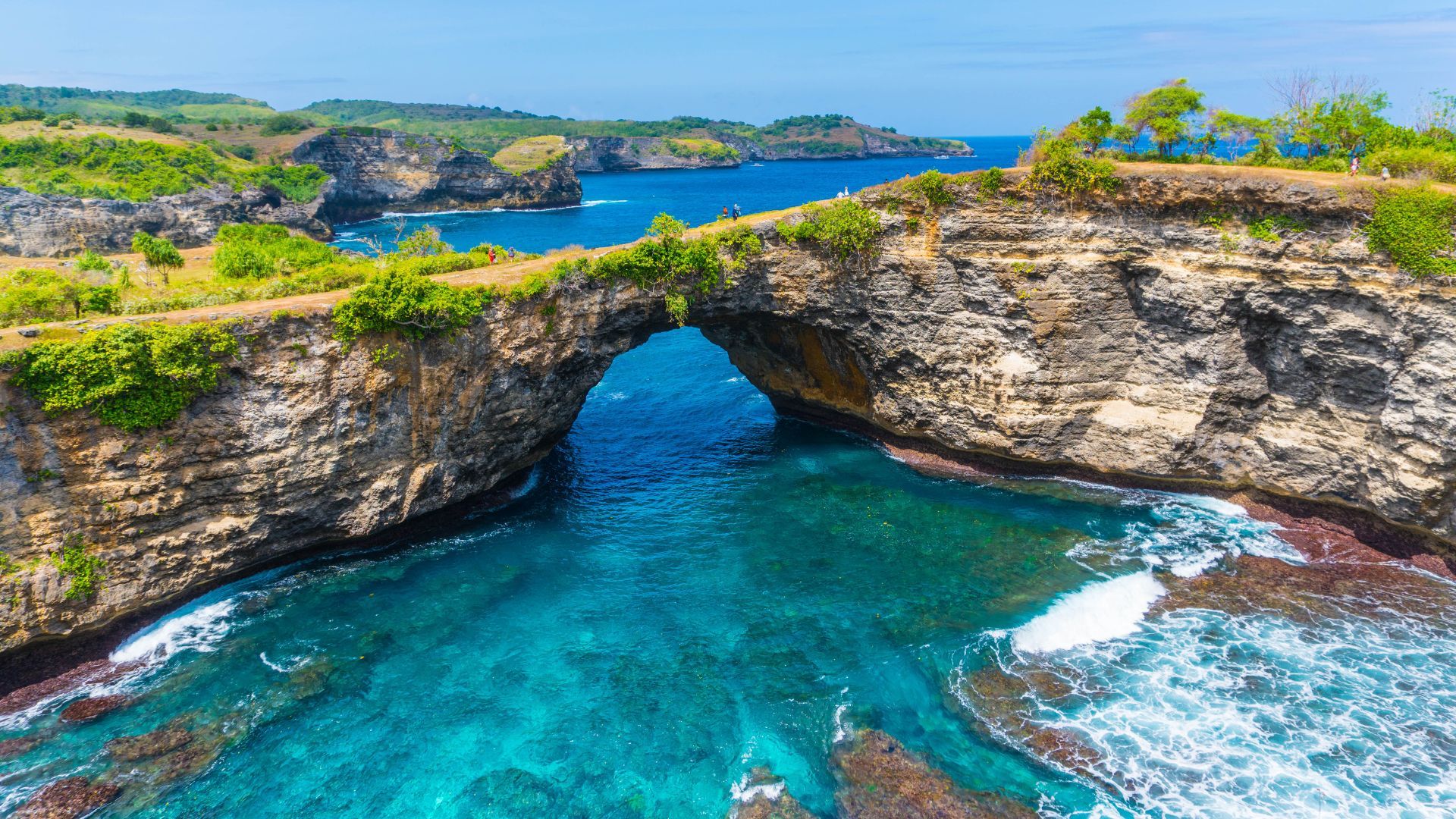 Sekumpul Waterfall
Named after the local village, this breathtaking waterfall is nestled in a bamboo forest in North Bali. Surrounded by lush greenery, it is the coming together of seven narrow cascades. The 80-metre height of the waterfall makes it a magnificent site to visit. The waterfall admission fee is approximately USD 2. Along with bathing in the waterfall, you can plan your day for trekking and visiting the Lemukih Hills.
Pura Luhur Uluwatu
Perched at the edge of a 70-metre-high rock is this 11th-century temple that holds major significance in Balinese culture. The arched gateway features unique statues of Ganesha, and the coral bricks bear Bali's mythological carvings. The sunset from this pilgrim site is breathtaking. Inside the temple, the locals perform the Kecak dance, depicting a story from Ramayana. There are grand celebrations during their 210-day annual festival, and only Hindu worshippers are permitted inside the shrine. It's a vibrant scene to witness.
Nusa Lembongan
This island, blessed with a gorgeous setting of white sand beaches and a deep blue ocean, is located in the southeastern part of Bali. You can reach here by ferry or speedboat and explore the serenity of this less crowded place. While you'll love to relax here, there are various activities you can indulge in, like surfing, snorkelling, and diving.
Ubud Monkey Forest
Situated in the village of Padangtegal, this nature reserve is Bali's precious spiritual centre that is spread over 10 hectares of land. It is home to Hindu temples, different species of trees, rare plants, and, as the name suggests, Balinese monkeys. The entry fee into the sanctuary is USD 3. Take a fresh breath, play with monkeys, and explore the tranquillity of this nature's exotic paradise.
Kuta Beach
The most popular spot for surfing is this sunny and sandy area in southern Bali. Lined with restaurants, resorts, and a stretch of white sand beach, this is where you can bask in the sun and watch the most spectacular sunset. So, if you're in the mood to enjoy and play with the waves, this beach is the way to go! The summer months, from April to August, are the best months to be here.
Besakih Temple
The most significant temple in Bali is this Hindu place of worship. Also known as the Mother Temple, it has survived earthquakes and volcano eruptions and has been rebuilt again. It has three temples dedicated to Shiva, Brahma, and Vishnu. Apart from these, there are six terraces housing 23 temples in the area. The entry fee is USD 3.90. Being one of the holiest temples in the area, it is one of the must-go places in Bali. Pura Lempuyang
The gateway to paradise is this temple perched high up on Mountain Lempuyang. When on top, you'll feel like you're floating above the clouds. It is located 30 minutes away from the beach town of Amed in East Bali. Comprising a marvellous structure that is known as the 'gates of heaven', it is an aesthetic spot for photography. The temple is known to restore spiritual balance, as believed by the locals. Hence, while you're there, take some time out to sit back in peace. To this temple, you'll require to hike up about 1,500+ steps, so be prepared for the trek!
Tanjung Benoa Beach
Popular for various water sports, this pristine beach, located in the southeastern part of Bali, is very close to the popular Nusa Dua beach. Get an adrenaline rush by experiencing thrilling activities in the Indian Ocean, like jet skiing, parasailing, and sea walking, amongst others. Plan your stay at the Nusa Dua beach hotel to rejuvenate and relax at Bali's favourite beach.
Sanur Beach
Your Bali vacation is incomplete without visiting this splendid beach. Take a stroll along the beachfront and admire the luxury and old-world charm of the resorts and heritage villas. Spot the colourful fishing boats and brisk through the paved cycling path. All in all, it's a touristy spot, but it must be on your itinerary.
Lovina Beach
If you're ready to take in the experience of the unique things to do in Bali, this northwestern beach is where you must head. Find the pleasure of black sand beaches, coral reefs, and fun nightlife. You can also go on a dolphin-watching tour.
Campuhan Ridge Walk
Head to this pleasant walk in the arms of nature when you want to get away from the hustle and bustle of Bali. A soothing nine-kilometre slope trek will allow you to experience the lush greenery of the tropical island. Also, enjoy the serenity of the sanctuary complex, Pura Gunung Lebah and the refreshing Campuhan River.
Nightlife in Bali
Imagine partying on an island by the breezy ocean! In Bali, it is possible at amazing beach clubs, nightclubs, and upscale bars. Seminyak, Canggu, and Ubud towns are the hotspots to enjoy the remarkable nightlife.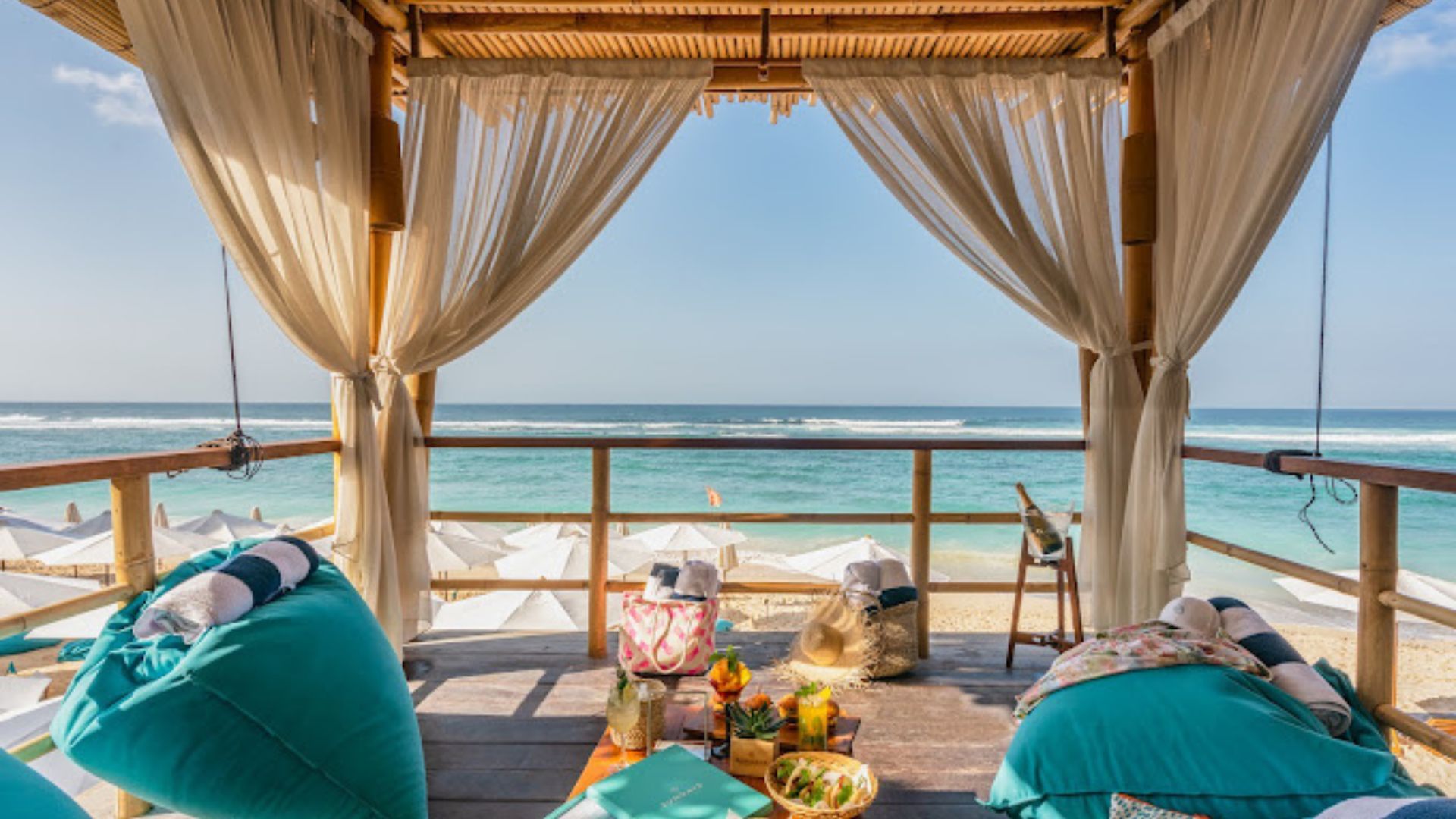 Finns Beach Club
Located in party hub Canggu, the incredible beach club features swimming pools, bars (including swim-up pool bars), restaurants, and a sushi bar. With a fixed entry pass, you can enjoy a day at this club and a super fun party after sunset with DJs and live vocalists.
Sundays Beach Club
A perfect evening with sunset bonfires and live music. This beach club in Kuta, Bali, has the most stunning location where, before partying, you can even enjoy water sports and then lounge in an open-air area by the ocean. The entry fee for an adult is USD 33, which includes food credits and other beach essentials. Plus, the pass will grant you access to kayaks, snorkelling, and stand-up paddleboards. It's kind of a whole day, an easy-breezy affair at this popular Bali beach club.
Red Ruby Club
House and techno music lovers, this place will astonish you! Inspired by the 70s and 80s New York disco scene, this nightclub is a lit place for late-night party birds. At this Seminyak nightclub, you can enjoy the best of Bali spirit while grooving to underground music for a glam disco experience.
Potato Head Club
By the Seminyak beach is this beach club that flaunts an infinity pool and daybeds with palm trees towering and swaying. You relax, party, swim, drink, and eat by the spellbinding Indian Ocean. International DJs are regulars here, so catch their music while you're here.
Ku De Ta
If VIP parties are your thing, the most expensive club in Bali is the way to go. This restaurant, beach club, and bar are for you to have a lavish evening by the mesmerising ocean. You can take pleasure in curated music albums played by the in-house DJ and savour the delicious food made with seasonal produce. This upscale party place is located on Seminyak's sandy shores, where soulful and leisurely nights await you.
Things to do in Bali Beaches
Being an island, Bali's most popular attractions are its beaches. The crown of the province, Bali beaches are pristine and panoramic, and each one has its own vibe. Visit Ubud, Kuta, Canggu, and Denpasar, among other local beaches.
Book bespoke Wellness experiences here
Water Sports
Beaches call for some thrilling activities! Plunge into the Indian Ocean and experience scuba diving, snorkelling, surfing, underwater walking, kitesurfing, and more. Ayung River in Ubud, Tanjung Benoa, and Nusa Dua are some of the best beaches to indulge in different water sports and activities.
Temples
Several Hindu temples can be found in Bali. Serve your spiritual side by visiting these places of worship and experiencing their vibrant traditions. The Uluwatu, Tanah Lot and Pura Luhur Lempuyang are some of the must-visit temples in Bali.
Club Hopping
Known for its leisurely and lit nightlife, Bali is a hot spot for beach clubs. Swim, drink, eat, and groove to music from international and indie artists. Visit bars, nightclubs, and beach clubs for fun and happening party scenes. Sundays Beach Club, Red Ruby Club, and Finns Beach Club are some of the iconic places you can have a whale of a time.
What to eat in Bali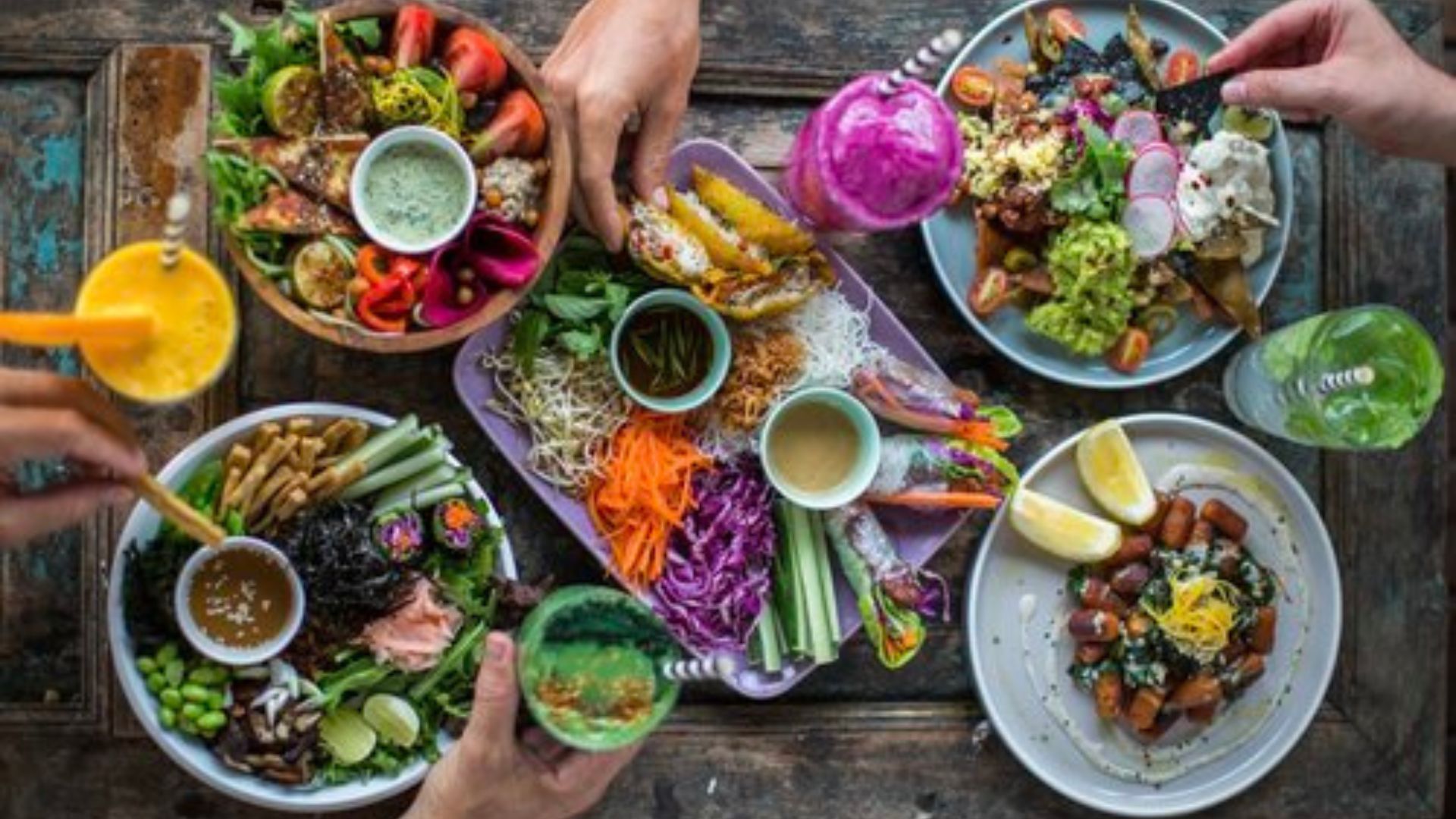 Even though Bali is a small island, the province is a melting pot of cuisines from around the world. Enjoy the finest Asian flavours, scrumptious seafood, tropical fruits and vegetables, and native herbs and spices. Here are some of the must-try dishes when in the tropical paradise.
Babi Guling
Made with slow-cooked suckling pig, this has become a favourite street food in Bali. It was traditionally prepared during celebrations, and now it's a staple dish. The pork is prepped with tasty spices and served with rice and salad.
Nasi Tepeng
The produce from Bali's well-known rich paddies in south-central Gianyar comes in varieties of black, red, white, sticky, and other rice types. Called "nasi", this breakfast dish of porridge rice is prepared with chicken, lemongrass, kaffir lime, galangal, and red chilli.
Gado Gado
A meal for the health conscious! This one's a vegetarian Indonesian salad prepared with tofu, tempeh, cucumbers, and kidney beans. The peanut dressing gives it a creamy texture, and it can also be topped with eggs.
Ayam Pelalah
A flavourful dish prepared with shredded roast chicken and freshly picked spices and herbs. The paste of turmeric root, shallots, chillies, garlic, lemongrass, daun salam (Balinese 'bay' leaves), shrimp, and kaffir lime leaves is what makes this dish so delicious.
Bubur Sumsum
This is a fresh, tasty dessert mostly eaten for breakfast. The sweet dish is prepared with creamy coconut milk and rice flour and topped with palm sugar syrup.
Mason (Canggu), Ayam Betutu Pak Sanur (Ubud), Locavore (Ubud), Soleil (Nusa Dua), The Shady Shack (Kuta), The Cashew Tree (Kuta), among others, are some of the most amazing restaurants in Bali that you can try out!
Where and what to shop for in Bali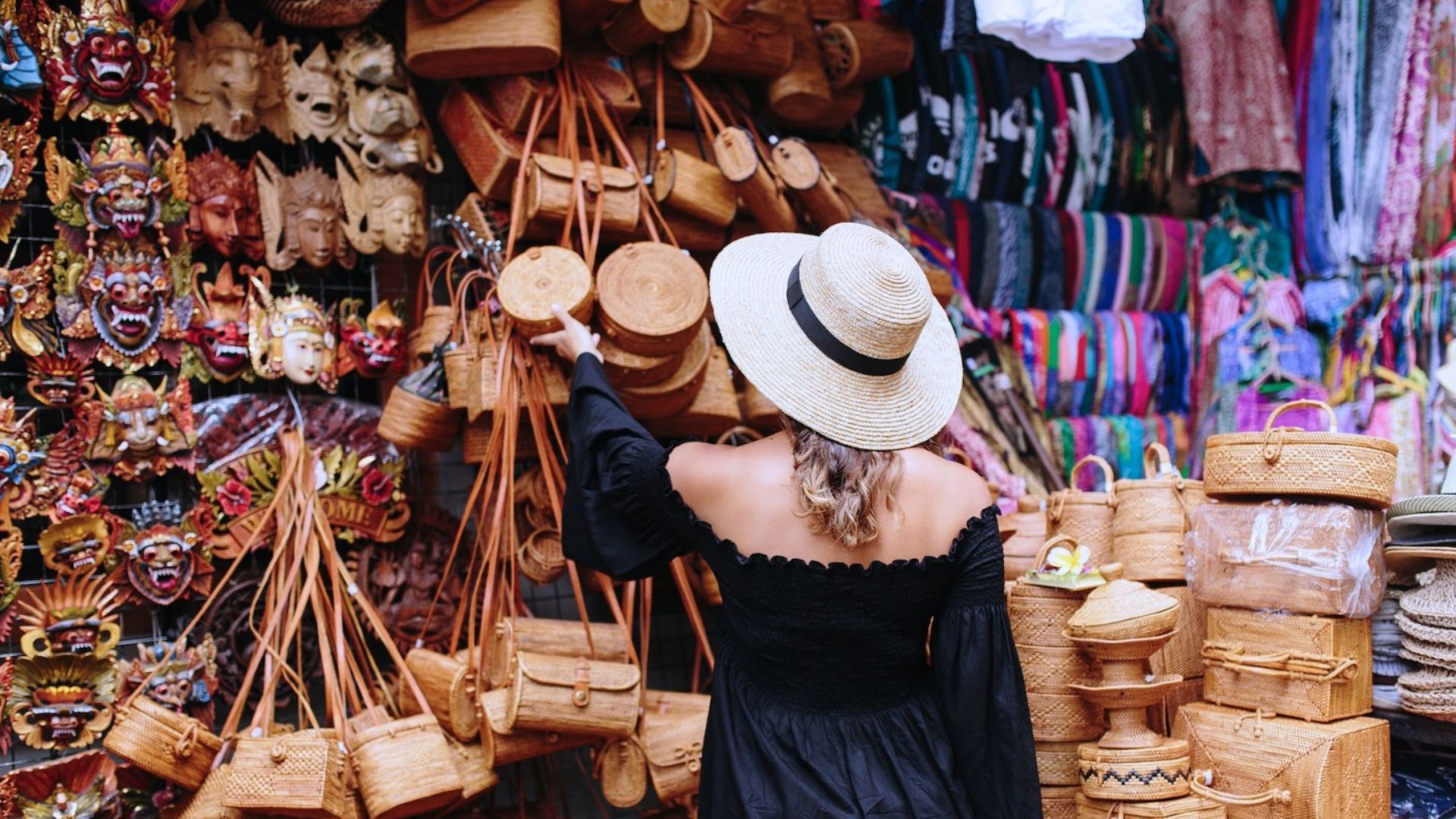 Ubud Art Market
Locally known as Pasar Seni Ubud, this outdoor market exhibits colourful home and textile products. You'll find vendors and shops selling handmade products made in the neighbouring villages of Pengosekan, Tegallalang, Payangan, and Peliatan. You can buy everything from cheap Balinese souvenirs to pricey jewellery made from real animal horns. Some classic things you can shop for here are stone carvings, yoga mats, rattan boxes, hand-painted cutlery, silver jewellery, original paintings, and traditional ikat textiles. While you're here, you can also head to the Sukawati Art Market, which is a similar place to shop but where you'll find more affordable options.
Mal Bali Galeria
Step into this central shopping mall in Kuta and have all your shopping and entertainment needs catered to. While the mall hosts regular art exhibitions, you can find several restaurants, fashion outlets, bookshops, a hypermarket, a movie theatre, souvenir shops, and local artisans' stores.
Jean-François Fichot
This studio, curated by a local Frenchman, the late Jean-François Fichot, is a treat for handcrafted decor lovers. You can find intricate and ethereal jewellery and home decor designed by Balinese artisans. Buy what catches your eye here, because everything is exclusive.
Kuta Beachwalk
This recreational area in Bali spans 3.7 hectares. The streets are lined with some of the most luxurious brand stores like Dolce & Gabbana, Louis Vuitton, and Van Heusen. It even has entertainment zones and high-end restaurants. You can even find a few stores that have local handmade products.
Gaya Ceramics
Wondering where the top Bali resorts like Amandari and Bulgari get their ceramics from? Here's where! Head to this innovative art space and ceramics studio to shop for some creative pots, bowls, cups, and plates.
Where to stay in Bali
Finding properties in Bali that are both modern and tucked away in the wilderness is not difficult. Here are some of our top recommendations for gorgeous accommodations. We've added options for all your moods on the tropical island, whether you'd want to stay in a unique Airbnb rental, a luxurious Bali hotel, or a mesmerising resort by the beach.
Related: Siem Reap Travel Guide: Everything You Need To Know About This Historically Rich City
Frequently Asked Questions (FAQs)
Question: How many days are enough to explore Bali?
Answer: This depends on how much you want to explore. If you want to stick to one or two places, then five days are enough. But If you want to explore the whole island, then an itinerary of 10-14 days is recommended.
Question: What should I know before planning a trip to Bali?
Answer: Before planning a trip to Bali, find out about the latest visa requirements; decide your base wisely; respect religious customs during visits to temples; learn the local lingo and expect to see a fair number of monkeys.
Question: Which is the cheapest time to visit Bali?
Answer: October is the end of peak season in Bali, and the prices for flights and hotels begin to drop gradually. If you don't mind the rains, January and February are the cheapest times to visit Bali.
Question: What is the dress code in Bali?
Answer: There is no mandatory dress code for tourists in Bali. However, be mindful of the traditions followed by temples in the province.
Question: What are the do's and don'ts in Bali?
Answer: As a tourist, it's best to have the basic etiquette while visiting a new place. Specifically for Bali, you must respect Indonesian traditions, maintain a respectful distance, do not give money from your left hand, avoid being naked on the beaches, and so on. Balinese in particular are friendly with tourists, so you need not worry.
Question: Which is the coldest city in Bali?
Answer: The central mountain areas of Bali are cooler as compared to the lower coastal areas. The highlands experience lower temperatures, especially at night.
Question: Do you need cash in Bali?
Answer: You will need cash in Bali as it remains an important form of payment. The Bali currency, Indonesian Rupiah (IDR), is available as coins (from 50 to up to 1,000) and bank notes (from 1,000 to up to 1,00,000). You can exchange USD 1 for 15,249.15 IDR. Disclaimer: (All conversions from USD to IDR were done at the time of writing)
Question: Which is the most beautiful city in Bali?
Answer: Some of the most beautiful spots in Bali include the Pura Lempuyang, Besakih, Mount Batur, Tegallalang Rice Terraces, The Campuhan Ridge Walk, and many more.
Question: What are the most famous historical places in Bali?
Answer: Tirta Gangga, Ujung Water Palace, and Tanah Lot are some of the must-visit historical places in Bali.
Question: Are there any beaches in Bali?
Answer: The island of Bali is a province that is blessed with many beautiful beaches. To name a few, Kuta Beach, Seminyak Beach, Sanur Beach, and Amed Beach are some of the prominent ones.
Question: Which is the most expensive city in Bali?
Answer: The most upscale region of Bali is Seminyak. This area is known as Bali's hub of boutique shopping and houses luxury hotels and resorts.
Question: Which is the cheapest city in Bali?
Answer: The cheapest places in Bali consist of Ubud, Sanur, and Denpasar. There are comparatively more budget options in these regions than in any other locations in the province.
Question: What are the best malls in Bali?
Answer: The Kuta Beachwalk and the Mal Bali Galeria are two of the best malls in Bali. Here, you can find everything from local Balinese products to high-end products from luxury brands around the world.
Written By